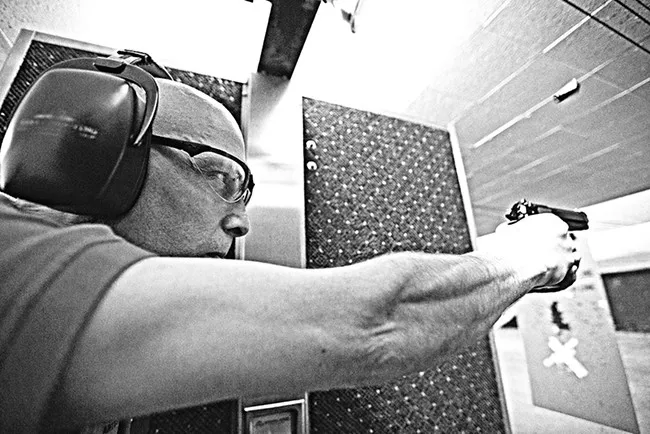 Retail pot shops open
It was a historic event marked by thousands of people who clamored to fill out government paperwork and hundreds who stood in line for hours to buy a product that was taxed at 50 percent.
On July 8, a dream long held by stoners across the country came true when legal pot retailers opened their doors for business. I-502, the initiative that legalized pot in Washington, made it legal for adults to possess the drug beginning in December of 2012. But selling it in a legal, regulated environment under the auspices of the Washington Liquor Control Board was largely uncharted territory — and it showed.
Critics complained that under the new regulatory structure, legal pot had become too expensive to affect the black market and that there wasn't enough product to keep up with demand, prompting VICE News to run an article titled "Legal Weed in Washington State Has Been Completely Screwed Up."
It took the Liquor Control Board a year of rule-making, but in March 2014 the regulatory agency announced that Spokane's Kouchlock Productions had received the state's first license to produce and process recreational marijuana. A few months later, retail stores opened their doors. Spokane Green Leaf was the only store in the Spokane area operational on opening day; since then nine stores have become active in Spokane County.
"The way I explain it to people, it's like dogs' years — for every month, it's a year," says Kirk Smith, one of Spokane Green Leaf's owners, of the rapidly maturing market. He says that more growers and processors are getting licenses and making more product available to retailers, which is driving down prices. Taxes are still high, he says, but Green Leaf has gotten prices down to $15 for a gram.
Despite problems with the rollout of retail marijuana, there's still plenty of money to go around. According to a November revenue forecast, pot taxes are slated to bring in $36.1 million for the 2015-17 biennium — more than expected. And while lines are shorter to buy legal pot, ganjapreneurs are still queuing up to get in on the burgeoning market. According to the Liquor Control Board, there are tens of thousands of applications from businesses seeking to produce, process or sell legal pot. (JAKE THOMAS)
The shooting of Arfee
It was a snarling, lunging pit bull (or pit bull mix, at least) that was about to jump through the van's window and tear into the police officer's face. The frightened officer, who was responding to reports of a suspicious van, reacted by drawing his gun and putting a round in the dangerous animal. At least that was the initial story about a July day in a parking lot in Coeur d'Alene.
But in reality, the officer had shot a 2-year-old black Labrador named Arfee, drawing condemnation from dog lovers across the country and sowing mistrust between the police and the Coeur d'Alene community.
The dog's distraught owner, Craig Jones, hired two attorneys and a private investigator to sue the city for $350,000. A Facebook group demanding justice for the slain dog drew followers and bumper stickers condemning the killing started to appear in the area. City officials received a flood of angry messages from as far away as Alabama, Florida and New Hampshire.
Coeur d'Alene police, citing death threats, initially refused to release the name of the officer. But in September, the police department released a report on the incident naming David Kelley, a 17-year veteran of the force, as the officer who pulled the trigger on Arfee. The report concluded that the officer violated use-of-force standards in shooting the dog and failed to "fully consider the totality of the circumstances presented at the time." The report also questioned why the officer didn't just move away from the van.
In response to the incident, Coeur d'Alene police now require officers to watch five videos, each running about 10 minutes, on how to handle dogs. After city officials refused to state what discipline Kelley faced, the Coeur d'Alene Press, using public records law, found out that his pay was cut. (JT)
The bond to renovate Riverfront Park
Remember Expo '74, when Spokane hosted the World's Fair, drawing people from across the globe during the six-month celebration? If you grew up here and remember those heady days, you might've had a reason to vote for a $64.3 million bond that will revamp Riverfront Park. And if you weren't around for Expo '74, you'll at least get to enjoy some of the new features, including a skating pond and an outdoor events venue.
In November, voters overwhelmingly approved the bond for improvements to the park. The city expects the improvements to attract more visitors, but it was likely nostalgia that convinced some voters to sign off on the bond.
"There's a yearning to come back and celebrate with our community," Mayor David Condon, who was born in Spokane the year of Expo '74, told the Inlander in October.
Spokane's central park hasn't seen many major renovations and improvements in 40 years. Originally designed to be a temporary home for the fair, it was filled with exhibits from countries from around the world and vacated when the event was over.
The lighting and buildings are old, the bridges need fixing, the inefficient facilities devour energy and the irrigation system is so ancient that replacement parts are no longer available. The park's state of disrepair stands in contrast to the economic development that's happened downtown.
The bond will revamp the U.S. Pavilion to create an events space, a tree-lined promenade, plazas, playgrounds, a visitor center, parking lots and entrances and an outdoor ice-skating rink, among other improvements.
Although the money is secure, construction doesn't start until after Labor Day weekend of 2015. (JT)
Spokane Police Try Body Cameras
Since the unrest in Ferguson and elsewhere, police officer-worn body cameras have won broad national support, but the Spokane Police Department had spent years weighing the technology before the launch of a pilot program on Sept. 1. Seventeen SPD officers volunteered to wear the cameras for four months to help evaluate practical issues and logistical challenges.
Police Chief Frank Straub has pledged to start rolling out the cameras on regular shifts starting this month. While an officer failed to activate his camera during a November shooting, both police officials and accountability advocates call the cameras "game changers" that could provide an unparalleled window into police conduct good and bad.
"[Spokane] is going to get to see just how professional and dedicated the police department is," Straub says, "and to a large degree how much crap they put up with on any given day."
The Washington state Attorney General recently determined that police officers do not have to get permission to record citizens, an important clarification for many departments trying to balance privacy rights with increased transparency. The ACLU, Center for Justice and other advocates have raised many concerns about whether the department's evolving policy on camera use will protect against misuse.
The Spokane County Sheriff's Office also conducted a brief pilot program in hopes of adopting the technology in the near future. (JACOB JONES)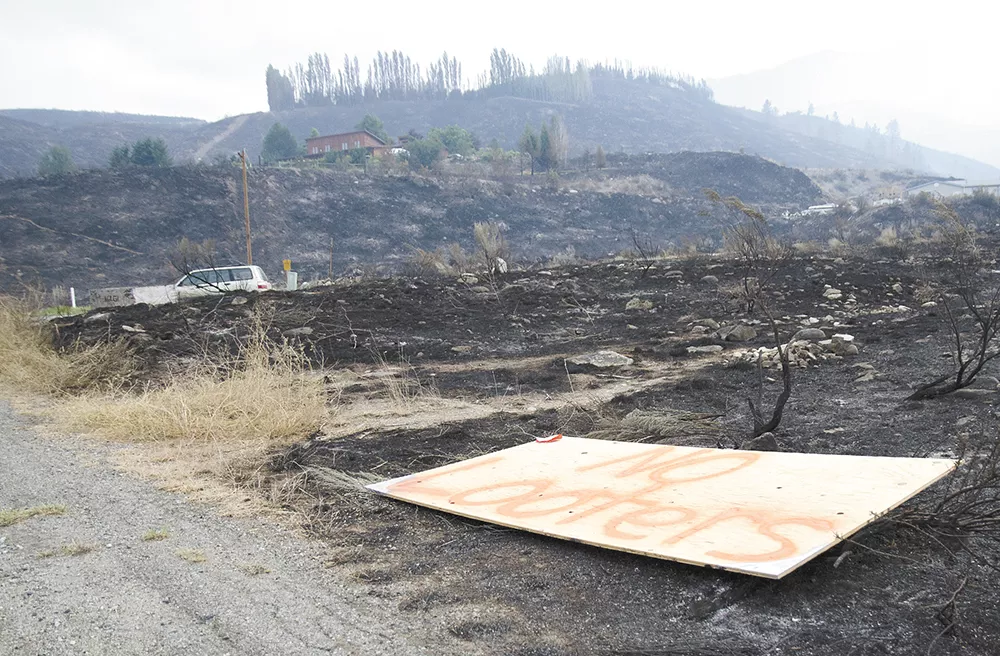 Central Washington wildfires
A series of lightning strikes sparked four small fires in July that would quickly grow into the Carlton Complex fire, scorching more than 250,000 acres and destroying close to 300 homes — the largest burn in state history. One retired state trooper collapsed and died during firefighting efforts. Hundreds more went homeless.
Flames blackened miles of pristine riverbanks along the Methow and Okanogan rivers. As wildfire crews and TV news vans descended on Omak, Brewster, Twisp and nearby communities, locals raked through the ashes. Richard Mathews, of hard-hit Pateros, found almost nothing left to salvage.
"I didn't lose much," he says amid a neighborhood of ruins, "just a house."
Scores of displaced residents have prepared lawsuits alleging that the Department of Natural Resources failed to mount a proper firefighting response. Residents say equipment went unused or was mismanaged. A KING 5 investigation found the DNR had paid almost $2 million to a large orchard while denying compensation to others.
Relief efforts continue for those working to rebuild their homes and restart family businesses impacted by the fire. State officials have scheduled a public meeting in Brewster on Jan. 5 to discuss ongoing challenges from the Carlton Complex fire as well as wildfire preparation strategies for the 2015 season. (JJ)
VA Scandal Hits Spokane
Veterans Affairs medical facilities, including the Mann-Grandstaff center in Spokane, endured tremendous scrutiny this past year as national VA investigations uncovered widespread manipulation of patient wait times and other administrative misconduct. Spokane VA officials in June acknowledged "longer-than-average" wait times, but cited recent progress as the hospital worked to replace staff vacancies.
"We care deeply for our veterans," a statement reads, "and our intent is to provide timely access to the quality care our veterans have earned and deserve."
Much of the national outrage focused on the Phoenix VA Health Care System after multiple reports of delays that allowed patient illnesses to worsen. Phoenix director Sharon Helman, who previously managed the Spokane center until 2010, lost her position in November over the results of the recent investigations. Spokane's VA hospital was listed among 112 facilities requiring "further review" of practices.
"Lack of oversight and misconduct by VA leaders runs counter to our mission of serving veterans, and the VA will not tolerate it," VA Secretary Robert McDonald says in a news release.
Despite efforts to fill several high-profile positions, the Spokane center in December announced a reduction in Emergency Room services, cutting access from 24 hours to 10 hours a day. Officials attributed the temporary reduction in service hours to a shortage of physicians.(JJ)
Med School Wars
Washington desperately needs more doctors — specifically, 4,000 more by 2030. Meanwhile, the state's only medical school, at the University of Washington, enrolls only 120 students a year. The obvious solution is that Washington needs to train more students to become doctors. The question, though, is where.
For the past year, the University of Washington and Washington State University have been locked in a bitter battle over the future of medical education in the state. Concerned about the lack of medical students in rural areas and frustrated by its fraying relationship with UW, WSU set out to create its own medical school. But UW feared WSU's ambitions would suck valuable resources from its own Spokane-based program. Within a two-month period this past autumn, both universities released conflicting studies about the feasibility of a new medical school in Spokane.
In October, the Apple Cup rivals finally severed their decades-long rural medical education partnership in Spokane. Now UW is mulling a new partnership with Gonzaga University in order to continue training its students in Eastern Washington.
Republican state Sen. Michael Baumgartner and Democratic state Rep. Marcus Riccelli, meanwhile, are planning to introduce bipartisan bills in the upcoming session to revise a 1917 state statute giving UW a monopoly on medical education in the state.
Once that law is changed, WSU will still need $2.5 million from the state to pay for its medical school's accreditation — a relatively small ask in what will be a tough budget year. UW is asking the legislature for more — about $10 million — to increase enrollment in Spokane. The schools have agreed not to sabotage the other's funding requests. (DEANNA PAN)
Gun Control Wins
In November, just under 60 percent of voters approved Initiative 594, a statewide ballot measure expanding criminal background checks for all gun sales in Washington state. (Another 55 percent defeated a competing measure to prohibit the state from mandating additional background checks unless required by the federal government.)
The Washington Alliance for Gun Responsibility raised more than $10 million to fund the I-594 campaign, thanks in part to hefty contributions from mega-rich donors like Bill and Melinda Gates. In the battle against increased gun control in Washington, the National Rifle Association, surprisingly, barely put up a fight, pouring less than half a million dollars into its opposition campaign.
The new background check law — which was met by protesters outside the Spokane County Courthouse less than two weeks ago — took effect in early December. The first known denial under the law occurred 48 hours later, when a man with a warrant out for his arrest attempted to buy a firearm at the Lewis Clark Trader Gun Show in Spokane.
You can expect to hear about more gun-related policies in the next legislative session. District 3 state Sen. Andy Billig, for instance, is planning to introduce a gun-safety bill in response to this summer's shooting death of Sheena Henderson on the Deaconess Medical Center campus. Billig's proposal would create a notification system for family members when a firearm is returned to a potentially dangerous person.
In July, Henderson was shot and killed by her estranged husband while at work at the Rockwood Cancer Treatment Center, before he turned the gun on himself. In May, her husband's gun was confiscated by police after he threatened to commit suicide. It was finally returned to him the day before the murder-suicide. Neither Henderson nor her family were notified when the Department of Health and Social Services agreed to release the weapon back to her husband. (DP)
The Right to Marry in Idaho
Poor Butch Otter. The Idaho governor spent almost $87,000 of taxpayer money defending the state's same-sex marriage ban only to see it defeated again... and again.
In May, U.S. Magistrate Judge Candy Dale ruled that the state's 2006 voter-enacted constitutional ban on same-sex unions was unconstitutional, writing in her decision that it relegated gay and lesbian Idahoans to "a stigmatized, second-class status without sufficient reason for doing so." The state appealed to the 9th U.S. Circuit Court of Appeals, which four months later, on Oct. 7, invalidated Idaho's ban for the second time. A week later, after the U.S. Supreme Court agreed to temporarily block gay weddings in Idaho, marriage licenses were issued en masse to same-sex couples across the state. But Otter vowed to keep fighting.
"When I took the oath of office, I swore to uphold the Constitution of the State of Idaho. Article 3 Section 28 of the Idaho Constitution is very clear. It identifies a marriage in Idaho as that union between one man and one woman," Otter told KTVB news in late October.
He submitted a petition to the 9th U.S. Circuit Court of Appeals for an en banc review of the court's previous ruling upholding Dale's decision. Dale, meanwhile, recently ordered the state to cough up more than $400,000 in attorney fees and litigation expenses to the plaintiffs, four lesbian couples from Boise who won their case, overturning the ban. Nationwide, the tide has clearly turned against marriage-equality opponents like Otter: Same-sex marriage is now legal in 35 states and under court review in five others. (DP)