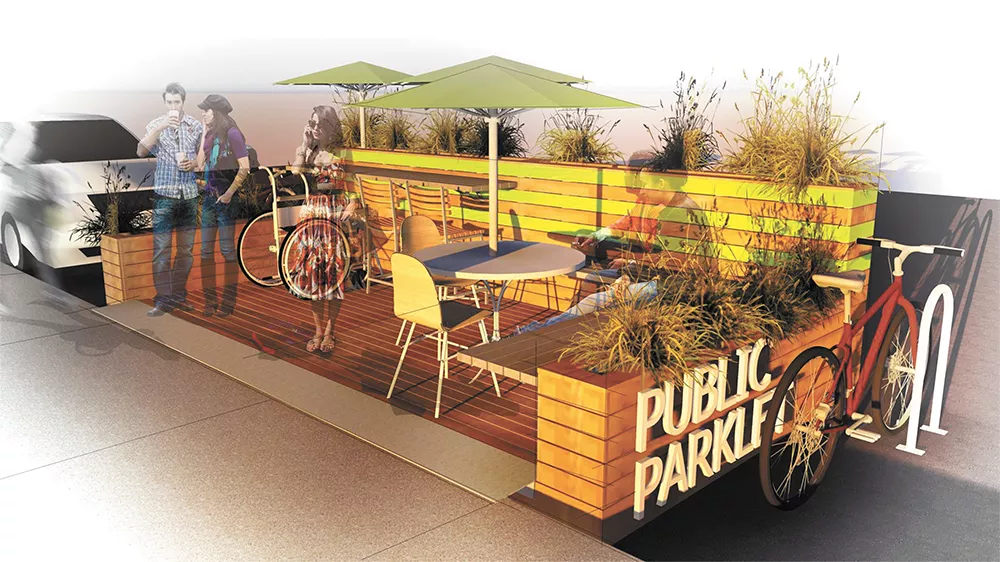 Spokane will soon join the likes of San Francisco, Seattle, Boston, New York and other big cities around the country in efforts to add green space, fellowship and art to areas carved with cement and metal (and in the case of Spokane, dotted with potholes).
Those efforts are known as parklets. Think of them like downtown's front porch — a space to gather, sit, read, people-watch, eat and drink. They're tiny reprieves from tall buildings and city buses and typically take over one or two parallel parking spots.
The local push to reclaim public spaces from the automobile comes from a group of design-minded friends who started the nonprofit organization Yes (You Express Studio). During a brainstorming session in March of last year, the group decided that parklets would be a good outlet for their collective creative energies. Drawing from designs in San Francisco and Seattle, the team scrounged up every pallet and usable piece of wood they could find to create a sprawling, building-blocks-style prototype. They built it in a driveway and showcased it at the Garland Street Fair last year.
"That was just the first step," says Jose Barajas, one of the founders of Yes, who works at Integrus Architecture designing buildings. "Now we're making it more legit, and we're collaborating with the city to model our program after the one in Seattle."
The city of Spokane still has to approve the design and location for the newest parklet, but Barajas says they're close to getting the plans finalized. When that happens, he hopes to install it in front of the Saranac Commons on West Main at the beginning of August.
For the first one, he says, the group decided to stick with a simple design that looks like a giant urban sandbox (without the sand, sadly). The parklet design he'll submit to the city will take up the majority of two parking spaces and include three tables, a standing bar and a bench created by WSU students using digital fabrication.
Earlier this year, following a trial run that started in 2013, Seattle formalized its parklet program and now accepts applications for new parklets twice a year. Barajas hopes to do something similar in Spokane, so other artists and designers can come up with their own ideas reflective of the surrounding neighborhood and businesses.
San Francisco, which has had a parklet program in place for five years, now has more than 50 of the mini plazas throughout the city. An assessment by the San Francisco Planning Department found that parklets promote alternative modes of transportation such as biking and walking, support local businesses and improve the overall aesthetic of the block.
Ultimately, Barajas says, he'd like to see parklets as a permanent fixture in Spokane. He sees them as gathering places and community builders; they could also serve as a stage for a poetry reading or an impromptu concert.
"We think Spokane has incomplete streets," he says. "There's not enough outdoor seating and greenery, and too much hardscape. I think it will encourage more people to walk and shop downtown. The possibilities are endless." ♦