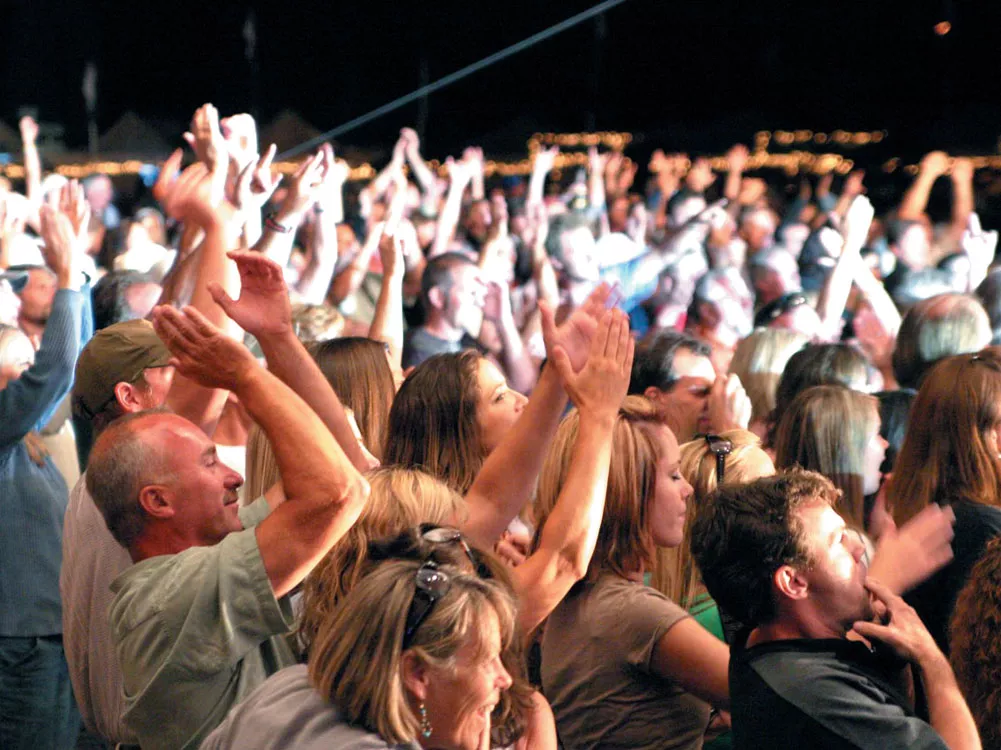 The Festival at Sandpoint takes place under the big top, but it has nothing to do with a circus or revival meeting. Instead, the city of Sandpoint has developed its own bigtent festivities — and after 28 years, the Festival at Sandpoint is pretty damn iconic.
Instead of corny Americana images, picture billowy molds of brie. Imagine the purplestained corks of wine bottles, the sound of a symphony along the shores of Lake Pend Oreille, the smell of fireworks. With food, wine, a family concert and artsy activities (yoga on the lawn! fireworks in the sky!), the Festival at Sandpoint gives concertgoers more than one reason to jump on the big-tent bandwagon.
Yoga
There's nothing like an upward-facing dog pose in the morning sunlight, and festival performer Michael Franti knows a thing or two about yoga. It's rumored that he finds a studio and practices in each town that he plays. This year's festival is making it easy on him with the Sunshine Moonshine Yoga Festival on Friday, Aug. 13. Stretch, relax and take ease in the fact that proceeds benefit festival education programs and the Michael Franti Stay Human Foundation.
BYOB
Bringing drinks, much less alcohol, into most festivals is like trying to smuggle a bomb onto a plane. Usually you're required to purchase their $10 bottles of water, $12 mixed drinks (if they have any) and suffer down a $8 hamburger that eerily looks like plastic. "Something that makes the festival unique is that you can bring your own drinks and food," says festival director Dyno Wahl. "We want people to experience the festival in their own unique way, and we want the community to know they own this festival — we don't."
Winos and Auctioneers
The annual "Taste of the Stars" wine tasting is Sunday, Aug. 15. At least one of these 36 Northwest wineries is sure to wet your whistle and stain your lips. "This is the largest tasting in the state of Idaho," Wahl says. "Some people consider this night a wine tasting with a concert — others consider it a concert with a wine tasting."
If the wine buzz makes you hungry, don't fret. Litehouse Foods will feature its newest line of artisans and cheeses. You may even be convinced to buy something. The Timber Stand Gallery will host an art auction — including several prime bottles of wine.
Fire Dancing
It's simply too cool to pass up. Humans love fire. We need it. We're like moths to a light bulb. A Sandpoint fire-dancing troupe called Bio- Luminesce will perform on Friday, Aug. 8. Don't try this at home.
Beer Garden
This isn't exactly a beer garden. You won't find any pissy light beer or kegs cooling in garbage cans. This is what's called a tasting. And on Thursday, Aug. 12, seven different Northwest microbreweries will display their wares. Hometown Laughing Dog Brewery will headline the event; meanwhile, companies like the Alaskan Brewing Company and Fish Brewing Company out of Olympia will compete to quench your thirst.
Family Ties
Symphonies, wine tastings and microbrews aren't exactly kid-friendly, but the festival is. Sunday, Aug. 8, will bring a family concert and sideshow events appropriate for even the littlest of festivalgoers. The Spokane Youth Orchestra and ballet dancers from Sandpoint's Studio One Dance Academy will perform Peter and the Wolf. "The family concert is one of my favorite days out there," Wahl says. "We've got enough going on and offstage to hold the kids' attention." A petting zoo, an instrument petting zoo — where kids can play multiple instruments — clowns, face painting, games and a jump castle will keep the kiddos busy. Roy Rogers and Shirley Temple sales at the bar will benefit local animal shelters, and if parents need a break from the fun, the Parents' Corner is providing complimentary mini-massages.
Fireworks
Fireworks may burn through a lot of money in a short amount of time, but when a generous corporate donor is footing the bill, who cares? (In this instance, it's Avista.) Besides, gunpowder exploding in the air is the stuff dreams are made of. The fireworks finale will be accompanied by Tchaikovsky's 1812 Overture on Sunday, Aug. 15.
Gluttonous Goodies
Part of every festival's allure is the satisfaction that comes with guiltfree eating. Hot dogs, fries, pies, chicken wings? It's all fair game when you're celebrating. "We have absolutely everything under the sun," Wahl says. "What you eat is almost as important as where you sit. You can get a traditional hamburger or hot dog or go really gourmet. There is truly a smorgasbord of food." Familiar vendors include the Klondike, Dish, Arlo's Ristorante and Bangkok Thai.
Music
Of course all the food, vendors and events would mean nothing without the music. "We really try to make it as eclectic as possible," Wahl says. "It started out as symphonic and classical, but now it's everything all rolled into one. We'd like people to get out of their normal music box and expand their repertoire."
The modern swing band Big Bad Voodoo Daddy is back by popular demand to kick-start the festival on Thursday, Aug. 5. Washington-born singer/songwriter Brandi Carlile will set a quieter pace on Aug. 6 with her country-pop numbers. Super Blues Saturday commences on Saturday, Aug. 7, with Grammy Award-winning Keb' Mo' and Southern powerhouse Kristina Train.
The music turns Celtic on Thursday, Aug. 12, with fiddle virtuoso Natalie Macmaster and fellow Celtic jazz band the Turtle Duhks. The dance party doesn't start until Aug. 13 with the Afrobeat funk band the Pimps of Joytime and continues with roots and soul man Michael Franti and Spearhead.
Super Country Saturday takes over the festival on Saturday, Aug. 14, with country heartthrobs the Nitty Gritty Dirt Band and the new bluegrass outfit Crooked Still. Sunday, Aug. 15, marks the grand finale in classical form with Russian masterpieces by the Spokane Symphony Orchestra and Spokane pianist Archie Chen.
Good Intentions
Festivals are great and all, but where does the money go? With this nonprofit festival, it filters its way into a good home. Year-round ticket sales and events benefit everything from osprey nests to youth instrument-assistance programs to local scholarship funds. Purchase with a clean conscience.
The Festival at Sandpoint is at War Memorial Field, Ontario St. and Florence Ave., Sandpoint, Idaho, on Aug. 5-15. Times vary. Tickets: $5-$50. All-ages. Visit festivalatsandpoint.com or call (208) 265-4554 or (800) 325 SEAT.