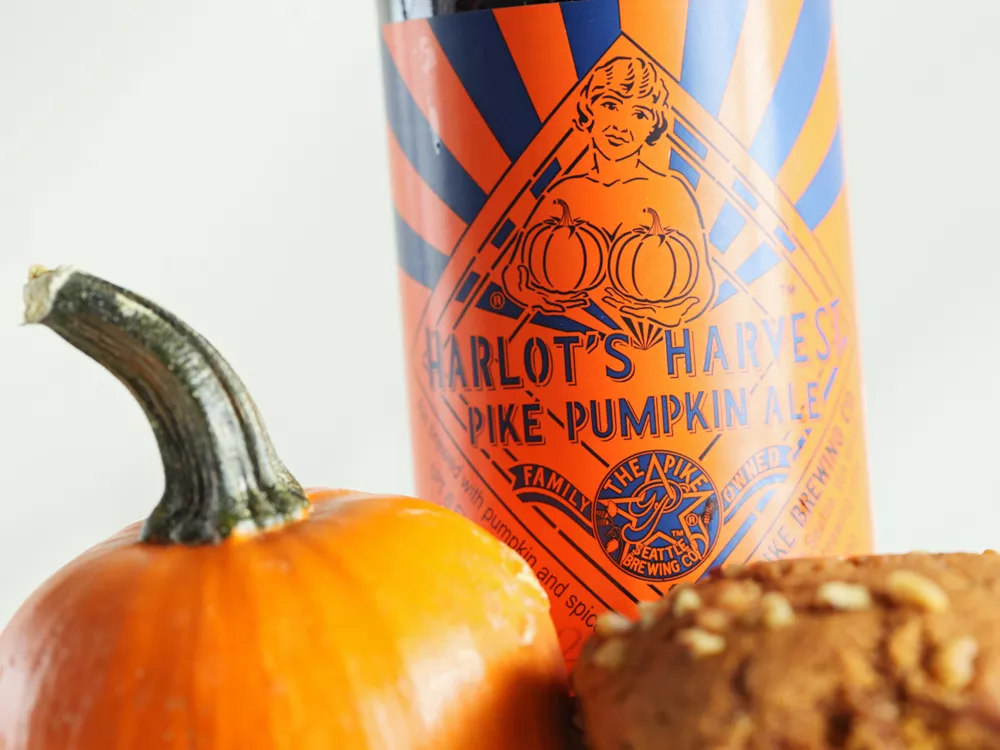 My sister is a pumpkin-food fanatic. Last year, she attempted to stockpile as many of the economy-size pumpkin spice flavored coffee creamers as she could — enough to last her far past the time when grocery stores yanked the seasonal product from their shelves.
I think she ran out sometime in February. Darn expiration dates.
My sister isn't the only one, though, who has to wait out the nine months of the year from January to late September when pumpkin foods are pretty sparse.
Gina Garcia, the head baker for Spokane's comfort food go-to, Chaps, and its bakery counterpart, Cake, says that when fall hits, some customers "just go berserk over pumpkin and they'll have a latte and a slice of [pumpkin] pie with it.
"I'm not that over the top," Garcia adds, "but I enjoy this time of year and sitting down with some pumpkin pie — there is something very cozy about it that brings back memories of my mother and grandmother who were both home bakers."
Because of the success local chain Rocket Bakery has had with a few of its signature Pumpkin-based pastries, owner Julia Postlewait say the family-owned operation keeps its pumpkin bars, muffins and pumpkin gingerbread in stock year round.
"It's because customers love them," she says.
So why is America so crazy about everything pumpkin flavored?
It's pretty simple, according to Cake's Garcia: "You don't eat it year round, so when October hits people can't get enough of it."
Go back more than 250 years or so to America's formative years, during the Colonial period, and chances are most people would have eaten enough pumpkin during the fall and winter months that a break from it through spring and summer was more than welcome.
Pumpkins — a member of the gourd family — are indigenous to the Western Hemisphere and have been cultivated in North America for more than 5,000 years.
Pumpkins were a staple in Native Americans' diets and were thus introduced to early English colonists as being a great food source for many reasons, including their cooking versatility, their ability to be preserved and the ease of growing them.
While pumpkins are used mostly as holiday décor these days, and much less for soup, lots of Inland Northwest restaurants are offering more pumpkin-based dishes than what local pumpkin lovers might have found in years past. You can get lots more than just lattés and pies, we found.
Alison Collins of the new-ish Boots Bakery & Lounge ticks off a list of all-vegan pumpkin dishes at her downtown café and bar: pumpkin ginger muffins, pumpkin scones, pumpkin pie spice lattés, pumpkin soup, pumpkin mole, pumpkin seed pesto and pumpkin-infused carrot cake.
The lattés are flavored with Collins' own concoction of pumpkin syrup, made from pumpkin puree, spices and maple syrup.
"This place should be called 'pumpkin,'" Collins jokes as she frosts a batch of mini-whoopie pies, which just before had been a failed batch of brownies that didn't rise, but were salvaged with a cookie cutter and some pink frosting. "You don't realize it until I start talking, but we use a lot of pumpkin."
Collins says one of the main reason she uses so much pumpkin at Boots is because in pureed form, it's an ideal substitute for eggs and other non-vegan moisture-creating ingredients like butter and milk.
Like Rocket Bakery, some of Boots' pumpkin foods are offered all year — the pumpkin ginger muffins and pumpkin carrot cake — because customers demand it, Collins says.
Given that it's harder to get fresh grown pumpkin during the off-season, Collins says she will use canned puree; though, right now, she's getting lots of locally grown varieties delivered to her straight off the vine from area farmers.
"[The pumpkins] are über-fresh and they last forever and have an amazing shelf life," she says. "When we get fresh pumpkin we bake it and puree it and use the puree for all things."
Or, Collins says, she will bake the whole pumpkins in the oven and bust them open to use the roasted pulp in things like salads. Seeds from the fruit then are roasted and used as a topping on the pumpkin carrot cake.
While pumpkin pastries may be one of the sweetest uses of the squat orange gourd, brewed-in-pumpkin beers are another centuries-old favorite.
Manito Tap House owner Patrick McPherson says in the coming month he'll bring in four to five pumpkin-infused craft beers on tap.
"They're always really popular," he says. "We'll try to get a range of pumpkin beers, from a porter and an imperial to a few different ones that people haven't had other than the standard pumpkin-spiced beers."
McPherson also hints that the South Hill pub will feature a few pumpkin dishes on the menu, maybe a soup or some ravioli.
Whether your go-to pumpkin treat is daily home brewed coffee spiked with a seasonal pumpkin spice creamer — like my sister — or a pumpkin pastry to go with it, local restaurants and cafés are cooking up pumpkin offerings this fall to please even the most tepid of pumpkin fans.