I will never learn to pen my S like hers. That 1940s scribe. The upright spine of the stem line, the top loop leaning back ever so casually, making the whole letter seem as if it's falling, though it definitely is not. The bottom loop is a long skirt caught mid-swirl and the flare at the end is her leg kicking finally free or her gesturing palm saying here, it's yours. My mother's is a Gone with the Wind S.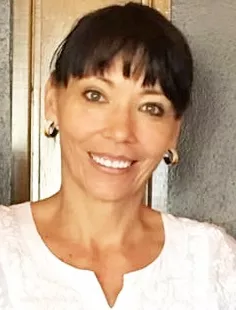 My mother's S is her at the stove canning peaches, tomatoes, green beans. The back of her hand to her forehead where thoughts like, what I do for this family, pass before a timer reminds her to lift the jars from the steaming water. Her S's final swash was the pop of lids as jars cooled. A check off the list of things to do. A list never written down.
And see the way her S stands apart? Alone at the beginning. Space, almost, for another letter. Though her S is indelibly important to the whole, the others are connected: w to e, e to d, and so on. Her S is leaning back as if trying to see the h, or maybe all the way to the P. Her S is a mother duck following her ducklings.
Then again, maybe this is an S I never knew. She's looking back, away from the smaller letters and the pregnant second loop. But what do I make of that slash? Does my mother's S regret? Is there a word she wished to plural? The line doubles back on itself, cuts through its middle, makes an interdictory mark, the symbol for NO. Only here does the character seem rushed, as if dashed off.
No. This is not right. I can see how pen was tenderly lifted from the paper, just as she raised each thin cake from the griddle and placed them on our wide breakfast plates, withdrawing the spatula cautiously so as not to tear. My mother's S would never say no. My mother's S always asked, Seconds?
This S is my mother sitting on the red line of a recipe card, her arms bracing her curves as she looks down at her instructions, watching if I will get the recipe right. There are only five ingredients, I hear her say. Then sift, stir, pour. Etcetera.
But look at how my S's have turned out. The first stroke leans forward, headlong. Eager, it seems, to catch the other letters (or drive them away). Not one loop. No circle closing. How quick my S tangos but with none of her flair. The last of my letter simply coils into itself, like a surreptitious snake or a timidly wound crepe.
And yet, something of her S remains in mine. That lithe spine. Steadfast and flexible. Surely this, I learned from her. ♦
CMarie Fuhrman is the author of Camped Beneath the Dam: Poems (Floodgate 2020) and co-editor of Native Voices (Tupelo 2019). She has published poetry and nonfiction in multiple journals as well as several anthologies. She resides in the mountains of west-central Idaho.