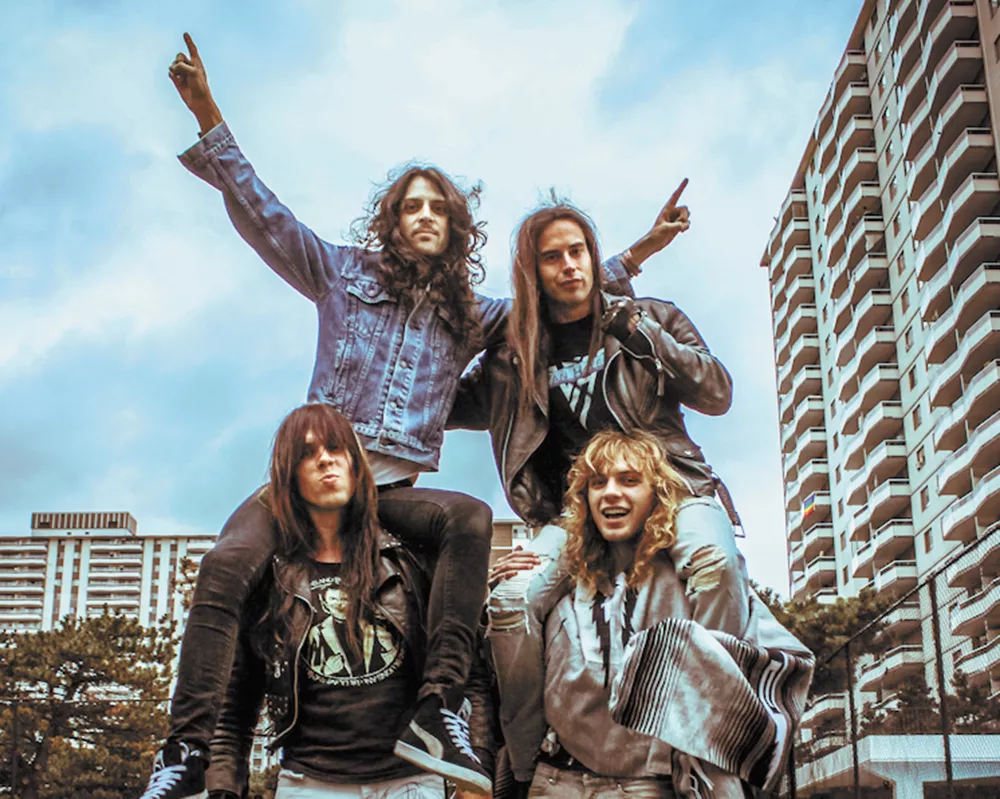 Death metal. Black metal. Grindcore and glam. Tech-death. Death-doom. Stoner-sludge. Metalcore. Over the past few decades, what once was called heavy metal has splintered into dozens of subgenres, many built around extreme vocals or playing styles. So it's no surprise that the classic metal sound of the '70s and '80s — speedy riffs, skyscraping falsettos, twin guitar solos and arena-ready choruses — seems like a lost art, or at best a relic of the past.
Here then is Skull Fist, a quartet of young Toronto rockers on their first major tour across the United States. A call into their tour van is like a peek into heavy metal's colorful past.
The band's name came about as a result of "a drunken accident," guitarist Jonny Nesta says just before breaking into laughter. "(Frontman) Zach (Slaughter) was trying to say 'skeleton hand' but he said 'skull fist.' It seemed to work out pretty well."
A year ago, Skull Fist released its second album, Chasing the Dream, and the band has been picking up both solid reviews ("captures a long-forgotten era with a sense of verve and joy," wrote Decibel magazine) and steam ever since.
"We all felt (Chasing the Dream) was a pretty strong follow-up to (2011's) Head of the Pack, but none of us really had huge expectations going into it," Nesta says. "We didn't think we'd be able to do all the shit we did when Head of the Pack came out and go all the places we did. I've been kind of blown away from the start."
Certainly, some of Skull Fist's appeal is rooted in nostalgia, at least for older metalheads. But the band also deserves credit for taking a bygone style and updating it not only with killer melodies, but also a sense of restraint. From Slaughter's sensational vocals to the rhythm section's steady throb, Skull Fist treats traditional metal with tremendous respect.
Which is likely why comparisons to '80s-metal parody band Steel Panther have stopped in the past couple of years, according to Nesta.
"I think people are fully catching on to what we're doing," he says.
It's also just awesome to watch a band have fun, and Skull Fist has no shortage of that, even in the course of a sometimes sparsely attended maiden voyage through America.
"We really enjoy what we do a lot and we're all pretty happy people and it comes out when we're at shows 'n shit. It's what we love doing," Nesta says. "We played a gig a few days ago that was literally three people in a shack. It was still fun, though." ♦
Skull Fist with Mercy Brown, Knight of Tears and Over Sea Under Stone • Fri, Jan. 30, at 7:30 pm • $7 • All-ages • The Hop! • 706 N. Monroe • thehopevents.com • 328-5467