Looking for evidence, an undercover operative slips unnoticed into a dim karaoke bar tucked into a strip mall. Eventually hearing enough, the uninvited visitor vanishes into the late summer evening. A few months later, Studio K discovers what the operative had come for: Proof that the little bar on Spokane's South Hill uses copyrighted music and owes someone a boatload of money.
For many of its 52 years, Studio K has been a place where people proudly belt out karaoke tunes — often terribly, after downing some liquid courage. Then a representative of ASCAP (the American Society of Composers, Authors and Publishers) — one of three organizations that own licenses to most published songs played in this country — visited the bar in September 2007 and witnessed amateur performances of five ASCAP-licensed songs, including Britney Spears' screeching pop hit "Toxic."
Citing copyright infringement, ASCAP demanded $10,000 for years of back payment. Studio K ended up settling for $5,000 and continues to pay the company's $800 license fee annually.
"I tried to fight them, but I was way too small," former co-owner Dale Van Zandt recalls. "Even after all of this time, I can tell you they're a bunch of assholes."
Current owner Susie VanderGaag adds: "We were made an example of."
That likely was the point.
Right now, somewhere in America, music is being played in public — whether it's through a radio, Pandora, Spotify, Muzak, karaoke or a live band — and it falls to ASCAP and the two other performing rights organizations (PROs) to collect. In principle, it makes sense: Musicians should get paid for their music. But in practice, things can get ugly, with performers caught between PROs and smaller venues struggling to survive.
For their part, local business owners tell of constantly being hounded with emails, letters, calls and somewhat sneaky personal visits, always with the same threat: Pay or get sued. For many venues, it's not that clear-cut. The PROs don't have to verify that a business is using songs from their catalog of 10 million-plus songs — they simply assume that's the case. Also, some of the licensing fees can be steep, and once you agree to pay one group, the other two PROs come knocking.
In some cases, venues unable to pay up have decided to pull the plug on performers altogether rather than risk a lawsuit. Still, for bars like Studio K that have been threatened with lawsuits in the past, there are few options.
"I still think it's wrong how the PROs collect their fees," Van Zandt says, "but I know there's nothing small businesses can do about it."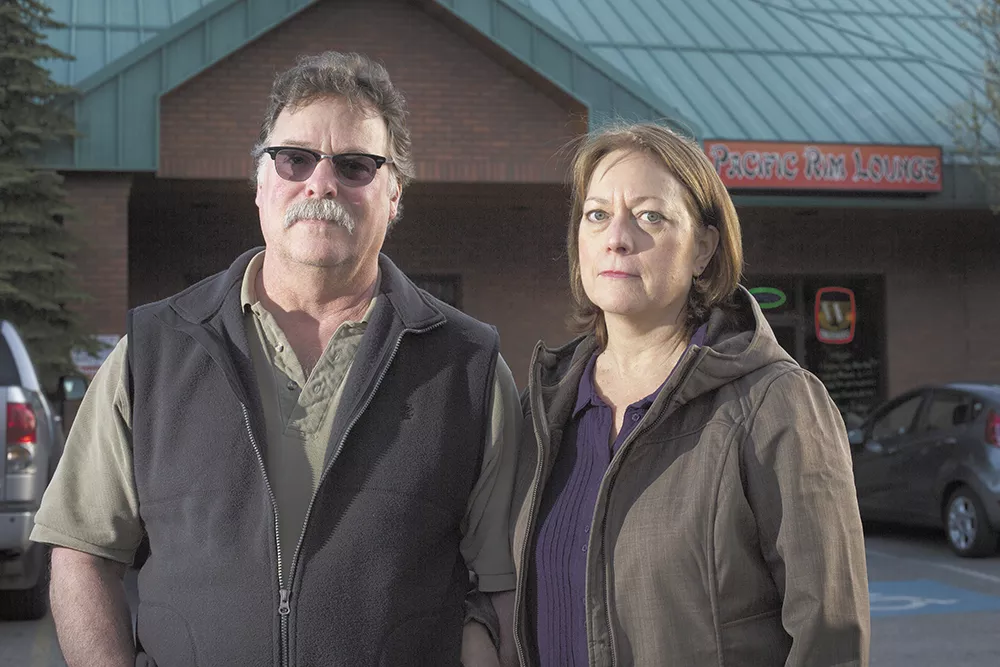 For a song
What happened to Studio K is hardly unique. The Flame in Spokane Valley was hit in 2008 (they settled, according to case documents), and Taylor Swift was even part of a lawsuit in 2010, when Lewiston, Idaho-based Boomers bar paid ASCAP more than $30,000 for playing Swift's songs and those of other artists.
Each case sends a message. Notably, L.A.-based franchise Roscoe's House of Chicken and Waffles was dragged to court after seven years of refusing to pay ASCAP. A judge ruled they should pay $36,000, as well as nearly $163,000 in attorney fees, in 2012. Last October, nine New York restaurants were sued for playing the radio at their establishments without paying.
Performance rights weren't recognized under U.S. copyright law until the Copyright Act of 1909 differentiated them from mechanical rights (i.e., recording), giving birth to ASCAP five years later. But now, while most other countries have only one PRO to worry about, America has three: ASCAP, BMI (Broadcast Music, Inc.), which are larger and nonprofit, and SESAC (the Society of European Stage Authors and Composers).
When it comes to performing published works, musicians have it easy. If a garage band wants to cover a Ramones song, they don't have to call up Joey Ramone's estate and ask for permission. They only have to buy the chord sheets or sheet music. (Recording a cover song for money is a different matter.) Since restaurants, bars or other venues may have that band perform at their establishment, and they're making money from those songs, the U.S. Supreme Court has put the responsibility on businesses for paying those royalties.
It's not just the businesses that host live music that need be copyright-compliant. That music you're sweating your buns to in spin class must be paid for, and even churches are expected to pay for music played at any other function besides exempted religious services. Controversially, ASCAP even went after the Girl Scouts in 1996 for songs sung around campfires. (The PR nightmare that ensued caused them to eventually back off.)
There are, of course, exceptions to every rule. A business under 3,750 square feet is allowed to play the radio or music television without fear of having to pay. But host live music, and the law is once again on the PROs' side. Some venues try to bypass the law by allowing only originals or songs in the public domain (think "Yankee Doodle Dandy," "Jingle Bells"). That means no piped-in tunes between live sets, or impromptu "Free Bird" covers, as well as signing a contract promising to never play one of the PROs' songs. However, as these options are nearly impossible to adhere to, the PROs would pressure owners to pay them anyway, just to be safe.
"There are tens of thousands of businesses that recognize music is a valuable thing. They recognize that music is more comfortable than silence," says Vincent Candilora, ASCAP executive vice president of licensing, from his Nashville office.
Candilora knows the struggle that PRO representatives go through to convince certain business owners to pay; he worked his way up through the organization after beginning his career as a music-licensing consultant.
"I used to tell business owners I was working with that music is like parsley on a plate," Candilora says. "You don't need it, but it sure makes the overall experience of eating at a restaurant better."
These days, the Internet has made it far easier for the PROs to search out businesses hosting music. PROs calculate what they'll charge a business using a set algorithm. Factors are based on capacity (dictated by the local fire department), the establishment's square footage, the number of days music is performed or played and also the type of music in question (DJ and karaoke are cheaper than live music). Annual bills can run anywhere from $300 to $9,000 per PRO, and businesses are only allowed an all-or-nothing blanket license.
While it's often true that small-time musicians and songwriters are literally paid pennies in royalties, more successful artists do see profits. ASCAP, after using nearly 12 percent of its revenue to pay employees and other overhead, divvies up the rest of the earnings among its artists based on the number of times a song is performed, or played on the radio, Spotify and other formats. Last year alone, ASCAP processed payment for more than 500 billion public performances.
Scared into submission
In the summers there were outdoor patio parties full of wine and live tunes. In the colder months, Mezzo Pazzo Wine Bar offered their gourmet salads and sandwiches with a side of local music — a mix of originals and cover tunes, mostly from solo acoustic artists. People told Anita Martinez that coming to her cozy establishment, which she ran with husband Ron, felt like hanging out in their own living room. Still, it wasn't enough, and the wine bar had to close its doors late last year, just days after Christmas.
Martinez says she believed her business was covered; she paid BMI around $300 annually. But about six months after opening, she received her first letter from SESAC. Her first chats with the music-licensing consultant were friendly enough, and he listened as she explained how cash-strapped her business was. Yet nearly every month she'd receive a letter calling for payment.
Things turned more serious when a law firm representing SESAC got involved. Shrum & Associates informed Martinez that a finding of willful infringement would entitle their client to as much as $150,000 for each SESAC song performed.
"I wondered why they even bothered," says Martinez. "I was such a small fish. Does Eric Clapton [or any major recording artist] really care if a 600-square-foot wine bar plays his songs?"
These days, Martinez and her husband still like to support musicians who once played their establishment. Only now, it's at other venues. "It's too bad local musicians have lost yet another venue to play at," she says.
That's what Twelve String Brewing Company co-owner Terry Hackler understands as well. Hackler, a lifelong local musician, says he always envisioned his Spokane Valley tap room supporting local artists — the guitar is the theme of the brewery, after all. He says that SESAC wanted to charge him the same amount they charge businesses three times his size. When he explained that his musicians were only playing originals, SESAC still wouldn't budge.
"They're relentless. They are the most un-nice people that I've ever dealt with in my life," Hackler says of the PROs. "If I sound bitter, it's because I am."
In December, Hackler ceased hosting live music performances, leaving local performers with one fewer stage.
Stuck in the middle
The Big Dipper had been open for six months when SESAC sent owner Dan Hoerner notice that he owed them thousands of dollars for using their songwriters' music catalog at his business. The news wasn't a surprise, but swung like a wrecking ball nonetheless. With the business just barely off the ground, Hoerner worried about paying more pressing bills first.
Open now for a year, Hoerner, sitting in the darkened upstairs loft of his music establishment, says he still can't pay and keep his all-ages music club afloat. Paying SESAC and the other PROs would run about $10,000 per year.
Hoerner says he was proactive in reaching out to the other two organizations. Explaining his financial realities to a human representative, he says, should help bring that high cost down. Then he says he'll pay. He wants to pay. He knows the importance of payment. It's not just the storied histories of non-paying businesses that have been demolished through lawsuits; Hoerner still receives royalty checks for his work with influential Seattle emo band Sunny Day Real Estate.
"Thank God BMI collects royalties for me," Hoerner says.
"Say there's this thing you want to do, and you want to take it on the road, and you've spent years on it," Hoerner reasons. "You've given up relationships, you've f---ed up big phases of your life and then, finally, miraculously, it's out there in the world, and you get paid and it's a big deal. Then another person comes along and takes it and says it's theirs to use as they please. That's heartbreaking."
The conflict within him rises to his face, his wide smile drooping somewhat.
"I'm just this tiny guy here trying to make a 100-year-old business come back from the dead," he says. "I'd like to ask [the PROs] what they think my bottom line is? How can small businesses coexist with our host organism? I am just the wildebeest figuring out how much blood I can give to the fly."
A change is coming
At February's Grammys ceremony, National Academy of Recording Arts and Sciences president Neil Portnow, along with Oscar winner Jennifer Hudson and Ryan Tedder of OneRepublic, stood in front of the glittering music elite, calling for music creators' rights and reform from Washington, D.C.
"Music has tremendous value in our lives," Portnow said from the stage. "While ways of listening to music evolve, we must remember that music matters in our lives, and that new technology must pay artists fairly."
The star-filled audience, including producer/songwriter Pharrell Williams, who recently was sued for sampling a Marvin Gaye song for the mega-hit "Blurred Lines," cheered uproariously.
This was right before the U.S. Copyright Office released the report "Copyright in the Music Marketplace" on Feb. 14, pushing for Congress to revise outdated laws so songwriters would be fairly and more easily compensated. In a seemingly rare moment of both parties reaching across the aisle, the Songwriter Equity Act was reintroduced in the U.S. House of Representatives on March 4. The legislation would allow a special, more efficient, royalty rate-setting board to decide the fair market value of a tune when setting digital rates, meaning the potential for more money for people who actually write songs.
"Every songwriter will have more control over their property," says Georgia Rep. Doug Collins, one of the act's co-sponsors. He says music sharing businesses like Spotify curtail creativity because songwriters and musicians aren't being properly compensated. It's the songwriters who especially need the law on their side; often, these are not famous people who rely on royalty checks to make a living.
ASCAP is certainly enthusiastic about the move forward; its CEO Elizabeth Matthews recently spoke to the U.S. Senate on behalf of American songwriters, urging lawmakers to update compensation laws reflecting how consumers currently use music.
Yet ASCAP representatives wouldn't say whether these reforms could mean a higher price for music for businesses and consumers alike.
"We're just advocating for change, not telling the rate courts what to charge," says Cathy Nevins, ASCAP's senior director of public relations.
But Jessica Kiser, an intellectual property professor at Gonzaga University's School of Law, says that if the Songwriter Equity Act is implemented, the money has to come from somewhere.
"It's just the realities of economics," Kiser says, "that eventually these additional rates would probably trickle down to the consumer and businesses, and people don't want to pay for music the way it is."
Resolution
At this point, the copyright laws that deem businesses responsible for music performance payments aren't going anywhere, but there should be viable options for local establishments just starting out.
Some music streaming companies are trying to make it easier for small businesses to play background music, whether in a dentist's office or a grocery store. Pandora has set up a special business program that pays the PROs and other legal fees so the business doesn't have to. After owners purchase a special player, Pandora's prices begin at $25 a month, nearly the same amount that a small business (like the size of Mezzo Pazzo) would pay annually to each individual PRO. Some jukebox companies also offer to pay the licensing costs for businesses. But these options are not conducive to every business model. Tina Morrison, union president of Professional Musicians of the Inland Northwest, says more must be done to educate business owners about exactly where the money they pay goes.
"Why not have a community forum?" she asks. "Let's get everyone in the same room — musicians, business owners and PRO representatives — and talk about what is expected from all parties and how they can more easily work together."
Then there's her idea of local grants for new business owners, where fledgling companies would receive money from city funds or even art foundations to help pay for PRO fees when first starting out.
"Nightlife is a very vital part of this city," Morrison explains. "If the city wants more people to come downtown, that includes keeping the music scene vibrant and keeping musicians paid."
Similarly, Kiser suggests that PROs set up a sliding-scale approach that would allow businesses to get on their feet and establish some revenue before being required to pay the full amount.
In the coming months, songwriters may look forward to more sizable royalty checks. Only time will tell how that directly affects businesses' PRO fees, the consumer and local musicians who just want a place to play their handful of heartfelt (cover or original) songs.
"We're all trying to figure this out, how we monetize music again, so artists can justify creating and perfecting it," Morrison says. "It's a conversation we as a society should all be involved in." ♦ lauraj@inlander.com