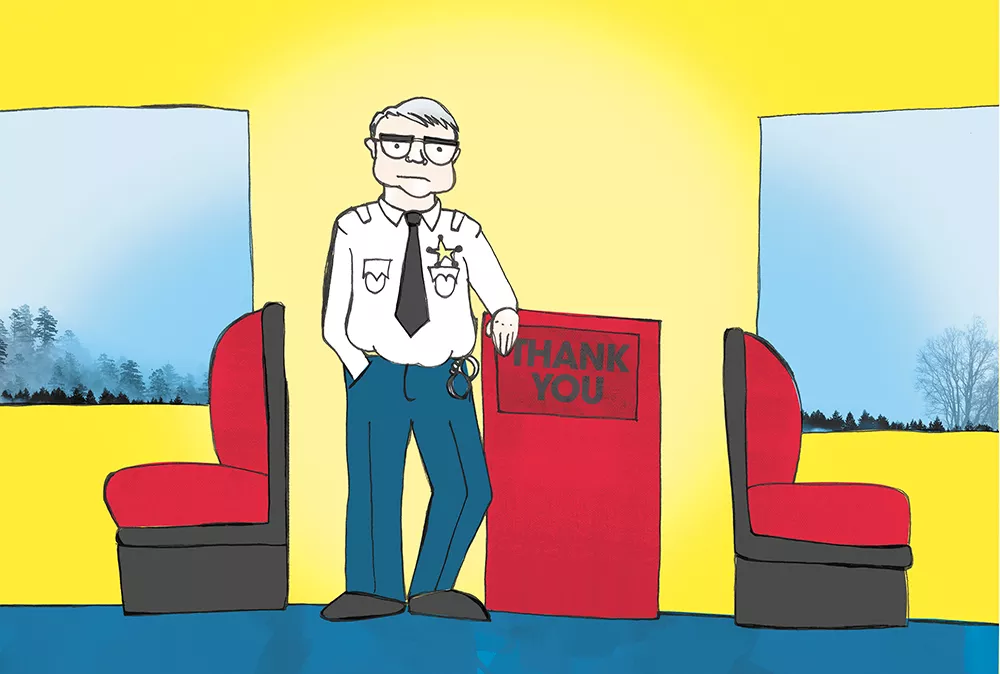 It's a half-hour after midnight at Zip's in Cheney, and some Eastern Washington University student is unloading a loud rant of young, inebriated entitlement on the poor late-night fast-food slingers: "Fast food! That I f---in' paid for! Fast food that I paid for!"
"He saw me, and pushed me and said, 'You're just a security guard, and I don't have to do a damn thing you say.' He said, 'I should just hit you in the mouth,'" Jim Wallingford recounts a few minutes later. He's 62, white-haired, with a faint moustache and a "State Protection Services" badge logo on his sleeve. "I really wanted to deck him. When he pushed me, I really wanted to just smack him, and take him to the ground. I've got my cuffs. I'd cuff him up and throw him outside and wait for the cops."
But then would come the paperwork and the blowback from his bosses and all manner of hassle. Instead, he pulls out his old flip-phone and calls the cops. "Asshole!" Wallingford barks to himself as the police officers drag the kid outside.
All the more frustrating because, until a few years ago, Wallingford could have been the one arresting them. He spent 20 years as a Cheney cop — including time as a K9 officer with a dog named Rex. Twelve of those years he was on the graveyard shift.
But now, after the bars close in Cheney, he's here: this late-night beacon for drunk college-somethings, the whole screaming, tartar-sauce-tossing, corndog-cramming, selfie-snapping bunch.
From his vantage point at a podium that doubles as a "THANK YOU!" bin where EWU students dump their greasy corndog wrappers and their ravaged fry tubs, Wallingford stands watch. He breaks up the fistfights, quells the food fights and calls the fire department when someone passes out in the bathroom. He takes notes (1 am: 30 people, all intoxicated, very loud). He throws away trash and wipes off tables when he's bored.
As this particular night wanes on, Wallingford quietly observes the raucous crowd through his thick bifocals: The guy who doubles over, lying down in his booth, arms flapping with uncontrollable laughter at nothing in particular. The neon-green-haired co-ed who props up her rag-doll-drunk friend up in his seat. The kid who leaves a dribbling trail of fry sauce all the way back to his table.
Sure, the crowd can sometimes annoy Wallingford.
"I want to go up to 'em and tell 'em, 'Inside voices,'" he says. But he's sympathetic. After all, he was once young, drunk and stupid. Forty years ago, he was once a student at Eastern too — Theta Chi fraternity president — back when this was still a drive-in A&W. Heck, he wouldn't be surprised if his frat brothers got in drunken fights back in this very spot.
"I remember when I was their age, you know. I remember doing the stupid stuff they were doing right now," Wallingford says. "Oh, God. I remember doing a lot of stupid stuff." ♦