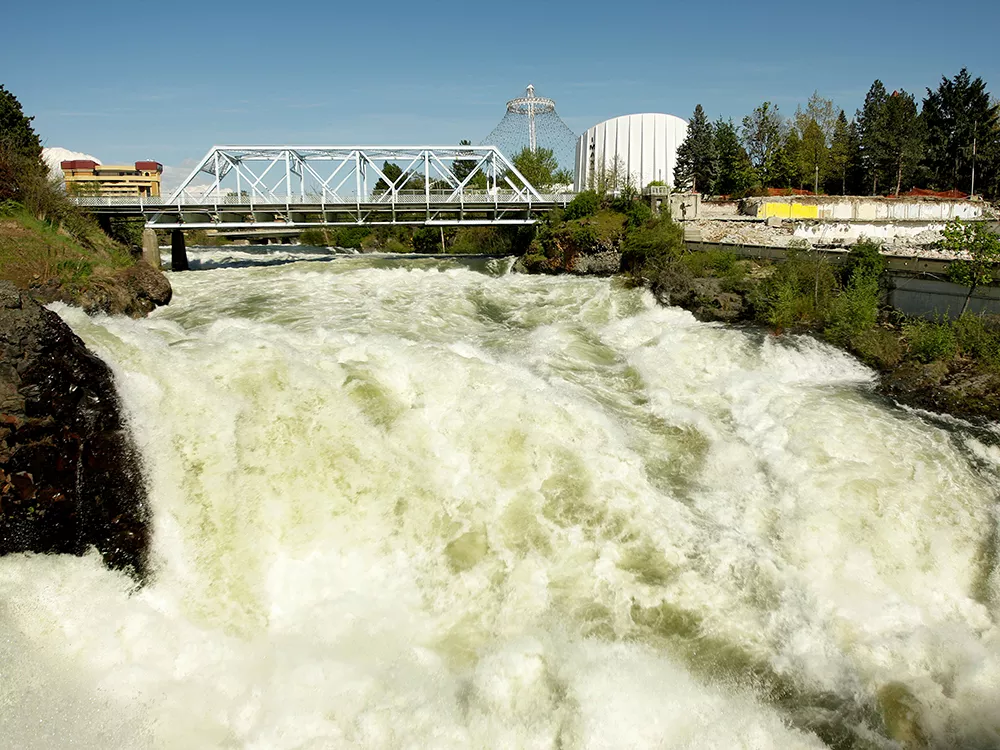 Bridge by Bridge
Moved by the collapse of the I-5 Skagit River Bridge earlier this year, Spokane City Councilman Jon Snyder called for inspections of 11 bridges in Riverfront Park, and this week he got his wish. The council unanimously voted Monday to spend $350,000 inspecting the bridges to determine which are structurally sound and how much upgrades would cost for those that aren't.
Snyder says some of the bridges, used primarily by bike and pedestrian traffic, haven't been inspected since they were built for Expo '74. While the city inspects most of its own bridges, Snyder says, this work will be done by an outside company because submerged or suspension bridges require inspectors to be under water or suspended on ropes to get close enough, and the city doesn't have that capability.
Parks Department Director Leroy Eadie told the council the inspections would help determine how much his department would ask for from voters in the next park bond.
"I want our citizens to be confident of every single bridge they walk over in the city of Spokane," Snyder says. "A bridge that hasn't been inspected in 40 years is a bridge worth spending some money on."
— HEIDI GROOVER
Court Costs
After losing its latest court case over its unconstitutional abortion restrictions, the state of Idaho has now amassed more than $1 million in legal fees defending its abortion laws since 2000.
Last week, according to the Associated Press, a U.S. district court judge ordered the state to pay more than $376,000 to attorneys representing Jennie Linn McCormack, an eastern Idaho woman who was arrested and charged with a felony for inducing her own abortion in 2010 because she couldn't afford a doctor. Judge B. Lynn Winmill's March ruling in the McCormack case struck down several Idaho abortion restrictions, including the state's "fetal pain" law, which bans abortions after 20 weeks. Idaho was the first of 10 states to have its fetal pain law overturned by a federal court.
Idaho won't have to foot the bill immediately because other aspects of the McCormack case are still pending. Should the state lose, its fees will go up even higher to cover McCormack's appellate costs.
Bob Cooper, a spokesman for Idaho Attorney General Lawrence Wasden, told the AP that defending these cases is a "worthwhile expense" for anti-abortion advocates.
— DEANNA PAN
Officers Named
Spokane Police Department officials this week released the names and work histories of four police officers who fired their weapons during the fatal officer-involved shooting of a hit-and-run suspect last Thursday outside the Salvation Army shelter.
Investigators identified Lt. Kevin King, Officer Robert Collins, Officer Corey Lyons and Officer Scott Lesser in the shooting. Suspect Danny C. Jones, 40, died from multiple gunshot wounds after allegedly ramming patrol cars in the parking lot outside the shelter.
Police officials noted the officers have more than 50 years of combined experience and multiple service commendations. King has served the longest with 25 years on the force. The newest officer, Lesser, has spent three years on patrol.
The shooting remains under investigation by the multi-agency Spokane Investigative Regional Response team, comprised of detectives from the Spokane Police Department, the Spokane County Sheriff's Office and the Washington State Patrol.
— JACOB JONES