Along the rutted and narrow Wilson Avenue, whose historic residences press up against the lushly treed hillside below Riverside Avenue, the cars rolling over the Maple Street Bridge roar from above, amplified by the slope. Du-dum, du-dum, du-dum, the tires of thousands of vehicles drum in rhythm over the bridge's expansion joints.
Though known for its eclectic and welcoming atmosphere, parts of the Peaceful Valley neighborhood are under constant shadow of a perpetual thunderstorm. Long since resigned to the bridge's looming presence, this is the neighborhood's euphemism. Especially on a warm summer day, this artificial thunder contrasts starkly with the bubble of rushing water just blocks away. There, the Spokane River brings nature to the back doors of Peaceful Valley's 600 or so residents.
In the back pocket of Spokane's core, Peaceful Valley is one of its oldest neighborhoods — first housing the blue-collar folks who built the city as it was settled and developed in the late 1800s and 19-aughts — and one of its most unique. Its many pioneer-style homes with friendly front porches and overgrown gardens ooze with charm, some painted in bright, unapologetic color schemes. There are no commercial businesses here, and haven't been for decades. For most non-residents, the neighborhood is not a destination, except for visitors accessing the Spokane River bank to swim, fish and raft, and the occasional jogger. No one really passes through Peaceful Valley to get to another destination — most of us simply pass over it from above — yet its residents seem perfectly happy to leave it that way.
NEAR NATURE, NEAR URBANIZATION
Already the unwilling recipient of major urbanization when the 1,750-foot-long Maple Street Bridge bisected its heart back in 1958, Peaceful Valley's residents are again staunchly against the next big, nearby development. The proposed 1400 Riverside Tower — a 14-story, 50-unit luxury condo atop the hill overlooking the neighborhood — would permanently alter the character of their home, they argue, in an entirely non-cohesive way.
At July's neighborhood council meeting, some of a dozen or so residents express their continued frustration. They may not be able to stop the condo tower, but they'd really like to see the attached, three-story parking garage moved from a planned spot at the corner of Cedar Street and Wilson, the base of the hill, up to Riverside.
"It's turning its back on the neighborhood," says Peaceful Valley council chair Bill Forman, who moved to the neighborhood three years ago to retire. "The front door is on Riverside, and we're just faced with this blank wall and an industrial door. How are they your neighbors?"
During the meeting, treasurer/secretary Jan Loux reads back the council's previously drafted responses to an infill questionnaire from the city of Spokane. They use the opportunity to further express their displeasure over this particular infill project — 1400 Riverside Tower is not of an appropriate design, and "will cause undue shadow, increased traffic and won't match the style or history of the neighborhood," she reads.
The next paragraph, though, outlines projects that Peaceful Valley's residents would welcome: tiny homes, cottages, and even a small coffee shop or a grocery store on its borders. Homes with front porches to match the rest of the neighborhood, which became a nationally recognized historic district in the mid-1980s, are also desirable.
"It's a great neighborhood, and I think there is a perception in the [rest of the] city that it's kind of a low-income, disorderly neighborhood, but I think that's not at all the case," council chair Forman explains. "The people get to know each other pretty well. Even if there are some homeless people and the occasional property crime issues, I still think it's a wonderful neighborhood, and I'm happy to be living here."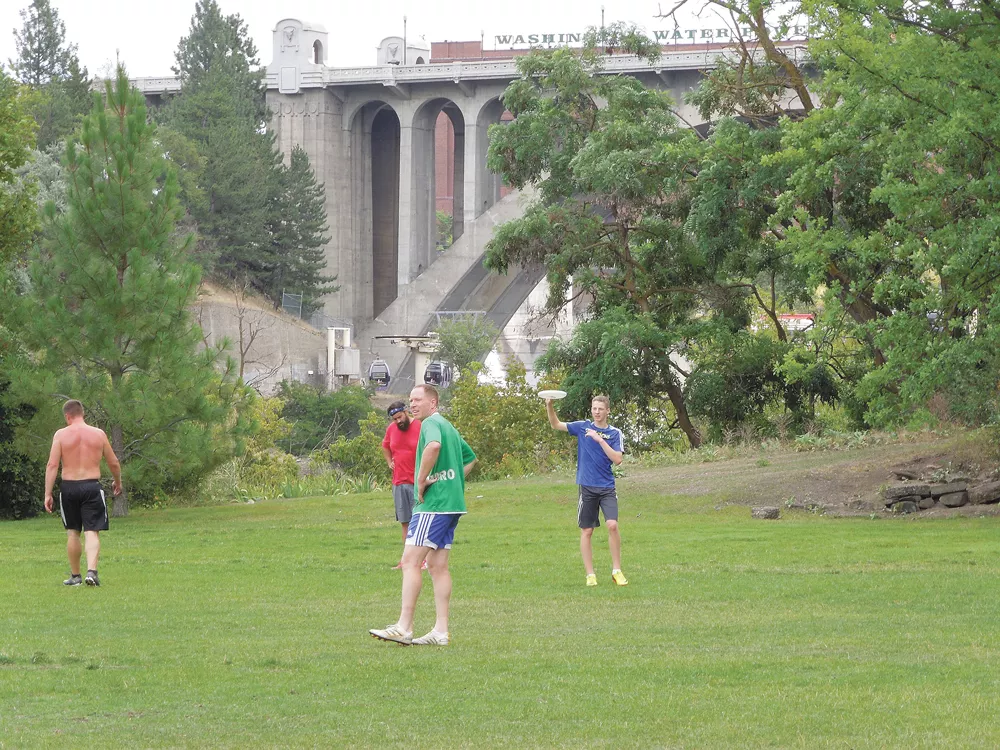 MIDDAY MINGLE
In the morning, Glover Field is speckled with the furry little marmots, noses nuzzled to the grass on their quest for a buggy breakfast. By midday, the field is filled with other visitors, a group of avid ultimate Frisbee fans who meet there for a lunch-hour game if they can get enough players.
Beginning back in 2005 with a group of super-active Next IT employees — before the tech-innovation company relocated to Spokane Valley — the Frisbee players would meet in Riverfront Park during lunch for some exercise. Three years ago, they moved to Peaceful Valley's Glover Field, and the open-to-all, drop-in games now host all sorts of 9-to-5ers who drive or bike down to the park from across town. More than 100 names populate the Google group's email list (spokane-frisbee+subscribe@googlegroups.com), and games happen on any weekday when more than six players sign up, says player Erika Prins Simonds.
"[The neighborhood council] loves that we play down here," she says. "Having things going on deters people from using it for less desirable purposes."
THERE AND BACK
Charlie Greenwood's earliest memory of Peaceful Valley is the flood.
In 1957, he was 7. His family lived in a house on the 1700 block of West Clarke Avenue, just below Browne's Addition.
"There was this huge cloudburst, and all this water ran down the hill. After school I had followed a friend home to play in Browne's Addition, and coming home, the water was, like, up to the curb level," Greenwood recalls from a Glover Field picnic table. The river rolls by below, marmots chirping sporadically from its banks.
"We were in the kitchen, and suddenly this mud burst through the kitchen window and started rolling onto the floor. My mother grabs me and my brother, and [we] waded through a foot of water going down to safety," continues Greenwood, 67.
Their home destroyed, the Greenwoods moved up to West Central to a house on Boone Avenue. Even so, Greenwood didn't break ties with his Peaceful Valley friends, and recalls building a bike when he was 12 to make trips up and down the valley's hills easier.
In 1970, after returning home to Spokane following his service aboard a Navy submarine in the Atlantic during the Vietnam War, Greenwood just wanted to move back to Peaceful Valley. He still lives in the house he bought then, on the west end of the neighborhood on Bennett Avenue. Back then, the 1910 house cost a cool $800, he says.
"I always felt like it was home." ♦
---
Established: The first residents settled there during Spokane's formative years, in the 1890s, with most homes constructed from then on through the early 1900s.
Boundaries: (north) Spokane River; (west) Riverside at Clark Avenue; (east) Glover Field, Monroe and Cedar Street; (south) Hillside below Riverside Ave. and Browne's Addition
Population: Approximately 600, according to the neighborhood council
Landmarks: Glover Field, Maple Street Bridge, Spokane River, Cowley School building, homes featured in the films Benny & Joon and Vision Quest