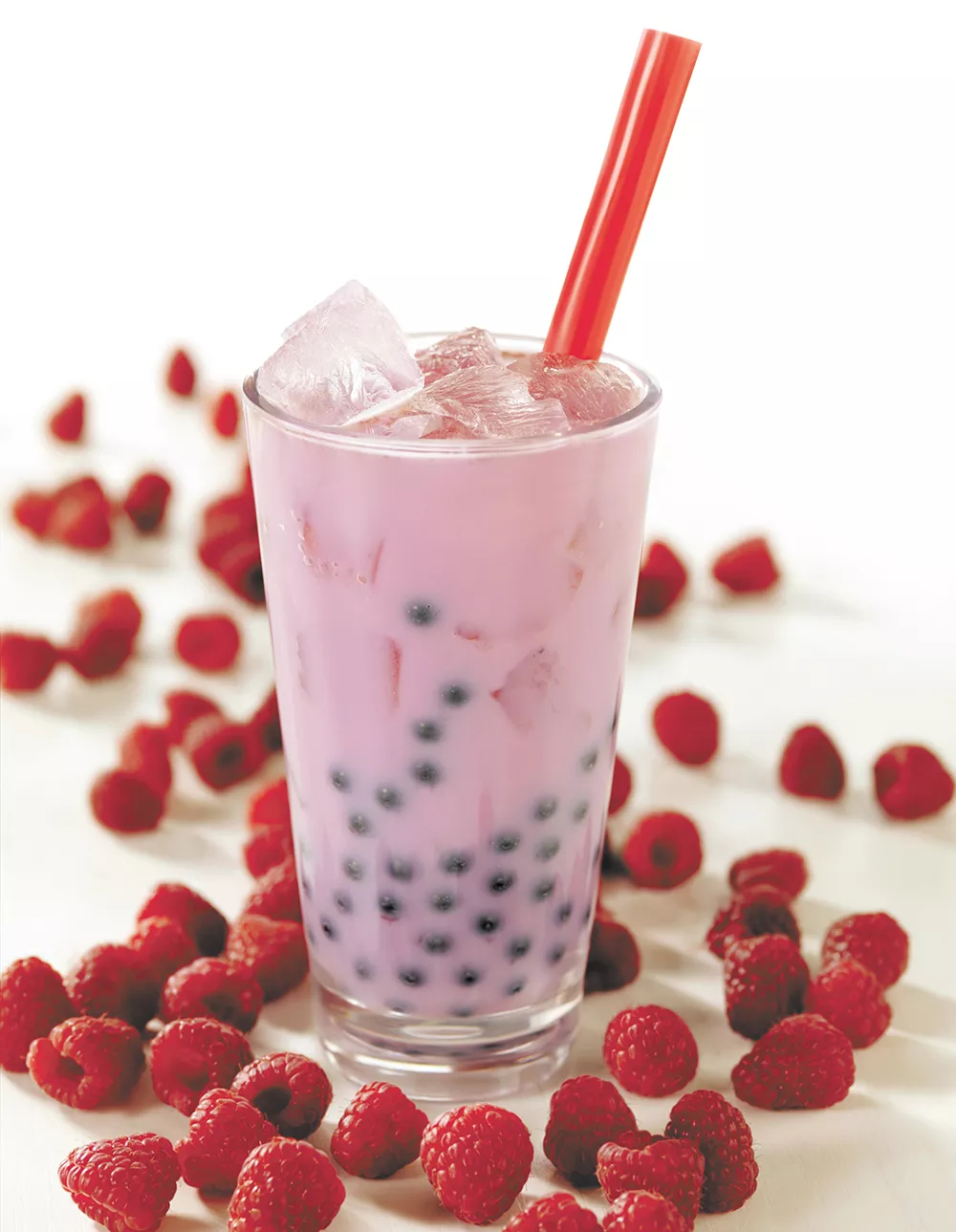 We get excited when big-city food trends make their way to our neck of the woods, and boba tea is no exception. Also known as bubble or pearl tea for the edible "balls" of tapioca or similar jellied substance that line the bottom of a typical serving, boba was invented in the late '80s when a Taiwanese teahouse — stories vary as to which one — created the beverage.
It's also been around the Inland Northwest for several years, sometimes on drink menus at restaurants serving food from Pacific Rim countries. Spokane's Vien Dong, for example, serves it as a smoothie of traditional red bean or taro, as well as fruit and coconut ($3.75). while Sandpoint's Kyoko Sushi gives you the option of dairy or coconut milk in their green tea-based boba with fruit flavoring — mango, huckleberry, honeydew — over ice or blended ($5).
There are endless variations on the tea base used — black tea and jasmine, which is green tea, are most common — types of milk (half-and-half, coconut, dairy, even nondairy creamer) and how the drink is served, such as over ice or blended. Inside NorthTown Mall, for example, Boba Bubble serves blended shakes ($3.68-$4.45), a slushy-like tea ($3.68), and "milk tea," which is flavored jasmine or black tea ($3.68).
Regardless of the variation, flavored syrups add color and sweetness. Fruits are typical — melons, berries, tropical flavors like pineapple or lychee — although Awaken Coffee in Coeur d'Alene says that lavender and vanilla are popular in their tea ($3.95-$4.95)
Then there are the bubbles themselves, which range in size, shape, texture, color and content. Traditional boba bubbles are made from tapioca, a humble subsistence foodstuff that comes from the cassava or yucca root. Formed into shapes — large balls requiring an equally large straw with which to suck them up — the tapioca takes on a gummy-bear-like consistency when added to liquid.
"I like the centers to be more solid than the outside, so there's more chew," says Shiree Cosgrove of Coeur d'Alene, who considers herself a boba connoisseur. She buys the boba (try Best Asian Market or Lieng Phane Oriental Market, both on East Sprague), boils and drains them, adding maple syrup for sweetness.
Her go-to tea types are masala chai or matcha (green tea ground into a strongly-tasting powder) with cream.
Cosgrove also likes the boba at Gaiwan Tea House, too, which serves four types at their Coeur d'Alene location, as well as at the Kootenai Farmers Market. Using pearls from Taiwan and either milk or cream, Gaiwan offers jasmine or black tea ($4/$4.50), matcha ($4.75-$5.25), or masala chai ($4.75).
An increasingly popular boba is made of fruit juice, which — through molecular gastronomy — forms a sphere with a thin skin that bursts as you bite into it. Go Froyo-South Hill calls them "juicy poppers," and offers them as an option in their green, black, lemon and green pomegranate tea drinks ($3.75-$4.50).
Amidst the ping and clang of video games at Did's Pizza & Froyo Hawaiian Shack and Arcade, you can have your boba drink iced, blended with yogurt, as a slushy or traditional milk tea with green or black tea base, or with approximately three dozen flavor options like rock n' roll (blueberry, blue raspberry, grape), butterscotch and pink cotton candy ($2.75-$4). The top of each beverage is sealed in plastic, through which you punch your oversized straw with a satisfying pop to get at the bubbles.
Then it's a question of technique, a litmus test of personality types, perhaps. The optimist drinks the liquid first, then scoops the balls out, hoping that they're not too mushy. The impulsive peels away the top and digs around impatiently for the balls. The peacemaker breaks up the balls with the straw, mixing them equally and gently into the liquid so they're easier to drink.
Whatever your style — or flavor or tea or serving preference — boba tea offers plenty to chew on. ♦