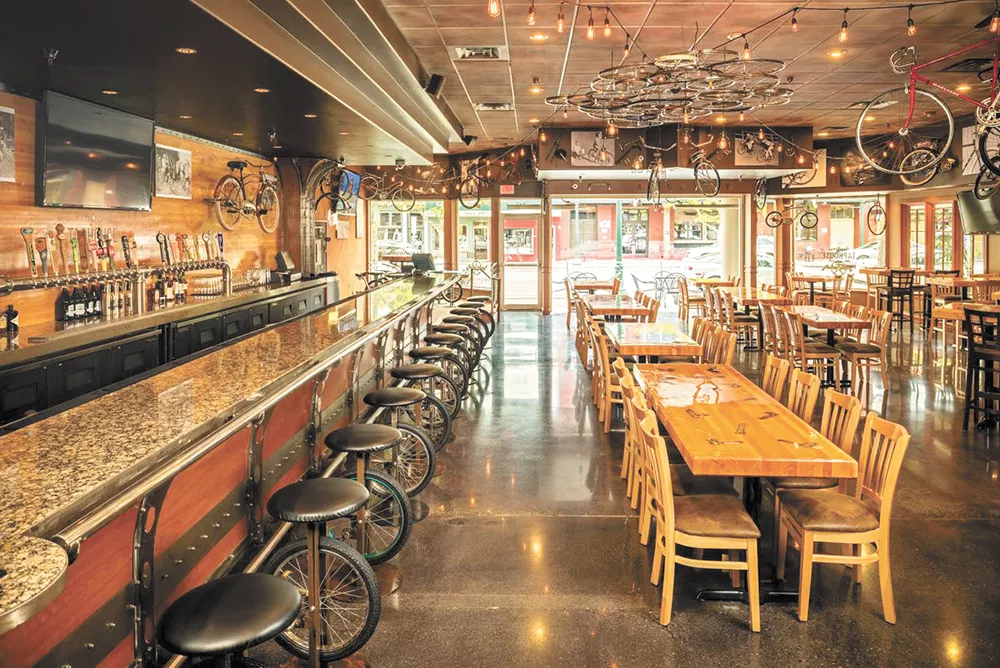 When the Coeur d'Alene Resort's former Splash nightclub dried up, the Resort Plaza Shop space was retooled into Coeur d'Alene Taphouse - Unchained. Following the trends toward craft brewing and industrial motifs, Unchained is equal parts novelty and nostalgia.
The theme — bicycles — drives the décor and some menu items. Bikes and bike parts of various ages and models hang from the ceiling and walls, while fist-sized gears are embedded into the resin-coated, wooden tables. The nostalgic centerpiece is a 1920s-era bicycle located behind the bar, while the novelty item is a human-powered blender known as the Margarita Bike (insert selfie opportunity here).
The bicycle theme cycles through the menu, too, with Kick Stand French Fries with garlic, Romano and Parmesan cheese ($3.95). House Made Handle Bars ($5.95) is a basket of baked pretzel bread with a jalapeño cheese dipping sauce made with Session IPA (brewed for Unchained by local Slate Creek Brewing). And if the pizzas — named for nearby trails like the Penn and Hiawatha — taste familiar, it's because they're baked over at Tito's Italian Grill & Wine Shop, Unchained's next-door neighbor.
Unchained also picks up on the trend toward local sourcing with a smattering of regional ingredients like Priest River elk and Washington State University's Cougar Gold cheese in the elk burger ($12.95). Other comfort foods include the blue cheese bacon mac and cheese ($9.95) and bacon-wrapped meatloaf ($12.95).
With the exception of a salad ($4.25-$9.95), everything on the menu seems designed to go well with beer. That's where Unchained is most likely to create a reaction among area diners: the beer menu. With two dozen rotating taps, it's not so large that it requires you to download the BeerAdvocate app in order to decide. Local and regional beers are favored, including No-Li's Spin Cycle Red and Selkirk Abbey's Infidel, as well as Seattle's Elysian Split Shot Espresso Milk Stout and Goodlife Descender IPA from Bend, Oregon. There are also a few taps reserved for ciders or nontraditional beers like Boise's PostModern Hard Ginger Beer. ♦
Coeur d'Alene Taphouse - Unchained • 210 E. Sherman Ave., Coeur d'Alene • Open daily, 11 am-11 pm • cdataphouse.com • 844-223-3163