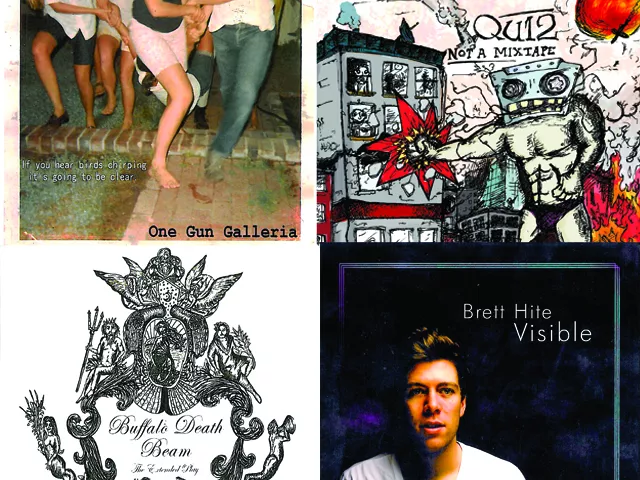 THUY-DZUONG NGUYEN
Former Spokesman-Review multimedia producer. Avid local music fan. Author of multimedia novel, The Truth Lenders. Vietnamese translator.
Brett Hite – Visible
If you transcribe mint gum, CK One and Starbucks furniture into music, this is the end result. It's not just Hite's crisp vocals and catchy, clean guitar — but sweet and blunt instrumentation, subtle and well-thought-out transitions and generous wash of radio-pop love from San Francisco music producer Joe Varela. There is such thing as a "Varela sound" — it sounds like a string of platinum megahits, but it's dificult to explain why.
Buffalo Death Beam –The Extended Play
Bluegrass country songs sometimes reach a critical mass where instrumental complexity becomes overwhelming, but this EP from Buffalo Death Beam is an intelligent, educational exercise for the ears and the brain. A detail-packed set of banjo, mandolin, drums and fiddle challenges a person to listen intently for each musical component rather than to sit back and zone out.
Quiz – Not a Mix Tape Vol. 1
Dark space-rap, more metaphors than facts, more clever wordplay than story, and avoids blatantly featuring the mainstream/stereotypical rap subjects of violence, money and easy women. Quiz operates like a slam poet, and his Not A Mixtape is a study in texture over tone. It's a gapless album, featuring rap-works he has sandwiched or layered around segments of experimental, molecular space-noise and intergalactic thumping.
One Gun Galleria – If You Hear Birds Chirping, It's Going To Be Clear
Staticky, distorted, and stylishly tone-lazy vocals over upbeat synthetics, purrs of electric guitar and faint inspirations of videogame plinks, punk rock silliness and a few drinks. Wear villain sunglasses, shrug and nod with these indie cats to feel cooler than you really are, but quickly now, before the lyrics convince you that OGG created a subtle, clever practical joke.
---
GREGORY SPATZ
Fiddler. Plays in local bluegrass band Mighty Squirrel. Also performs with John Reischman and the Jaybirds. Creative writing professor at EWU.
Brett Hite – Visible
Not much overt Christian content to the lyrics, but the aesthetic here has a definite Christian pop vibe. Strong melodies, big production, smart dynamic arrangements skillfully layered in. It's a big pop music sound with lots of soul-inflected vocal presence. Well-constructed material all the way through. Adult pop music on the mark — with a high cheese content warning for those who like their music on the leaner side.

Buffalo Death Beam –The Extended Play
Decemberists crossed with Bob Dylan of the Desire/Hurricane Carter era, with a bit of jam-band Phish or Leftover Salmon thrown in (minus the instrumental pyrotechnics). Murky, rhythm-heavy arrangements with some busy violin/mandolin texturing. Harmonically the songs are meandering at times, but that's part of the loose aesthetic. Fun and jammy. DIY production values. One track, "Yuma," is a standout: spooky, dreamy and well arranged. The rest of the EP doesn't quite rise to that level.
Quiz – Not a Mix Tape Vol. 1
Admittedly, not my favorite genre, so maybe I should recuse myself. My main objection with this recording is that the vocals are too far back under the synthesized loops and beats. While the beats are strong and chunky, with some ambient flourishes, they're too simple (for my taste) to carry everything. To quote one of the more audible refrains here:  "It's not cool if nobody gets it." Obviously some people are going to "get" Quiz. I wanted to. I tried. I couldn't.
One Gun Galleria – If You Hear Birds Chirping, It's Going To Be Clear
Very much a recorded, studio venture given the mash-up of styles, settings and effects here — techno drum-machine distortion, Nick Drake-styled fingerpick guitar, minimalist hip-hop, '80s DIY Casio keys, poppy backup vocals, bird calls, even a metal growl or two. At times the disruptive stylization really works: it's catchy, hypnotic, danceable; other times, it's annoyingly A.D.D. Vocals are most reminiscent of Bowie — cool, processed — with the occasional earnest, breathy if (deliberately) pitch-errant intimacy.

---
JOSH SIMON
Multi-instrumentalist. Founder of Son Dulce and Spokane 70, among others. Has played with James Pants and the Royal Zodiac, Joel Smith, Don Goodwin, Charlie Butts and the Filter Tips, Groove Patrol and An Dochas
Brett Hite – Visible
I'm going to say this in the most politically correct way that I can: If you think that the North and South Poles of music are Hootie and the Blowfish and Jason Mraz, with American Idol somewhere around the equator, this CD still might kind of piss you off. In 1995, H&TBF were sued by Bob Dylan for copying his sound and words. I hope you have money left over from making this very expensive sounding disc to hire your own lawyers. Darius Rucker is calling.
Buffalo Death Beam –The Extended Play
Favorite. Band. Name. Ever. For all of the jarring mental imagery that it conjures, however, the music is quite delicate. Acoustic guitars, fiddles, mandolins, gorgeous vocal harmony: pure modern Americana. These guys are good. Way f---ing good. You'd better see them while you can, because bands that sound like this will not be contained on the Palouse for long. This EP will probably make it into a lot of my friends Christmas stockings when that time comes. And by then, it may already be too late to call them local anymore. Kudos to you, BDB. You're doing it, and doing it well.
Quiz – Not a Mix Tape Vol. 1
The lyrical content and the flow here sound good… actually, really good. But I could think that about a lot of hip-hop. There is very little variety in the way the beats sound underneath these words. The production from track to track, while quality, doesn't vary an inch. Ever. And while I truly dig some of the verbal acrobatics ("psychedelic gang bang" may be one of my new favorite lines), the end result is that the songs all start to blur together: no definable hooks or tricks of production to differentiate one solid set of rhymes from the other. But who knows…perhaps this is how hip-hop is supposed to be?

One Gun Galleria – If You Hear Birds Chirping, It's Going To Be Clear
Don't get me wrong, I like bands that have a lot of variety in their sound, and this definitely fits that bill. There are many different textures and influences on display here, and Mr. Mink delivers a disc that is very much worth a listen. However, the trick of smashing a bunch of ill-related pieces of music together is only novel for a minute. And then it just gets damned annoying. Case in point: the last song, where a very peaceful and pleasant acoustic world is created, then ruptured by muddy, proto metal ramblings, only for a minute, and seemingly for no reason. It's like an air strike getting called on a picnic. Please, jettison the kitchen sink approach to songwriting. Let the good songs that are here breathe.
---
BOB HOMBURG
Guitarist in experimental rock bands Belt of Vapor and Beluga. Painter. High school history teacher. Heavy consumer of National Public Radio.
Brett Hite – Visible
He is a pretty good singer and a pretty good pop song writer. However, in this day, even in pop music, you need to be different. There is nothing new here — nothing really interesting or surprising. But what do I know? In a world where John Mayer and American Idol are a hit, who's to say Brett can't be a superstar as well? 

Buffalo Death Beam –The Extended Play
I almost liked this album. The musicians are all talented on their own, but when put together, something is lacking. The songs neglect to build; they just seem to remain stagnant. And just when I think Buffalo Death Beam are about to go someplace new and exciting, the song ends. I do like the eclectic mix they are pursuing — it just needs to be reworked.

Quiz – Not a Mix Tape Vol. 1
Easily my favorite album of the four. Quiz made an album, not a collection of hit songs — and it deserves to be listened to that way. The futuristic/industrial-like beats, seldom heard in hip-hop, are a breath of fresh air. The vocals and lyrics are all very well done and deserve special attention from the listener. Spokane should be thankful they have such good hip-hop living in its own backyard.

One Gun Galleria – If You Hear Birds Chirping, It's Going To Be Clear
Not really my cup of tea. There was nothing to grab onto, nothing to hold my attention. One Gun Galleria has the talent and ability to write interesting songs, I just don't think this album is a good showcase of that talent. It is more of a rough draft in need of revision.