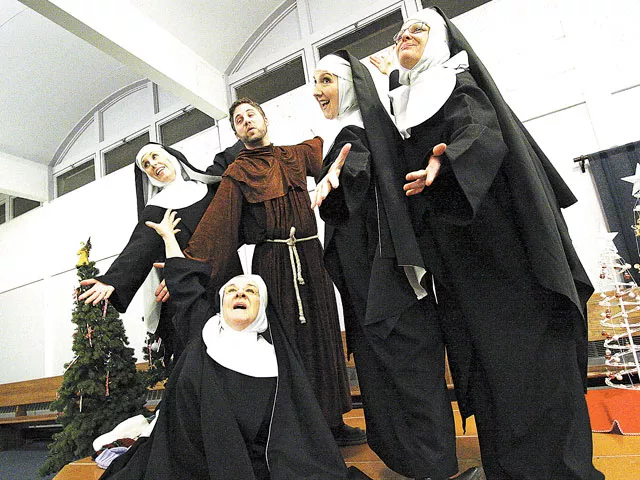 We've seen this March of the Holy Penguins before. Nunsense and Nunsense II: The Second Coming — along with the drag version of the singingdancing nuns' story, Nunsense: A-Men! — have played the Spokane area in recent years.
And the Nunsense franchise gets support from a lot of lapsed Catholics. Since its premiere 25 years ago, Nunsense has generated seven sequels and been translated into 21 languages. Worldwide, there have been more than 5,000 Nunsense-related productions. (Connecticut even has a Nunsense museum.)
But not until now has the dancing sisters' Christmas musical, Nuncrackers, been produced locally (Dec. 18-20 in Coeur d'Alene).
In Nuncrackers, the Sisters of the Mount St. Helens Convent and School create a fiasco when they use their Publishers Clearinghouse winnings to create a TV station in the convent basement. (Think of the televangelism opportunities!) All of which calls for us to bow our heads in prayer....
Heavenly Father, be kind to these nuns, for they know not what they do.
May the good Sisters of playwright Dan Goggin live together in harmony and not like a bickering, backstabbing family. (Yes, we're thinking "miracle" on this one.)
We ask Your blessing upon Sister Robert Anne (Krista Kubicek), whose parents split up right before Christmas last year.
And since You have decided to smite Sister Mary Leo with a grievous injury (in Your mysterious and decidedly un-nun-friendly ways), help those doing the pirouettes as stand-in ballerinas not fall upon their keisters.
May Jack Bannon read accurately while narrating the nuns' somewhat disorganized Nutcracker ballet.
Please help Father Virgil Manly Trott (Andrew Ware Lewis) as he does a cooking demonstration on live TV. In particular, guide him — while creating his delicious rum cake — to partake of more cake and less rum.
May the profi ts from the Sisters' "Catholic Home Shopping Network" be large.
We ask your blessing upon the violinist, percussionist and keyboardists. Let not their orchestra pit become a Pit of Damnation.
We ask Your blessing in particular on Kathie Doyle-Lipe, who — having played Sister Mary Hubert, Sister Mary Leo and Sister Robert Anne in previous local productions of the various Nunsense shows — has now been promoted to Reverend Mother. Let not the levers of power nor the beads of rosary trip up her diminutive legs and tiny feet.
Help the nuns (including Julie Powell as Sister Mary Hubert and Tamara Schupman as Sister Mary Paul) navigate the demands of such secular musical styles as gospel, cabaret, blues, country and disco. Help them achieve genuine five-part harmony.
And as they perform their parody of the Village People's "In the Navy," we ask that you help them remember the exacting demands director/choreographer Roger Welch — "In the convent, there's no worry what to wear [prayer hands and pivot] / In the convent, you don't have to do your hair [boogie walk, then pirouette]" — even if such gyrations were not explicitly approved by Vatican II.
Finally, we ask that You prevent any blizzards from lowering attendance, lest the coffers of Coeur d'Alene Summer Theater dwindle in this time of economic need. For this, and — little Cathy Murphy, if you don't stop fidgeting, you'll get your knuckles rapped! — for Your eternal loving kindness, we thank You. Amen.

Nuncrackers presents priestly pirouettes at NIC's Boswell Hall, 1000 W. Garden Ave., Coeur d'Alene, on Friday-Saturday, Dec. 18-19, at 7:30 pm and on Sunday, Dec. 20, at 2 pm. Tickets: $35. Visit cdasummertheatre.com or call (800) 4-CDA-TIX.