We're all familiar with the story of Rosa Parks refusing to give up her seat on a bus in Alabama to a white person in December 1955, sparking the Montgomery bus boycott, a major flash point in the U.S. civil rights movement.
Although the most well-known, what happened in Montgomery was just one of many instances of Americans making a political statement with their purchasing power. The American Friends Service Committee and the Center for the Study of Political Graphics in Los Angeles believe we need to be reminded of this ability, so the groups worked together to create "Boycott! The Art of Economic Activism," a collection of 58 historical posters from more than 20 boycotts dating from the 1950s up to the present. This traveling exhibit is on display at the Eastern Washington University Riverpoint Campus through June 12.
Liz Moore, director of the Peace and Justice Action League of Spokane, is excited to bring these posters to the Inland Northwest, as she believes they are beautiful and powerful reminders of the spending power people hold every day.
"Sometimes in our community, alike to any other community really, we tend to forget the power and possibility we hold, to put our values into action by the very decisions we make in what to buy or don't buy," Moore says.
Moore hopes that these historical examples show people that boycotts can still be a successful, nonviolent social justice tactic in different current day situations.
Jennifer Calvert, chair of PJALS' Palestine-Israel Human Rights Committee, says her passion for social justice issues, more specifically related to Palestinian issues, intensified after she was able to travel there a few years ago.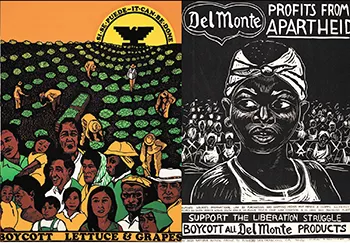 "In America, we don't get information about the Palestinian issues from the side of the Palestinians," Calvert says. "One technique that can be used to bring about change is boycotts, and in this case they can be used to pressure the Israelis to treat the Palestinians differently."
Calvert believes that this exhibit will help people become more educated about different issues of the past and present, from the side of those who worked or are still working toward change, as seen in the Palestinian call for boycott posters featured in this exhibit.
Though it's sometimes easy to feel removed from current international issues given our comfortable lifestyles, that's exactly what motivates Calvert to become more informed and to help inform others.
"I'm living a really good life myself, and yet I look around and see many people throughout the years in many places who have not had all of these advantages," Calvert says. "It's all about education, and providing information to people so that they can better understand these issues." She believes this exhibit does just that.
"These posters represent economic activism, to hopefully inspire people to see boycotts as a way to respond to injustice and promote social change," says Moore. "It's important to know that boycotts are not only historical." ♦
Boycott! The Art of Economic Activism • Wed, June 3 through Fri, June 12, from 8 am-7 pm (6 pm on Fridays) • Free • Eastern Washington University Riverpoint Campus • Phase 1 Building, 668 N. Riverpoint Blvd. • boycott.afsc.org