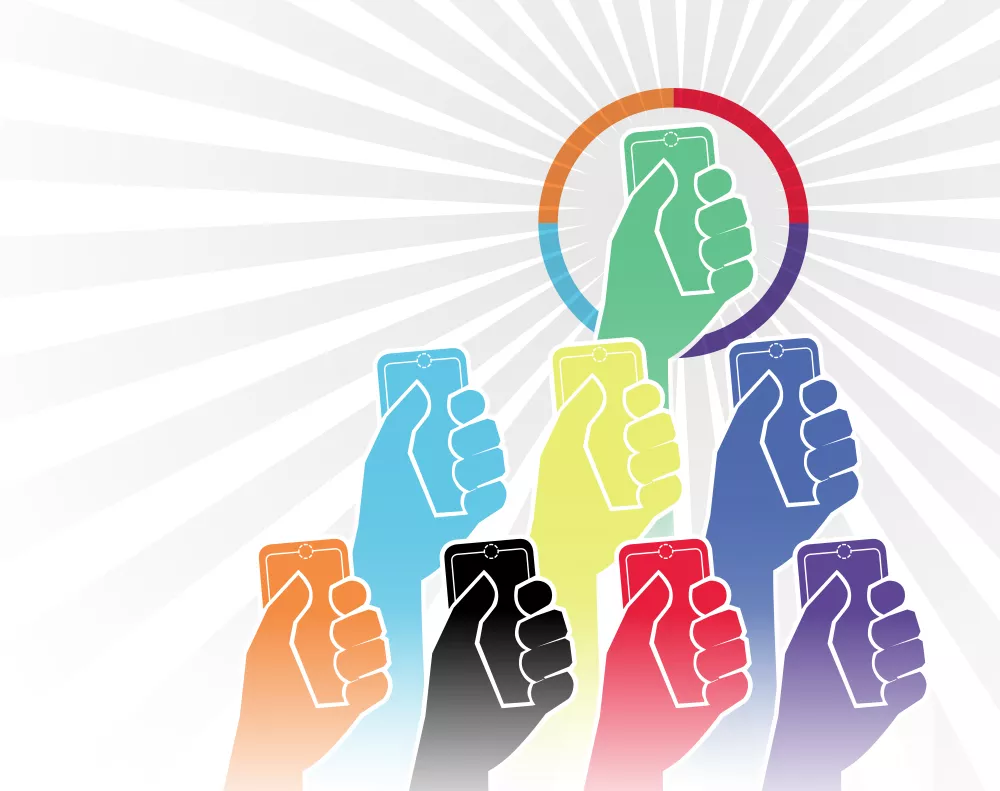 The idea came as many do, over lunch. The three co-workers from various departments in a Los Angeles-area startup would meet to dine and also talk of music and the future. It was out of shared distaste for popular radio, where record labels often dictate what makes the Top 40, that the young entrepreneurs saw their chance. They wanted to make something fresh that would allow users to easily discover music from around the globe.
Late last summer, the trio decided to go forth with their innovation, calling it Upbeat. Clark Dinnison, a Spokane native, along with Shaun Russell and Phillip Robertson, worked tireless evenings and weekends until their own startup website was ready to make its mark in October. Just a couple of days after the launch, their app had attracted 1,000 users.
Taking a model already used by Reddit, they introduced a free platform solely curated by peers. Songs people liked could be voted up; songs people wanted to skip would fall to the bottom.
"We're the democratic solution to the Billboard charts," Russell explains. "So if people want to know what's happening right now in music, Upbeat is where they should go."
Unlike Spotify, which allows you to discover new music based on what you listened to in the past, or Hype Machine, which is dictated by music bloggers, Upbeat provides music regular people are stoked about right on the home page.
The app was designed to be user-friendly with a minimalistic feel. Anyone can upload and submit a song via SoundCloud. Once the song is streaming, it's up to users to decide if it's a favorite or not. "Karma points" are earned every time a user's song is upvoted. Listeners can also purchase any of the tracks they want by clicking on a direct link to Amazon.
Sure, a hit Miley Cyrus song can be uploaded at any time, but that doesn't guarantee it will float to the top of the pile.
"I'd say indie pop is the most popular," Dinnison, 24, says. "But it's fun to see people committing to less-known genres like jazz."
Currently, the application has more than 6,000 users and features around the same number of songs to discover. With programming and marketing backgrounds, the three have created the service without any outside funding.
"It's just rewarding to see this working, to see people using our product," Russell, 29, says.
"We all love music and Upbeat is just fun to develop," Robertson, 23, adds. "It's like you're not even working."
While Russell and Robertson have each been in bands, Dinnison writes about music on his blog Noon Pacific. He says he cultivated an interest in music by going to shows in Spokane as a kid. Moving to California after attending the University of Washington, Dinnison's goal was to work for a startup.
"I think it's very common for people who work for startups to catch the entrepreneurial spirit and want to start their own," he says. "You're learning a lot on the job so you want to do your own thing."
Upbeat, which is most effectively used in the Google Chrome and Safari browsers, has been a learning process for the team. From the start, user feedback helped them tweak the platform. They still have challenges — the first item that appears in a Google search for Upbeat is a workout app of the same name.
"We really focus on the social loop with Upbeat — a lot of sharing songs on Twitter and Facebook," Russell says.
These days, the guys don't have lunch together as frequently. Robertson recently moved back to Alabama to finish his degree, but the co-creators continue to carry on as if they all still lived in the same city.
"It's all really remote. So we'll get online after work, get on Chat and make phone calls if we need to," Dinnison says.
Yet spending hours on the app almost every night isn't a chore. They have plans to incorporate more audio platforms and ways to purchase music into the service. In their eyes, this is the future of music.
"Upbeat really is the Internet's music charts," Dinnison says. "It would be awesome to take this full-time." ♦
Learn more at upbeatapp.com.