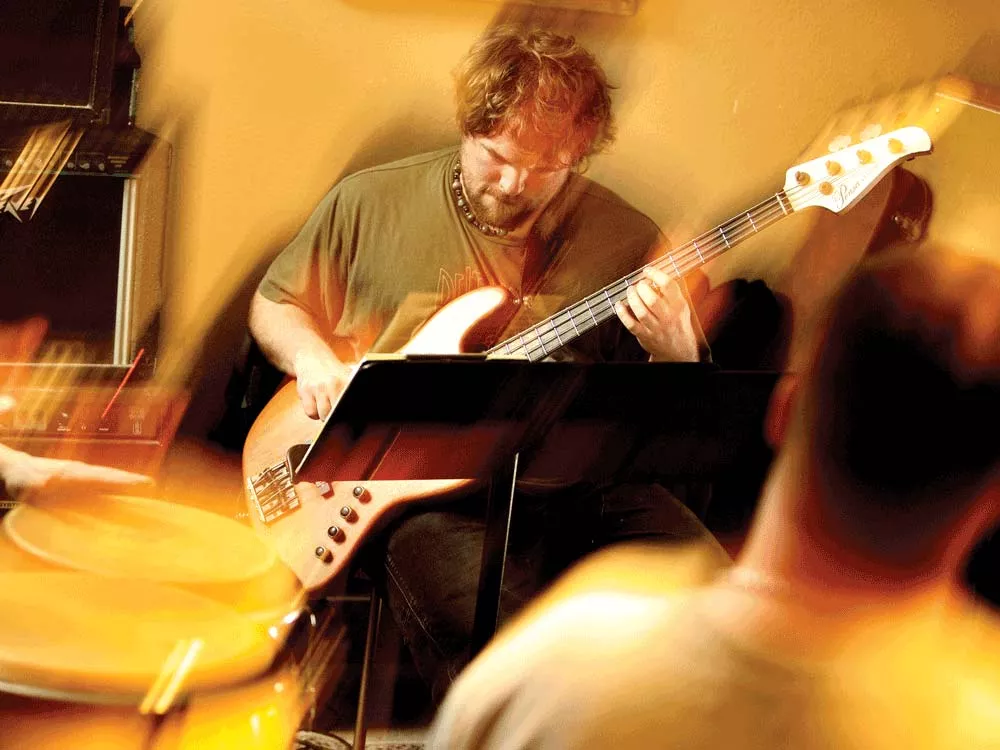 "Fanatical" is a good way to describe Josh Simon. He readily admits it. The local musician, whose hirsute nature has given him the friendly nickname "Beardo," claims he can't remember a time when he didn't have an instrument in his hands.
His Perry District home is a sanctuary for lost instruments and orphaned records. In his fireplace sits an amplifier, below a mantle filled with candles, seashells, and a rainforest of wandering plants and ferns.
In a moment's notice, Simon, 29, bangs out a ditty on a nearby vintage Wurlitzer piano, the type of compact, walnut-colored instrument that Ray Charles used to play. He moves from piano to a 1955 Art Deco-looking lap steel guitar. The instrument sounds Southern and swampy — and especially foreign compared to the dusty upright bass Simon pulls out next from the coat closet.
In his living room space alone, Simon could outfit a small orchestra. His home is a musician's utopia.
The Spokane native is the backbone and substitute player behind a half-dozen local bands. He can sit in, read the music or just play by ear on a dizzying number of instruments.
"The music theory thing came really easy for me," Simon says. "It's like once you have a command of that language, playing instruments is just like the difference between a cell phone and a typewriter. It's just a different format but the language is still the same."
That ability to speak the language of music so well brings Simon to the stage every Tuesday to play jazz with the Don Goodwin Trio. His bass lines make up the heart of local funk/jazz act Groove Patrol. He plays classic, low-down blues with the Simon Tucker Group and Charlie Butts and the Filter Tips, busts out reggae rhythm section with the Real Life Rockaz, and plays the keys with Latin ensemble Son Dulce. And if the casino circuit calls, he can be there, too. He takes to the stage with the '70s Rare Earth icon Peter Rivera and filled in on bass for Charo when she came to Northern Quest. He toured the world playing keyboard with James Pants and the Royal Zodiac.
"It's pretty exciting to have to wear the salsa hat one day and the blues hat the next," he says. "I've always liked a lot of genres and I listen to tons and tons of music which has helped me a lot."
Whether you're looking for Roberta Flack or Jay & Kai jazz trombone music – Simon's got it on vinyl.
"I've been a fanatical listener more than anything else," he says. "I'd say that that's paramount more than playing, just being a listener."
By age 10, Simon had formed a classic rock cover band call Prysm.
Simon remembers, though, when he found jazz. It was in middle school, when he listened to tenor saxophone player Joshua Redman at the Lionel Hampton Jazz Festival at the University of Idaho.
"That was what crystallized [jazz] for me," he says. "I had to play that instrument. I mean, that guy making that noise was pretty incredible."
But Simon opted for a bigger, beefier horn. He adopted the baritone saxophone and became "kind of obsessed."
His saxophone scholarship to the University of Idaho lasted only three years, however. Simon says he burned himself out trying to blow through sax keys that had become sticky with beer, as well as being corralled into playing bass guitar five nights a week with practically every band on campus.
Simon's next gig would put him in a tuxedo for more than 30 hours a week, as he played top 40 hits on Carnival cruise ships. There, the bass guitar became his instrument of choice.
"If you have a really great band and a mediocre bass player it's going to sound mediocre," he says. "If you have a mediocre band with a really great bass player you're going to sound pretty good."
Which is why Simon plays with so many different bands today. Spokane's music scene pivots around his ability as a multiinstrumentalist who's well versed in so many different genres.
In his dining room, three huge dry erase calendars and a map of the Pacific Northwest outline his schedule — already booked into January 2012, up to five nights a week.
But that's how he wants it.
Crazy. Constant. Simon says he doesn't have much of a choice.
"I just can't really think about anything else."

Beardo Birthday Bash feat. Groove Patrol, Peter Rivera, Charlie Butts and The Filter Tips, Real Life Rockaz, Son Dulce, Simon Tucker Group, The B Radicals and Amoe • Thursday, April 14, at 7 pm • nYne • $7 • 21 • 474-1621