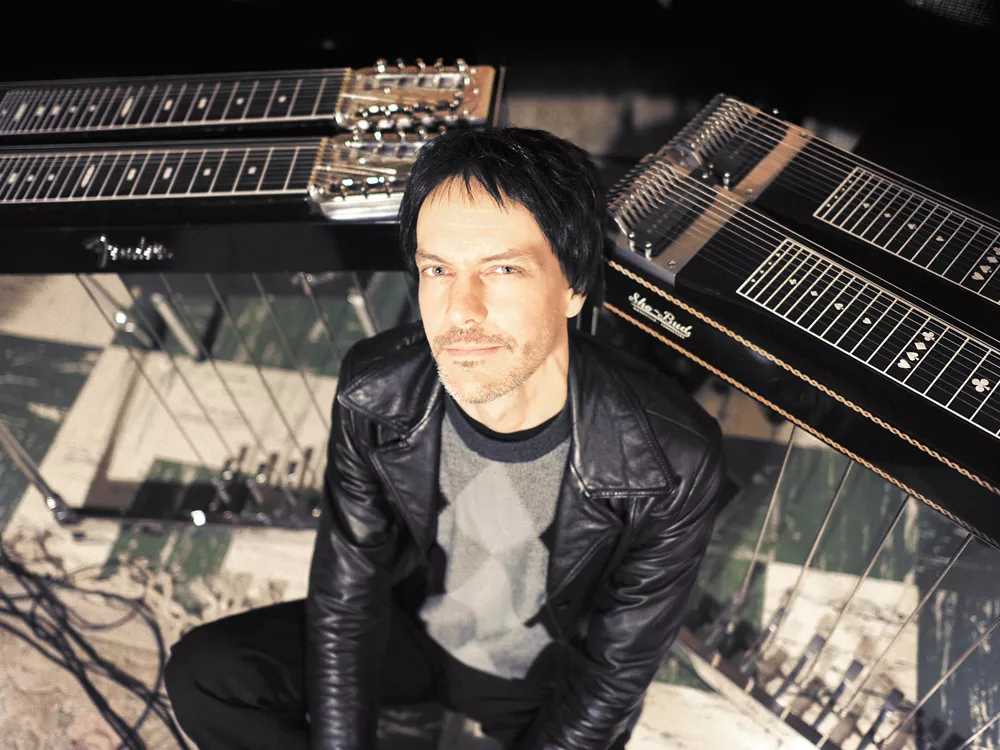 Seated at the helm of a 1976 Fender Duel Pro 10 Pedal Steel, Jamie Frost is playing guitar with all four limbs.
Gingerly moving a steel bar across the strings with his left hand, he uses three finger picks on his right to do the picking; down below he's moving his left foot along a series of pedals and operating a lever with his right knee. It seems, well, difficult.
But he makes it look easy.
Typically featuring two necks with eight or 10 strings, the pedal steel guitar evolved in the late 1940s from earlier multiple neck "console" lap steels, popular with Hawaiian and country & western musicians. Players looking to overcome the limitations of the flat bar used in steel guitar playing added a series of pedals and knee levers to change the pitch of select pairs of strings.
It's one of the most evocative sounds in American music, calling to mind rhinestoned cowboy suits, tears-in-beers and high-lonesome vistas (and if you're in the right mood, perhaps a luau and a tiny-umbrella drink). And thanks to this local rock luminary, the moan of this most idiosyncratic instrument is once again filling Spokane venues.
Frost, formerly of the Young Brians, Burns Like Hellfire, Rough Congress and a host of other local bands, was the guitarist in garage rock trailblazers The Makers and is currently turning heads and dropping jaws with local honky-tonk stalwarts Silver Treason and his newest project, Cursive Wires. He's also been sitting in with local singer-songwriter Marshall McLean (Horse Thieves).
Growing up and playing guitar in the golden age of alternative rock, Frost was more likely to be listening to REM or Husker Du than Porter Wagoner or Webb Pierce. "I remember hearing Byrds records and always being curious [about the pedal steel], but never thinking more of it," he says.
Though in his 20s he became more of a fan of country-rock bands such as the Byrds and the Flying Burrito Brothers, Frost says his first-hand exposure to the pedal steel was limited, partly for geographical reasons.
"I'm sure if I had grown up in Arkansas, I would have had an uncle or something who owned one, but living in Spokane was a different story," he says.
On later Makers records, however, he began experimenting. "I was trying to mimic those [pedal steel] sounds with my electric guitar, laying it down flat, altering the tunings. No one would mistake it for a pedal steel, but it was close," Frost says. "And not too long after that, I started with Burns Like Hellfire and did the same thing."
Frost bought his first pedal steel — a cream-colored single-neck Fender 800 — at Cole's music on Garland in 2008, almost on a whim. After discovering that in order to get the sounds he wanted, he needed two necks — each in a different tuning — he happened upon a double-neck Sho-Bud model online and from there "it all started to make sense."
"I got hooked on it," he says. "It's just a matter of learning a new code, almost like learning to play guitar in the first place — you need to know where to put your fingers — but on the steel you need to know which pedal and knee lever you need to press in."
You also need, as Frost reveals one lever and pulley after another, to be a bit of a mechanic. Operating the pedal steel may be one thing, but the instrument lends itself heavily to modification, with the player able to customize which pedal or lever pulls which set of strings, leading to thousands of combinations. "It's almost like cars or motorcycles… at its simplest, it performs one basic operation, but from there, the sky's the limit."
"It's a pretty amazing contraption," he says, and contraption is probably the correct word. Peeking at the underside reveals a maze of metal parts, looking as if it were designed by a couple of guys in their basement. It is the archetypal analog instrument, with no auto-tune in sight.
It's a winding road that brought Frost to the contraption and its twanging sound.
Like a number of bands, Silver Treason came together casually. "I had never thought of playing pedal steel in a band — I was just going to add it to my arsenal as a guitar player," Frost says. But singer Kevin Cameron had been playing country material as a solo act and the two old friends saw a mutual opportunity. "It was like, 'Hey, maybe we should start one of those country-rock bands,'" he says.
Frost adds the pedal steel sound to Cursive Wires, too: a band with a more straight-ahead rock 'n' roll approach. "It's definitely giving me a chance to stretch my playing out a little bit. The whole feel of the band is different and it turns into a nice challenge. More of a 'Stonesy' sound with a lot of alt-country ideas," Frost says. The band features Brian Young from Burns Like Hellfire, Sam Foley, Lewis Petro and one-time Makers drummer Aaron Saye.
You wouldn't know it by seeing Silver Treason on stage, but in the beginning, playing the instrument live did require a bit of an adjustment. "It's just so opposite of anything I'd ever done," he says. "I'd spent my whole life jumping up and down with an electric guitar and now I'm sitting down, trying to stay as calm as I can."
"I needed to figure out how to sink in and defuse that extra stage energy," Frost adds. And after 15 years of unhinged, feral Makers shows, it's easy to imagine how drastic the change must have been.
Not to mention the change of leaving a band that had changed everything.
A case could be made for the Makers being the greatest band ever to come out of Spokane — and although Frost is far too modest to agree, he does recognize their accomplishments. "For me, that was the band — we did all the things you want to do, play with some of your favorite musicians, travel the world, get in Rolling Stone."
He admits that their decision to go on an indefinite hiatus in 2007 was disappointing, "but at the same time you can't do it forever, and there needs to be something else to accomplish — there needs to be a new challenge — and that's part of what I feel when I play the pedal steel." 
Mootsy's Coats & Cans Drive feat. Marshall McLean with Jamie Frost, Old Amber and Summer in Siberia • Fri, Nov. 16, at 8 pm • Mootsy's • Donations of canned food, coats and blankets • 21+ • 838-1570
Cursive Wires with Cuss Jar • Sat, Nov. 24 • The Swamp • 21+ • 458-2337
Silver Treason with Kwaaang • Fri, Nov. 30, at 9 pm • Mootsy's • $3 • 21+ • 838-1570