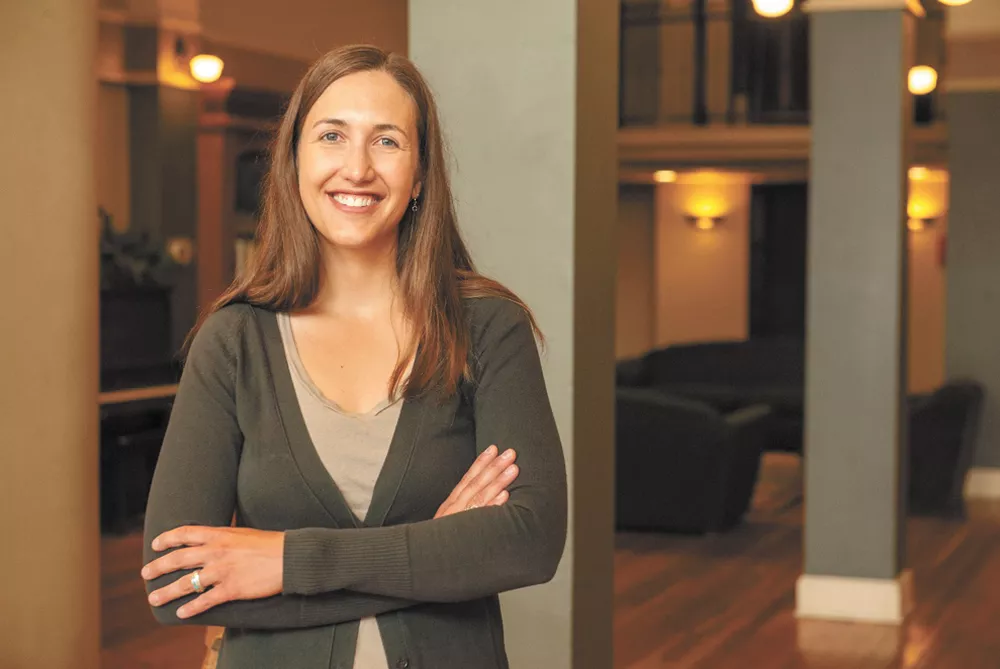 Carmen Pacheco-Jones walked out of a bright yellow, two-story house in the bad part of town with a fresh bag of dope in her pocket. She recalls that this particular day was especially beautiful. The warm sun and tiny baggie clenched in her fist provided an extra pep in her step. She was about to get into a friend's car when a police officer, who was camped out in front of the known drug house in Yakima that she had just walked out of, called her over.
"Hey Carmen, come over here for a second," she remembers the officer saying.
She walked over to him, thinking nothing of it. The 18-year-old had been in and out of foster homes and living on the street for most of her childhood, so she was fairly chummy with the police — even with a new bag of heroin in her pocket.
As she approached, the officer's demeanor changed. He told her to put her hands behind her back. She was under arrest for shoplifting — a misdemeanor crime and the very thing she and a friend were on their way to do again. That's how they paid for the drugs. When the officer found the heroin in her pocket, she was hit with a felony possession charge as well.
That was two weeks after her 18th birthday. Now, 30 years later, she's still paying for that mistake and six other felony charges she racked up between 1984 and 1999 in the form of court fines, fees and restitution also known as legal financial obligations, or LFOs.
Pacheco-Jones, who now lives in Spokane, has been making regular monthly payments of $75 to $100 every month since 2000, and she's been completely clean for longer than that. But fines and fees for those six felonies and other various misdemeanors (most for driving on a suspended license) piled up to the tune of more than $38,000.
There are two types of LFOs: mandatory and discretionary. Mandatory charges, those that a judge is required to impose by law, include things like restitution to victims, fines for felony convictions, criminal filing fees and fines for DNA sample testing. Discretionary charges, those that a judge has the option to tack on, can include fees for jail time, fees for a public defender, filing fees and costs incurred in preparing and serving a warrant.
Currently, Washington state law assigns a 12 percent interest rate to LFOs, one of the highest rates in the country.
An investigation by the ACLU of Washington and Columbia Legal Services found that the statutorily mandated 12 percent interest rate makes it nearly impossible for impoverished people to get out from under their debt, tying them to the criminal justice system for decades after the original charge.
"LFOs are one of the biggest barriers for convicted felons to successful reentry into society," says Vanessa Hernandez, a staff attorney at the ACLU of Washington and head of the Second Chances Project. "There's a real problem with the way the LFO systems are operated."
Two recent developments, one in the state Supreme Court and one in the form of a bill in the state legislature, aim to fix some of those problems.
A recent state Supreme Court decision could have helped Pacheco-Jones. In State of Washington v. Blazina, the court ruled last month that a judge must hold an on-the-record hearing in order to determine a person's current and future ability to pay LFOs before imposing any discretionary fines. The court decision says that judges must consider future jail time and the defendant's other debts, including restitution.
"The Blazina decision goes a long way toward reminding courts of their constitutional obligation to consider ability to pay before imposing court costs on indigent defendants," says Hernandez.
Current state law says that courts should not tack on discretionary fines if the defendant cannot pay them but establishes no process for making such a determination. Before the state Supreme Court ruling, it was largely the responsibility of defense attorneys to informally ask judges to waive discretionary fines, says Spokane County Superior Court Judge Gregory Sypolt.
Now, the mandatory hearing could consist of testimony and evidence of a defendant's employment and income (or lack thereof).
Just a few months after her release, police arrested Pacheco-Jones again, this time on a warrant for nonpayment of her LFOs. Even though she was unemployed, living on the street, addicted to heroin and had no way of paying, she spent 90 days in jail. She received credit toward her LFOs for that time served, but with the new warrant and arrest came more fines, and her hole grew deeper.
A bill in the state legislature would, among other things, make it illegal to incarcerate a person for nonpayment of LFOs as long as that nonpayment isn't willful, as in Pacheco-Jones' case. That means if a person is receiving various types of public assistance, such as disability benefits, food stamps or Medicaid, is involuntarily committed to a mental health facility or whose annual income is 125 percent less than the federal poverty line, he or she cannot be thrown in jail for not paying LFOs.
Instead, House Bill 1390 gives judges the option to remit some of the original fines or assign community service to pay off the debt.
The bill, which passed almost unanimously (94-4) in the House, also would eliminate the 12 percent interest rate on nonrestitution LFOs and prioritize repayment of restitution to the victim rather than discretionary court fines.
"Current law allows us to use jail as a sanction for nonpayment," says Julie Schaffer, an attorney with the Center for Justice who frequently works with clients who owe LFOs. "Our belief is that the current system is ineffective at inducing payment and also keeps people within the system."
County Clerk Tim Fitzgerald says things aren't so cut-and-dry in Spokane. According to Fitzgerald, a warrant is usually only issued if a person hasn't paid for several months and is making no effort to update the clerk's office of their financial situation. "If they're paying, we try to work with them," he says.
Fitzgerald says there are a few problems with Spokane County's LFO collection, though, and he has a few suggestions for improvements. First, he wants to reduce or eliminate the 12 percent interest rate. Second, Fitzgerald wants to standardize the collection process. Currently, management and collection of the approximately 29,500 active LFO cases in Spokane County are divided among three collection deputies in the clerk's office. It's up to each individual clerk to choose which cases they hit with collection notices and when. The result: some people end up with notices multiple times a year, and some aren't contacted for a year or more.
Schaffer says the organization has been in talks with Fitzgerald about improving the collection system.
"[Tim] has been very open to my ideas and genuinely interested in how we can make it better for everyone," Schaffer writes in an email. "I believe he recognizes the problems and wants to include us in identifying and implementing solutions."
The year 2000 marked a turning point for Pacheco-Jones. Her most recent conviction was in 1999 and she started paying off her debt regularly every month. As she put her life back together, the felony convictions and fines continued to weigh her down. She struggled to find steady work and had her wages garnished for a time in 2005.
"It was almost like a feeling of apathy," she says. "Knowing that eventually I'm going to have to pay this, but what are the immediate needs?"
Many times between 2000 and now, Pacheco-Jones says, she had to choose between paying for her LFOs and rent, food for her five kids and bus fare.
Of the $38,000 in LFOs that Pacheco-Jones accumulated, she now has about $9,000 left, and thanks to Schaffer's help, her monthly payments have been reduced from $100 to $75.
In 2008, Pacheco-Jones graduated from Whitworth University. She has started working at a job she loves, as a victims' advocate for a local nonprofit organization.
"[The LFOs] had the potential to stall me if I wasn't grounded in my recovery, and wasn't motivated to make a difference and change my life for myself and for my children's sakes," she says. "My motivation was mainly centered around my childhood, and not wanting my kids to go through the same thing." ♦