Hard as it is to believe, one-quarter of the people living in Kootenai County are struggling to escape the grim quagmire of poverty.
This eye-opening fact came to light on a recent bright October day, when the Kootenai County League of Women Voters hosted an outdoor public gathering addressing "Poverty and the Minimum Wage" in downtown Coeur d'Alene's McEuen Park Pavilion.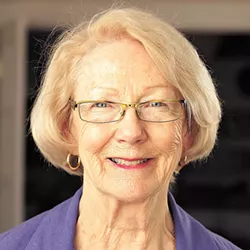 With the sun warming their backs, those in attendance heard Luke Mayville, of Sandpoint and New York City, present his research on the pros and cons of raising the minimum wage in Idaho.
Mayville, who earned his Ph.D. at Yale University, said that despite some legitimate concerns that raising the minimum wage elicits, the majority of evidence suggests that it is the right thing to do. He stated that research has shown a living wage can provide economic security for low-wage workers, with generally zero adverse effects on the overall employment scenario.
Then Mayville dropped the conversation-stopper: He reminded the group that the chances for any city or county in the state of Idaho to enact a minimum wage rate raise have been basically and irrevocably scuttled. Republicans, who dominate the Idaho Legislature, passed a bill in the 2016 session specifically prohibiting political subdivisions — that is, cities or counties — "from establishing minimum wages higher than the minimum wages provided by law." That means only state legislators can change minimum wage laws; city councils and county commissions should just keep their interfering hands out of the game.
This freezing action is called "preemption," a means by which a legislature asserts its authority over cities and counties.
In 2016, preemption of minimum wage legislation was a high priority of the American Legislative Exchange Council, usually referred to as ALEC, which is funded by the far-right team of the Koch Brothers, the Scaife and Coors families and an assortment of corporations. They covered the country with their efforts. As a consequence, Idaho is now one of 24 states that have passed preemptive bills discouraging minimum wage initiatives.
ALEC invites state legislators from across the country to come to their workshops, where they are given pre-packaged legislation to take back to their states. Although ALEC claims to be nonpartisan, Democrats are not encouraged to attend, nor comfortable if they attempt to.
It is significant that not one Democrat in either the Idaho House or Senate voted for the preemption bill.
Some folks still believe the market will take care of wages, as wages will rise and fall depending on the availability of work and workers. But it's not that simple. Unfortunately, wages have not kept up with inflation. Low unemployment rates have not triggered an equivalent rise in wages. And unions have lost much of their clout. Workers who are paid by the hour are slipping further and further down the economic ladder.
Every politician will claim loudly that he or she is in favor of local control, because local governments are closest to the people they represent and can respond most quickly. But apparently when it comes to the Koch Brothers, legislators find it hard to hand over control to local city councils and county commissions.
Without the preemption by the legislature, a sound case can be made for flexible, local-option wage minimums, so that border communities could adapt appropriate wage standards. Post Falls, for example, could adjust in response to minimum wage increases in Spokane. Border cities should be able to respond to economic challenges and opportunities without begging for authority from the legislature.
In Coeur d'Alene, as in Spokane and all the communities within the Inlander's readership area, efforts are in place to help families and individuals who are struggling to survive. Hospitals treat patients in their emergency rooms; school districts and teachers are aware of student needs; parents and teachers are concerned about bullying, parental neglect and parental stress. St. Vincent de Paul and other church organization help find housing and offer homeless shelters.
The grassroots level is where the human connection lies — where the heart is. Neighbors and social services attempt to help at a very basic, very local level.
It makes good sense and smart cents for cities to be granted much more authority in regard to minimum wage standards as well as liquor laws, urban renewal and local-option taxes.
Legislators should listen to city mayors, rather than lobbyists. Our cities are where innovation begins, and they deserve to have all the tools they need to create vital, healthy, productive communities.
Raising the minimum wage an employer can pay is only one arrow in the quiver of poverty prevention. Polls show that a vast majority of Americans support raising the minimum wage, though there is little agreement on just where that minimum wage should be.
Perhaps that's why a minimum wage should be determined at the local level.♦