ON INLANDER.COM

NATION:
Amy McGrath wants to give
Mitch McConnell a run for his money.
NEWS:
The pet loss hotline that WSU ran
has been shut down
due to "inappropriate" calls.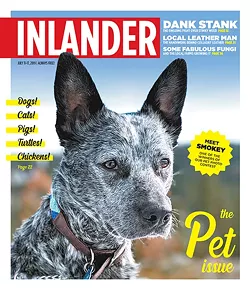 PETS
: Oh yeah... Our
Pet Issue
is out on stands and online!

IN OTHER NEWS...

Gonzaga prof gets attention for calling MAGA hat 'undeniable symbol of white supremacy'
In a column for the American Bar Association Journal
that's been gaining attention this week, a visiting law professor at Gonzaga University recounted why he believes a student wearing a "Make America Great Again" hat to class was inappropriate and a symbol of oppression, the
Spokesman-Review
reports.
Executive questioning

Trump is expected to announce
an executive action to try to get citizenship question on 2020 Census
, according to administration official. (
Washington Post
)
Trump administration plans to start immigration raids in days
On Sunday,
nationwide raids to arrest unauthorized immigrants
are planned to start, despite opposition even within the ranks of immigration officials, the
New York Times
reports.