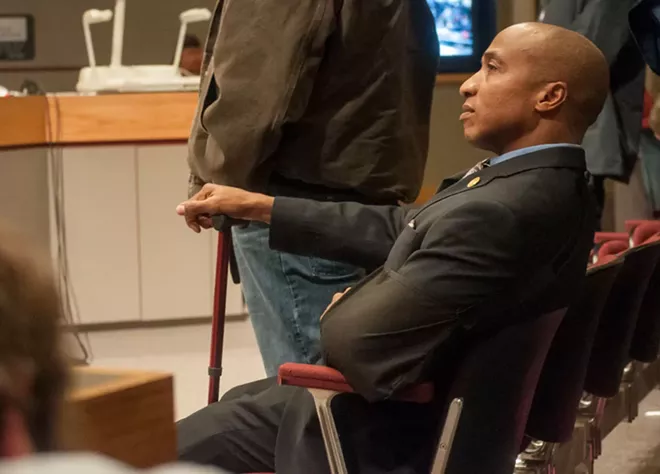 In October of 2005, according to records, Phil Tyler's then-wife, Katrina, called law enforcement. She and Tyler were in an argument — and she told Spokane sheriff's deputies she was afraid it would become physical. She alleged that three days earlier, they'd had an argument and he put her in a wrist lock behind her back.
"She told me that Phillip told her the police wouldn't believe her because there were no signs of injuries," Sheriff's Deputy Kevin Richey wrote.
But Tyler denied that he had physically restrained his wife. It wasn't the first time Tyler denied being violent with a loved one and it wouldn't be the last.
On Tuesday morning, Phil Tyler, a former Spokane NAACP president, sent out a press release announcing his candidacy for City Council president on a theme of "Positively Spokane."
"My theme also is my commitment to running a positive campaign," Tyler said.
In an interview with the Inlander in March, Tyler acknowledged being verbally abusive, but denied ever being physically abusive. He denied the allegations of his first ex-wife, Chloe Senger, who said Tyler had kneed her in the tailbone, hit her with a window screen and threatened to kill her.
He denied the allegations of his second ex-wife, Darci Tyler, that he once dragged her out of the car by her hair, broke her key to her car and left her stranded on the side of the road.
And he denied the allegations of his third ex-wife, Katrina Tyler, who accused Tyler of dragging her by her hair so often that it would fall out in clumps. (Tyler's current wife, Meg, told the Inlander that she had never witnessed domestic violence from her husband.)
At least six of the current City Council members say they believe Tyler's accusers.
"There is no place on the council for men who abuse women and especially for men who refuse to take responsibility for their actions," City Council President Ben Stuckart said in March.