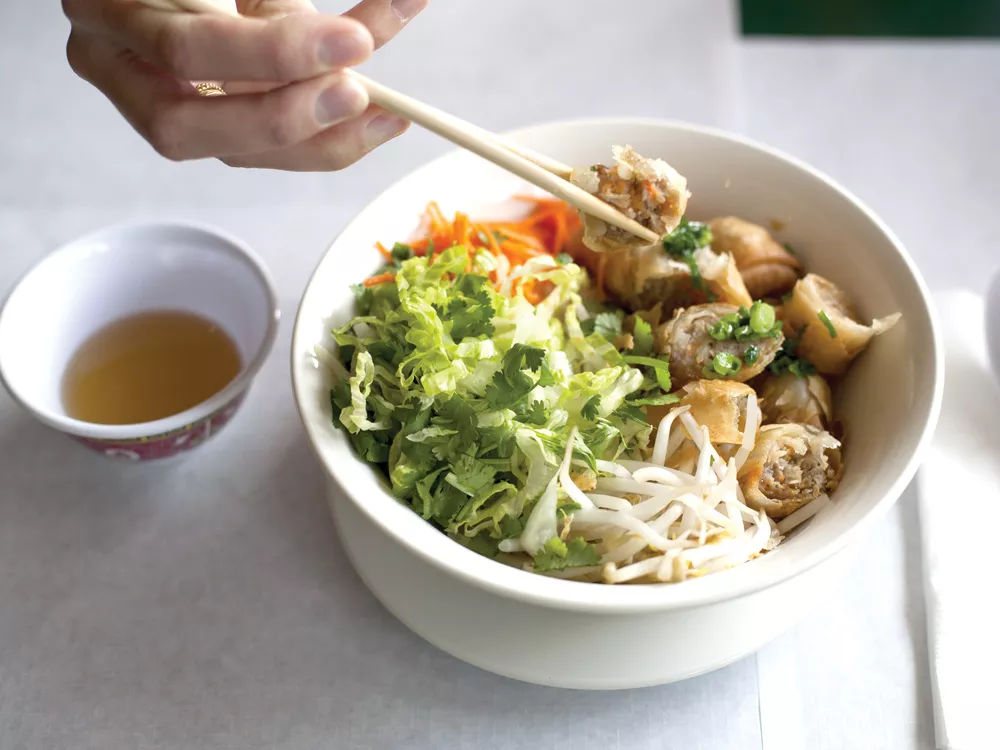 You're going to get cold soon. Or sick. Probably both. It's just the harsh reality of living in the Inland Northwest during the winter season. But that's not to say you can't be afforded any relief.
Pho, the miracle healer and ultimate cold weather comfort food, is now being made available at yet another location, Andy's Pho. The traditional Vietnamese beef noodle soup is notoriously popular in other urban areas and has been gaining momentum in our region over the past couple of years. For pho lovers, Andy's is a welcome addition.
Although the restaurant is still in the process of being remodeled into a more stylish dining spot, the food is well established. Andy's keeps it simple with a menu almost entirely consisting of pho, with some appetizers and an impressive host of traditional Vietnamese drinks. At $6.50 for a regular bowl of pho and $7.50 for a large, prices are competitive.
Pho itself consists of rice noodles and various cuts of beef or chicken in a broth. It is garnished with cilantro and onion, and served with a platter of fresh bean sprouts, basil, jalapeno slices and lime so diners can customize soup to their liking. Sriracha and hoisin sauces are mixed together in a small dish for dipping the meat, and other chili pepper pastes are added to the soup.
Even though the components of pho are simple, the broth alone takes a considerable amount of time to prepare. A beef bone is boiled upwards of five hours in order to get the full flavor, and spices like cinnamon and star anise are added to round
out the dish.
Each pho restaurant's broth seems to be its signature, and Andy's broth is almost buttery rich.
Andy's is shaping up to be a nice spot to warm up with something that isn't your typical Campbell's chicken noodle and isn't going to set you back much more than a few bucks. Bring it on, winter. (Tiffany Harms)
Andy's Pho • 3004 N. Monroe St. • Open Sun-Thurs, 9 am-7 pm; Fri-Sat 9 am-9 pm • 242-3262
Slice of Heaven
We get nervous when the advance buzz around a restaurant is about the peripheral stuff — the décor, who designed the place, the location — instead of the food. But, yeah, the new Fire Artisan Pizza, in downtown Coeur d'Alene, is a sexy place — all retro chic in white and orange laminate, chrome and red glass accents, butt-sculpted chairs, and oversize black-and-white photos of Seattle hipsters. There's a nice balance of North Idaho rustic, too, from the Montana barn wood and exposed beams in the dark brown ceiling.
But how's the food?
Relax. The interior might be a little high-end for your typical pizza joint, but this is no typical pizza, and the prices are plenty low-key. Try $10-15 for any of a dozen or so pies, all baked to perfection in the namesake woodfire oven, yielding a mostly golden crust that is both crisp and chewy — the perfect contrast for any combination of sweet, savory or cheesy toppings.
Of course you can't go wrong with the Margherita — fresh mozzarella cheese, tomato sauce, fresh basil ($11). But if you're willing to be a little unconventional, the Billy — with goat cheese, roasted red pepper, kalamata olives, tomato sauce and slightly tangy arugula leaves — won't disappoint ($13). For meat lovers, inhale the fragrant fennel sausage, paired with pepperoni, salami and bacon ($15). And the closest thing to white pizza, the pesto ($12), is topped with housemade pesto, mozzarella, parmesan, pine nuts and even more basil.
There's a respectable beer and wine list, too, including unusual offerings like Unibroue Terrible Dark Ale Belgian, Laughing Dog Huckleberry Cream Ale, and even a gluten-free New Planet Off Grid Pale Ale. Add a couple tempting little appetizers — baked three-cheese onion soup ($5), "packed" portabella stuffed with either veggies or sausage ($7) — and you'll see Fire ain't just blowin' smoke.
— CARRIE SCOZZARO
Fire Artisan Pizza • 517 Sherman Ave., CdA • Open Sun-Thurs 11 am-9 pm, Fri-Sat 11 am-11 pm • www.firecda.com • (208) 676-1743