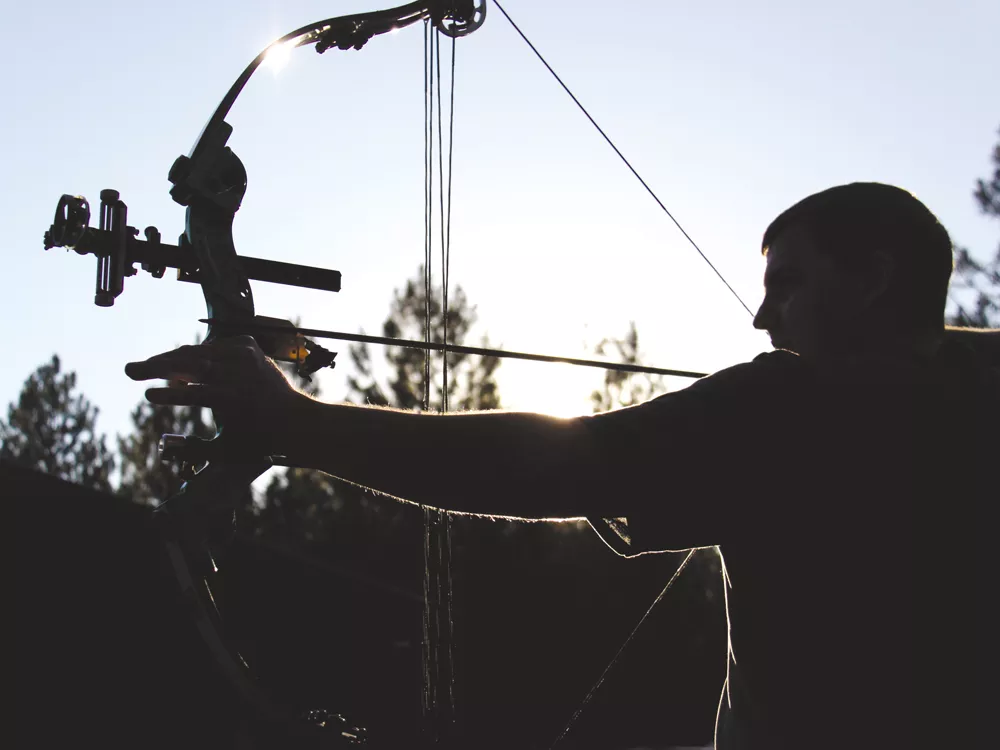 It is not easy to shoot a bow. Not easy at all. Despite the apparent perfection with which Katniss Everdeen draws her recurve in The Hunger Games, spearing small rodent after small rodent straight through the eye. Despite the super-human ease with which Hawkeye, the deadeye archer in this week's Avengers, can hold his own against enemy gunmen and the hordes of Asgard.
Shooting a bow is not like shooting a gun. More to the point, shooting a bow in real life is not like shooting a bow in videogames like Skyrim.
It's much more difficult than that, says Josh Jones of Spokane Valley Archery. People who walk in to the shop and expect to fire bullseyes all day long, Jones says, "those people are sorely mistaken."
Arrows travel far slower than bullets and are generally heavier, meaning gravity tugs on them more insistently and the wind blows them farther off-target.
This week, some of the nation's best field archers will assemble in Spokane at the Evergreen Archery Club for the U.S. National Field Championships. Winners will earn a spot on the national team, which will compete this summer at the world championships in France.
With this in mind, we asked Jones and Jim Cowgill, the chairman of this week's contest, to describe the manifold small things these athletes must consider to not miss.
Distance: "You have to be able to look at something and figure out how far off it is," Jones says. Once shot, your arrow will drop with gravity depending on how fast the arrow is traveling.
Knowing the distance to target, as well as how fast your arrows fly, is part of a mental calculation.
Elevation: "You gotta know how to cut yard age," Cowgill says. It sounds counterintuitive, but if you're shooting at a target 20 yards uphill or downhill, you act like you're shooting at a closer target on flat ground. Knowing how much yardage to cut is the difference between an uphill bullseye and losing an arrow.
Consistency: Like a golf swing or a jump shot, you do it the same way every time. "You stand the same and hold your body the same," Jones says, "Anchor in the same way and look down the arrow in the same way. If you can do an act the same every time, you'll be great."
The bows used by many of the pros this weekend won't look like the slim, elegantly curving things we see in The Hunger Games and in trailers for Pixar's Brave.
Katniss, Hawkeye, the kids from Brave, and the denizens of Skyrim all use recurve bows — the ones that curve back upon themselves like a nice handlebar mustache — as opposed to compound bows — the ones with the levers and pulleys at the tips — which most hunters use. "They're two very different critters," Jones says.
This weekend, competitors in what's called Modern Bare Bow will use recurves stripped down to only their vital, traditional components.
Even shooting a compound bow, though — with stabilizers to help the shaking that comes from pulling back on the bowstring, counterweights to help balance, and apertures to aid aiming — archery is a skill that takes years to hone. That's why, when people come in green and want to look at gear, Josh Jones says he begs people, "Just take a class first."

2012 US National Field Championships and World Archery Field Championships • May 10-13 • Evergreen Archery Club • Government Way at Houston Road, Spokane • Free • evergreenarcheryclub.org