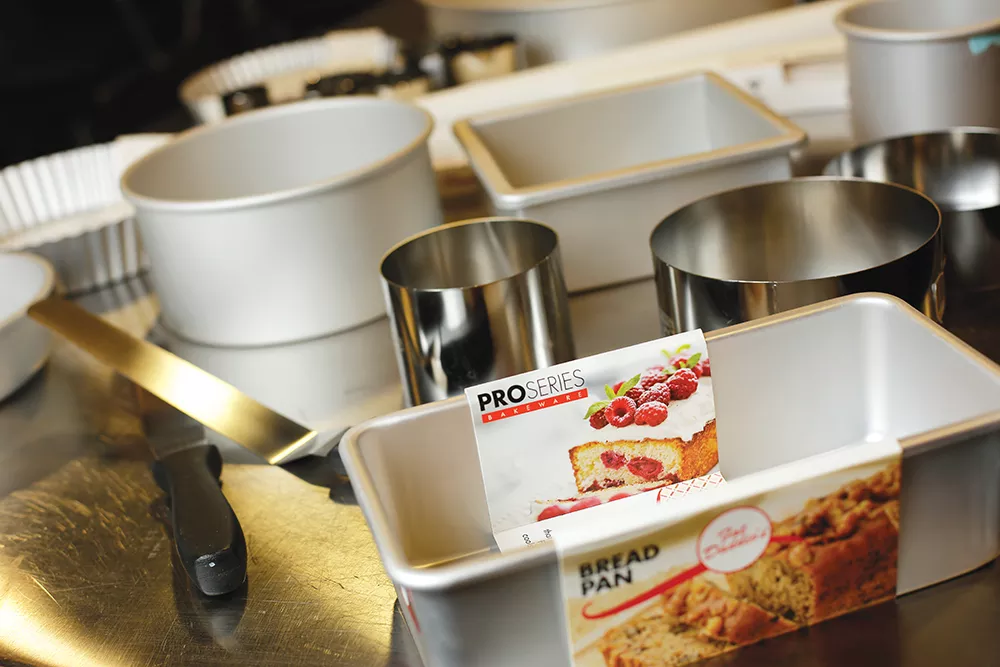 Founded in Spokane in 2006, Fat Daddio's has since made a name for itself in the world of sweet treats as a maker of sturdy, reliable, professional-grade bakeware and cake decorating supplies. Celebrity bakers like television cake wizards Buddy Valastro (Cake Boss) and Duff Goldman (Ace of Cakes) use them, and Fat Daddio's pans also line shelves and oven racks at many local bake shops: Sweet Frostings, Celebrations Bakery, MiFlavour, Boots Bakery, Twenty-Seventh Heaven and Just American Desserts. Competitors on baking shows (Nailed It and Sugar Rush on Netflix) and students at culinary schools around the U.S. use its products while mastering the art of pastries and confections. And countless home bakers in 61 countries use the very same Fat Daddio's bakeware to whip up birthday cakes, cupcakes, loaves of bread, batches of cookies and more.
What makes Fat Daddio's cookie sheets and cake pans so special?
"It looks like an innocuous cake pan here," says Fat Daddio's co-founder and Vice President Greg Skipper, pointing to a large, 3-inch-deep cake pan on a countertop inside Fat Daddio's headquarters in Spokane's University District. "But there is a lot of engineering and science behind it."
To offer uniform heating, durability and nonstick properties, Fat Daddio's aluminum pans are all anodized. The electrochemical process seals the metal's surface, preventing sugar, fat and other ingredients from seeping into tiny pores in the aluminum. An anodized surface also doesn't require nonstick coatings that can deteriorate and chip off into food over time.
"They clean up well and are durable for commercial baking usage," says Twenty Seventh Heaven's Lydia Cowles. "I also like that their pans have very straight sides and sharp corners which creates ideal edges for cake decorating." Bakers also praise the pans' uniform thickness on all sides, a feature that translates to even heating.
Fat Daddio's hasn't divided its products into separate lines for commercial and consumer sales — the cake pans sold at brick-and-mortar and online retailers to home cooks are the same pans being used by celebrity and commercial bakers. Locally, Fat Daddio's products are available at the Kitchen Engine in downtown Spokane and Carolyn's Cake & Candy Supplies on North Division.
Find Fat Daddio's online
at fatdaddios.com;
on Instagram: @fatdaddios