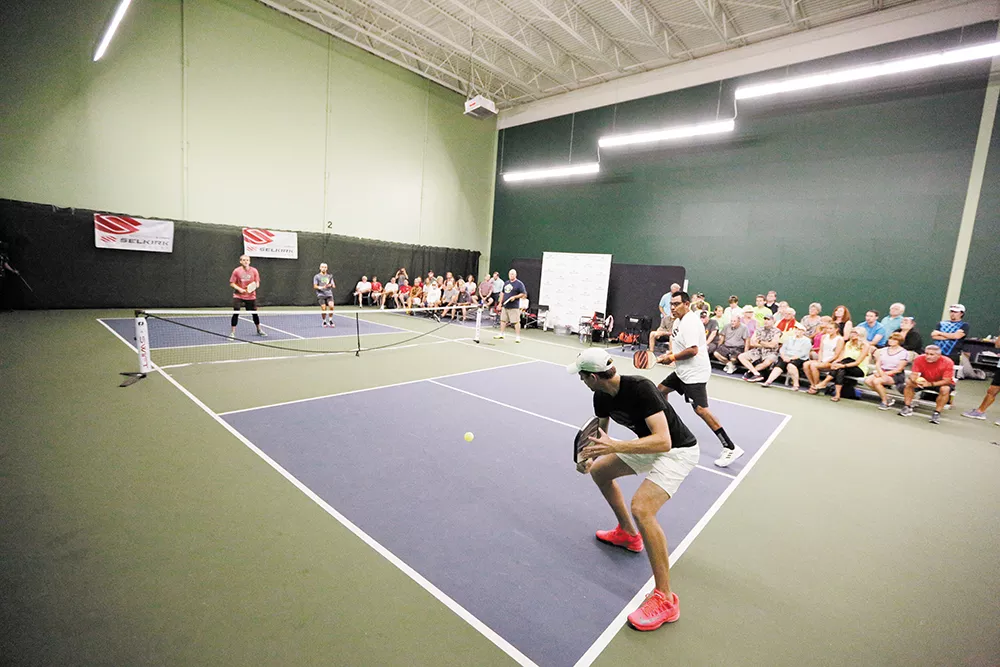 While the name may get a giggle or two, the rising popularity of pickleball is no joke. The sport, a combination of pingpong, badminton and tennis, was invented on Bainbridge Island back in 1965. The paddle-and-wiffle-ball activity has since grown in popularity across the country — especially with tennis players. Many rec centers and country clubs across the Spokane area have started to convert their existing tennis courts into spaces to play pickleball.
The Inland Northwest is home to Tyson McGuffin, the 2017 and 2018 Men's Singles national champion in pickleball. McGuffin originally started out in the world of tennis, but like many other players, switched gears and dove head first into what he describes as "the fastest growing sport in America."
The reason for that, McGuffin explains, is the wide appeal of the sport. Pickleball is a lot easier to pick up and play compared to other games like tennis. What takes nine months to learn in tennis only takes two weeks to learn in pickleball, McGuffin says. The game is less physically demanding than tennis, as well.
"I've heard so many good things about people trying pickleball, playing pickleball," says McGuffin. "I highly recommend this game."
The other big appeal for the game, McGuffin says, is the flexibility it offers players. Athletes who play games, like racquetball, badminton, pingpong, tennis or squash, each add their own style and technique to the game, as there's no one dominant winning strategy.
"I think the beauty of it is that we have so much variety in pickleball because we have all these different people coming in who played another racket sport," McGuffin says, "and they all kind of play their own way."
WHERE TO PLAY
Cherry Hill Park
Twelve lined outdoor courts, complete with restrooms. 1718 N. 15th St., Coeur d'Alene • 208-769-2300
Comstock Park
You'll find four lined pickleball courts on the existing tennis courts at this popular South Hill park. Nets are stored nearby in a locked bin. You can check out a key for the season by emailing the city at jpapich@spokanecity.org. 600 W. 29th Ave., Spokane • 625-6200
The Hub Sports Center
Twelve to 16 indoor courts available for drop-in play. Beginner course every second Wednesday and ladies-only play every first Wednesday of the month. Check out their website for a robust schedule of drop-in play sessions. Paddles and balls are available for checkout. $3-$5 • 19619 E. Cataldo Ave., Liberty Lake • 927-0602
Hill's Resort
One outdoor court is available for guests to come and play as they relax at this lakeside resort. Open April through November with weather permitting • $1 per hour • 4777 W. Lakeshore Rd., Priest Lake • 208-443-2551
McEuen Park
The renovation of Coeur d'Alene's McEuen Park gave birth to two new pickleball courts for public play. Parking and public restrooms are nearby. 420 E. Front Ave., Coeur d'Alene • 208-769-2300
Memorial Field
The recently revamped Memorial Field now boasts four outdoor pickleball courts with lights, so play can extend into the evening. 501 Fort Ground Dr., Coeur d'Alene • 208-769-2300
North Park Athletic Club
Four indoor tennis courts and one indoor gym available for pickleball play. This club organizes drop-in play sessions, along with shootouts (play organized by skill level). Nonmembers are welcome to play (and don't have to be accompanied by a nonmember) but are required to pay a $12 fee. Only members can reserve courts. 8121 N. Division St., Spokane • 467-5124
Northshire Park
This North Idaho park has six dedicated outdoor pickleball courts available for drop-in play. Equipment not provided. 3889 Nez Perce Rd., Coeur d'Alene • 208-769-2300
Prairie Sky Park
Five Mile's recently renovated Prairie Sky Park boasts one multisport court complete with pickleball lines. Pickleball nets are stored near the court, but require a key to access. You can check out a key for the season by emailing the city at jpapich@spokanecity.org. 8501 N. Nettleton Ct., Spokane • 625-6200
Prairie View Park
Two outdoor pickleball courts available for drop-in play at this recently expanded South Hill park. Paddles and balls not provided. Mon-Sun, dawn to dusk • 3724 E. 61st Ave., Spokane • 477-4730
Redband Park
The newly renamed Redband Park in Spokane's Peaceful Valley contains one outdoor multisport court with pickleball lines. The nets are stored in a locked bin nearby. Check out a key for the season by emailing the city at jpapich@spokanecity.org. 1002 W. Main Ave., Spokane • 625-6200
Spokane Street Sportsman Park
This five acre park Post Falls park has two outdoor public courts, as well as public restrooms. Between 19th and 21st avenues on Spokane Street, Post Falls • 208-773-0539
Numerous private clubs, such as the YMCA, Kroc Center, Peak, Rathdrum Fitness Center, Hayden Lake Country Club and the Spokane Club also offer pickleball courts and organized play for their members. These listings, however, focus on clubs and locations that do not require club membership.
WANT TO PLAY?
The Inland Northwest is rapidly adding pickleball courts at public parks, high schools and private clubs. For an overview on regional classes, clinics, leagues and tournaments, check out the Inland Northwest Pickleball Club website, at inwpc.com, or join their group on Facebook. There, you'll find a weekly pickleball schedule.