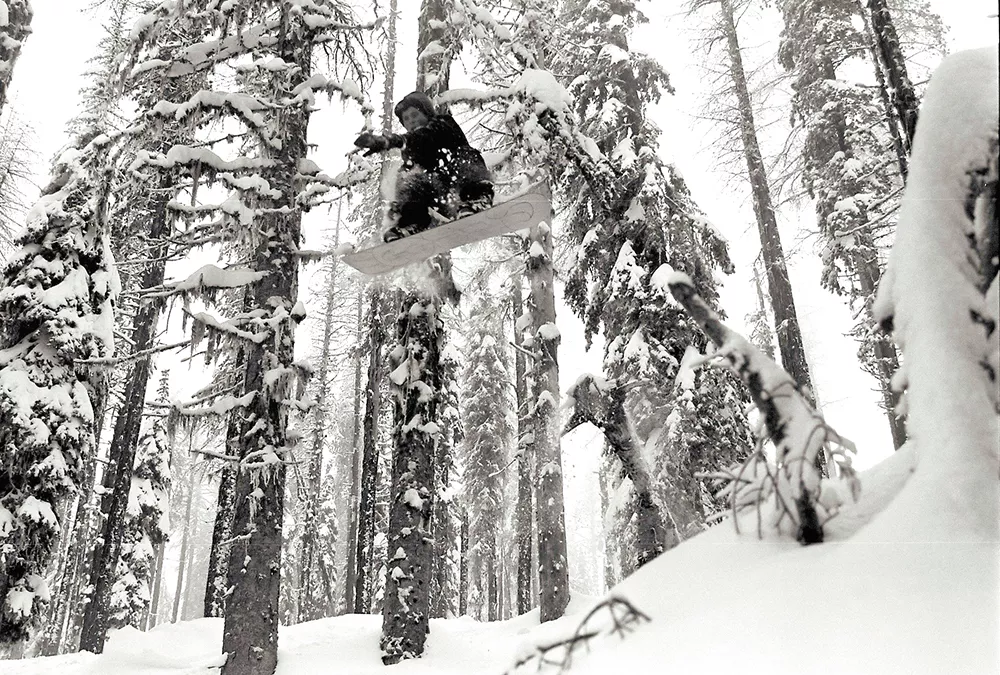 A blanket of snow softens the jagged lines of a mountain. It dampens sounds, plays with light and allows skiers and boarders to fly. The beauty, speed and quiet have always attracted Mason Sutter to winter sports. Two years ago, the avid snowboarder tore his ACL and meniscus — temporarily retiring the board.
"With that injury, that's where my photography kind of picked up," Sutter says. "I just wanted to fill that void."
So he started hiking as part of his rehab and took a camera along. Sutter says he'd learned the basics of film photography in an introductory class at Spokane Falls Community College. But he didn't dive into it until his injury forced him off the slopes.
Now he's even more excited about photography than he is about getting back on his board.
"There is something so big and vast about the mountains and the winter," he says. "Photography is such a great way to capture [those] moments and places."
Although photography is highly personal for Sutter, it's also a way of keeping people involved in his life. Through his photos, he gives a personal definition to beauty and nature.
"[Snowboarding] is an extreme sport, but it's actually one of the most peaceful things I've ever done," he says. "You can just stare at a photo and just feel how quiet it must have been."
Snow photography poses its own challenges, the first being access. Sutter recommends that aspiring snow photographers become familiar with the winter sports they're trying to shoot. For him, being immersed in the snowboard world helped tremendously.
"I knew snowboarding," he says. "I grew up with the magazines. Those were my big inspirations."
The cold, relative remoteness of many mountains and other barriers make winter photography more difficult to execute. However, it's also what makes it rewarding, Sutter says.
"Most of the pictures I've taken were me just like, 'Holy crap, look at this, look at where I am,'" he says.
Light in the mountains can be tricky, he says. When shooting, especially with film, you have to watch your white balance and exposure. Sutter has learned the best time to shoot snow photos, or really any kind of landscape photo, is early in the morning.
"Getting up early was a huge thing I had to learn how to do," he says.
Researching conditions before you go is also important. A cloudy day in Spokane might be clear blue skies on Mount Spokane, or vice versa. Still it's unavoidable, especially in this area, that many days will be overcast and gray. In those situations, Sutter says he prefers to shoot black and white.
Still, the best way to get better is to just shoot lots of photos. The more comfortable you are with your camera, the better you'll be.
"I think photography is a great outlet," Sutter says. "Especially for introverted people. For me, it was a huge way to branch out and express myself."
For those more interested in shooting video, GoPros are the perfect option, according to Nick Beale of REI. On Thursday, Nov. 20, he'll teach an REI GoPro basic class. Beale uses his GoPro for skiing, mountain biking and fly-fishing expeditions. During the class, he'll teach the basics of effective GoPro use and different mounting and stabilization techniques.
He also recommends that GoPro users play around with their camera before they take it into the field. Additionally, he recommends getting as large a memory card as possible and splitting your video into chunks, as opposed to just shooting one continuous video.
"These cameras are incredibly capable," Beale says. "The sky is the limit."
Beale says GoPro's website offers free programs and tips, including free video editing software.
At the end of the day, Sutter says it's all about keeping your eyes open, and your camera ready. ♦