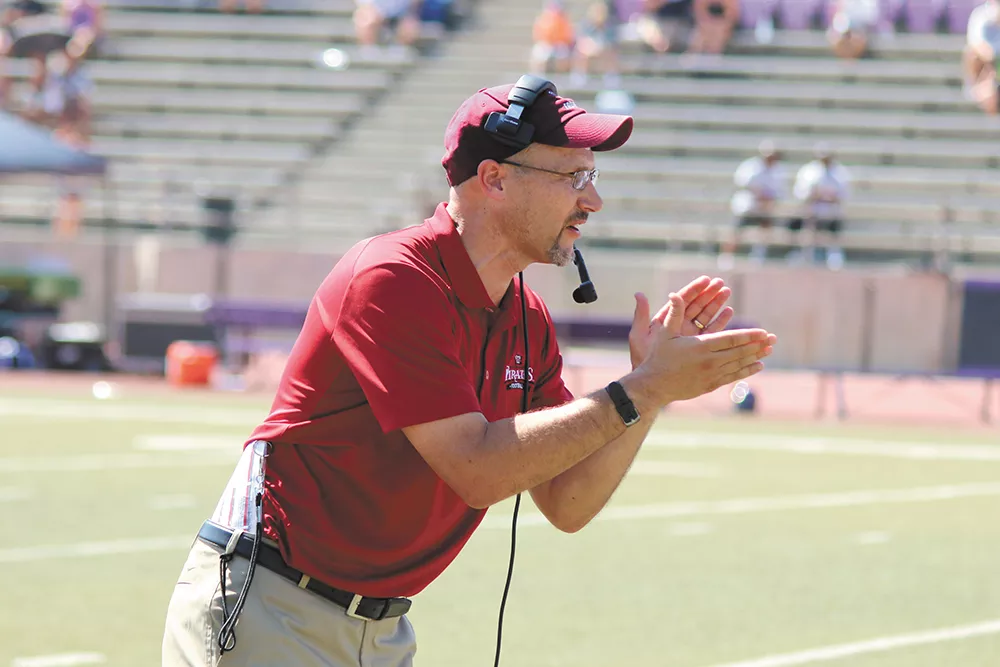 Rod Sandberg, the hyper-enthusiastic coach of the Whitworth University football team, long ago replaced his blood supply with Red Bull. When smoky air forced the Pirates indoors for their first practice of the fall, Sandberg didn't miss a beat.
"It doesn't matter where we practice!" Sandberg informed players gathered around him in the Whitworth Fieldhouse. "We love it! We would practice on a concrete parking lot if we have to!"
The Pirates return 15 starters from a team that finished 6-4 despite the usual hiccups associated with installing a new offense and defense under a new coaching staff.
"Last year was a learning process for us," defensive end Danny Welstad says. "We have a lot of guys that started last year; they have the system down this year, so they'll be more perfecting it rather than learning the entire thing."
The Pirates piled up points and gave up points with equal abandon a year ago. Coaches emphasized weight training in the offseason, and Sandberg said 60 of 66 returnees improved their strength numbers.
"Defensively, that comes over to tackling," Sandberg says. "We really have a lot of emphasis on tackling being better. On offense, we want to be able to run the ball better, be a lot more physical up front."
Redshirt sophomore Ian Kolste and junior Jonah Koski are battling to replace record-setting quarterback Bryan Peterson.
All-conference tackle Kyle Cosby, a 6-foot-7, 305-pound senior out of University High School, anchors the offensive line. Running back Duke DeGaetano ran for 652 yards and five touchdowns in 2014.
Anthony Fullman, Nick Kiourkas and Garrett McKay figure to rack up big receiving numbers in Whitworth's up-tempo offense. They must cover for the loss of Brett Moser (38 receptions), who is expected to return to school in January after cancer surgery.
Welstad (eight sacks, 15½ tackles for loss) is the key man on a defense that should benefit from experience gained last year. The energy provided by Sandberg helps, too.
"He's always excited, enthusiastic," center Joe Beattie says. "Always ready to be out there, willing to help us out."
That description also applies to Beattie, a co-captain who plays center at just 5-foot-10 and 245 pounds.
"He's a fighter," Sandberg says. "He's a competitor. He understands the game. Very smart." ♦
---
WHITWORTH PIRATES
2014 record: 6-4, 4-3, Northwest Conference
Preseason coaches poll: 4th
Notable returning players: OL Joe Beattie, OL Kyle Cosby, DL Danny Welstad, WR Anthony Fullman (WR)
Notable newcomer: QB Jonah Koski
Head coach: Rod Sandberg (2nd season, 6-4 overall)
Season opener: Whittier, Sat, Sept. 12 in Spokane at 11 am