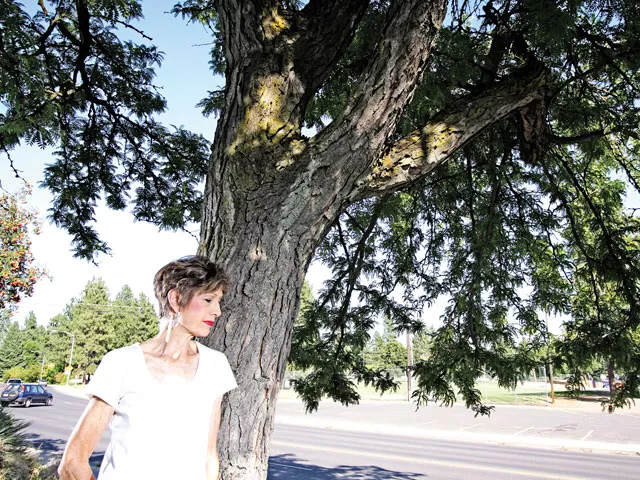 Pssst! Pass the word: Tree's coming down at 8.
The slender and graceful honey locust tree that's been in the front yard of Karen McAlpin's house on North Monroe ever since it was built for her parents 57 years ago has been on deathwatch lately.
Oh, it was plenty healthy, but it had the misfortune to be planted in the right-of-way for an underground petroleum pipeline.
And, OK, it's taken Chevron Pipe Line Company more than half a century, but here they came knocking on doors telling McAlpin and others their trees and shrubs pose a safety hazard because the roots could grow down and interfere with the pipe's protective coating.
McAlpin, a slender, graceful woman herself, said no. To a passel of Chevron honchos who had flown up from Houston and Salt Lake City and piled into her small front room on a sweaty July day, she said no. They pulled a root ball out of a bag. See that tarry-looking stuff? That's the protective coating, worn off by a tree root. No, she said, not my tree.
McAlpin admits she got emotional. She's been going through chemo this year. Her husband is ailing. The tree, planted by her late parents, is a link to happier times. And on two occasions, that tree, slender though it be, shielded the family from drunk drivers who came careening into the yard.
So she wrote letters, consulted arborists, reviewed the deed, called the media, got assistance from the Center for Justice.
It was four months of jousting, but Chevron prevailed, and they came calling again last week.
Saturday morning, they said. Eight o'clock. The tree comes down.
Except they came at 7. In that chill hour after a last-minute time change, the tree was felled, limbed, run through a chipper. The trunk was ground into sawdust and everything was tidily swept up. A little green toupee of sod was tamped over the sudden bald spot in the front yard.
By the time the media showed up at 8, there was nothing left to witness.
McAlpin, who has started another round of chemo, stayed inside.
Her daughter Heidi Jordan was still in shock, holding a protest sign even though the yard was empty now.
Two neighbor kids, Makayla, 8, Justin, 9, and their little dog Annie, "she's 8 in dog years," were shivering on their lawn. Awakened by the chipper, they wrote a quick plea — "Please save the tree!" on lined school paper and hustled outside.
Across the street in a school parking lot, three Chevron honchos — two from Houston, one from Salt Lake — watched from a maroon rental car.
Can we do the interview in the car? they asked when the news walked over. "My bones are rattling," said Santana Gonzalez, who came from Houston. From the trunk of the rental car, they removed a slab of root from another tree. See that tarry stuff there?
They do find roots wrapped around pipelines even though arborists say most root systems stay in the top 18 inches of soil. Maybe McAlpin's tree would never be a problem, as it hadn't been for 57 years.
But they can't just leave it and cross their fingers. What happens if there is an accident?
"You're danged if you do, danged if you don't," says External Relations Advisor Mickey Driver. He's from Houston, too.
"We know it's an emotional issue. We hate taking down trees."