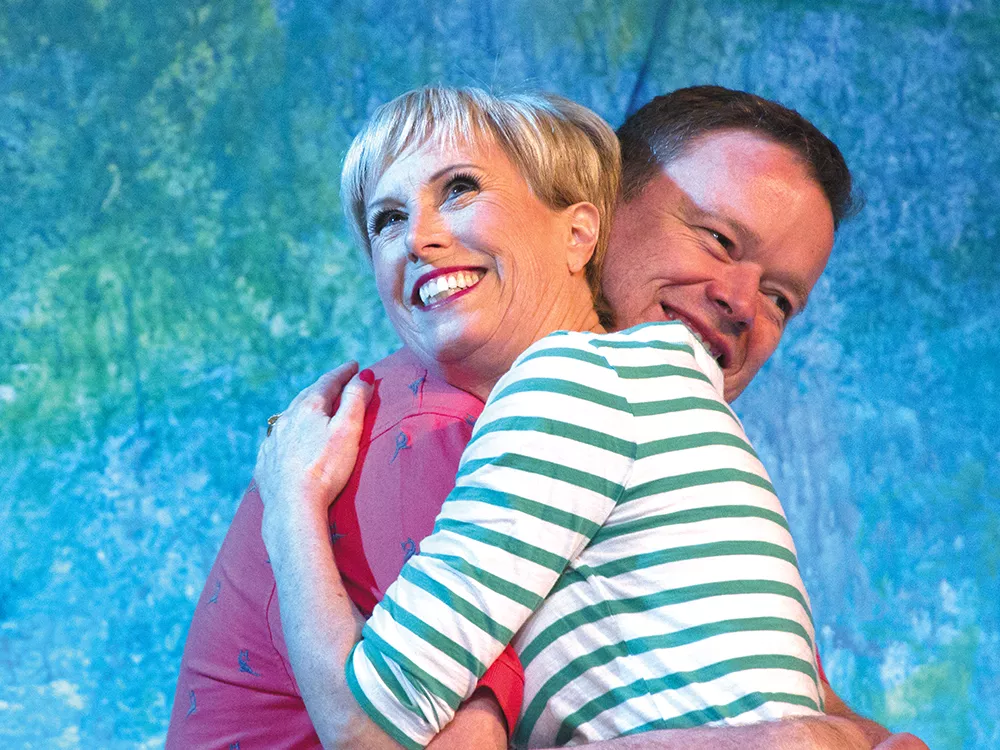 "The only way to get rid of a temptation is to yield to it," wrote Oscar Wilde. In Sirens, Deborah Zoe Laufer's play about midlife crises now at Interplayers, Wilde's tongue-in-cheek advice is the unspoken mantra. Middle-aged songwriter Sam drools over young girls in public and flirts with them on Facebook, all ostensibly an attempt to recapture the magic that led to his catchy, oft-covered hit "Rose Adelle." He's been married to that song's muse for a quarter-century, and channeling the ecstasy of young love has proven more elusive as the years wear on.
There's little wonder why. Rose's behavior toward Sam is a mix of coddling and condescension. She's neck-deep in passive-aggressive self-pity, lamenting their empty nest, simmering over his pitiful infidelities. When Sam leaps into the Mediterranean in rapturous pursuit of a siren's song, he abandons Rose to finish their silver anniversary cruise alone. She mourns for all of a week before calling old flame Richard Miller. Meanwhile, Sam is stranded on some uncharted island, delirious, haggling with a petulant siren for his life.
This is a comedy, by the way; but between the islands of amusing one-liners are vast wine-dark seas of pacing, whining, reminiscing, and the furious, fruitless arguments of the hopelessly self-involved. There's considerable empty space on the set, which shrinks and isolates the actors.
Tamara Schupman's one-two comedic punch gets extra mileage out of Rose's lines, but she's settled on a bizarre accent (robot Jewish grandmother?). As an otherwise convincing siren, Dawn Wolski opts for a fickle cross between Barbara Eden in I Dream of Jeannie and Valley girl. Nick Witham is a brief but uproarious second-act highlight as the sleazy Miller; Roger Welch appears to play Sam exactly as Laufer intended, but at times that doesn't seem to be enough.
— E.J. IANNELLI
Sirens • Through April 20: Wed-Sat at 7:30 pm; Sun at 2 pm • $28 ($20 senior/military, $12 student) • Interplayers • 174 S. Howard St. • 455-7529 • interplayerstheatre.org