Now through Dec. 17
A CHRISTMAS STORY: THE MUSICAL
You've seen the movie. Now experience the live song-and-dance adaptation that takes all the heroic daydreams, all the anticipation and all the holiday quirks and scales them up into big, flashy, family-friendly production numbers. And, yes, even the Bumpus hounds have a cameo. Kathie Doyle-Lipe directs. Spokane Civic Theatre, $30-$32, Thu-Sat at 7:30pm, Sun at 2 pm. spokanecivictheatre.com
---
Nov. 24-Dec. 17
CHRISTMAS WITH A TWIST FEAT. ELLEN TRAVOLTA
Remember that disastrous Christmas dinner when you forgot to turn on the oven? Or the time when the dog toppled the tree? And who can forget the year that your distant cousins showed up unannounced? For this year's original rendition of this much-loved annual holiday celebration, longtime host Ellen Travolta is mixing things up a bit (hence the "twist") and sharing the touching, memorable and often funny seasonally inspired anecdotes submitted by folks across the Inland Northwest.
"It's a poignant show because we have all these letters from the people in the community who wrote in about their families and what they've been through. This is a family time of year," she says. In that same spirit, Travolta will be joined onstage by her sister Margaret, her daughter Molly Allen and singer Abbey Crawford in this cabaret-style evening directed by Troy Nickerson. She also plans to take some time to remember her husband and professional partner, Jack Bannon, who passed away in late October.
"He's impossible to replace," she says. "But you know that old saying, 'The show must go on'? I always thought that was kind of silly, but there's something about the commitment of it that rings very true to me. We were professional actors and performers — it's what we did together, our whole lives. So I'm continuing the legacy this year in honor of my husband, because of my family and because it's helping us to heal. I'm not the only one who misses Jack Bannon."
You have the further option of booking an overnight stay as part of a special event-only package that includes lodging, admission and dining credit. The Coeur d'Alene Resort, $27.50, Thu-Sat at 7:30 pm, Sun at 5 pm. cdachristmas.com
---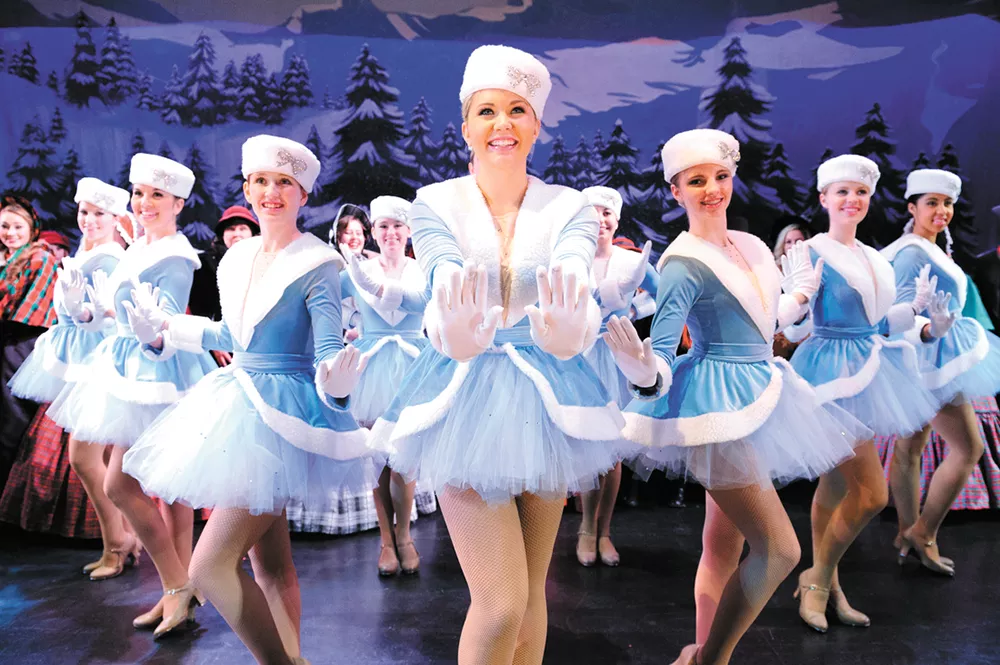 Nov. 30-Dec. 3
SPOKANE SYMPHONY: THE NUTCRACKER
More than 75 local dancers appear in this long-running artistic collaboration between the Spokane Symphony and the State Street Ballet from Santa Barbara, California. Iconic characters like the gingerbread soldiers, the Mouse King and the Sugar Plum Fairy are as mesmerizing as Tchaikovsky's magical music. Martin Woldson Theater at the Fox, $22-$79/adults; $14.50-$54/kids, Thu-Sat, at 7:30 pm, Sat-Sun at 2 pm. spokanesymphony.org
---
Dec. 1-10
A CHILD'S CHRISTMAS IN WALES
Students from the University of Idaho's College of Letters, Arts and Social Sciences perform a musical stage adaptation of Welsh poet Dylan Thomas' nostalgic, lyrical memories of the idyllic Christmases he experienced as a child. Hartung Theater at the University of Idaho, $5-$15, show times vary. uidaho.edu/class/theatre
---
Dec. 8-16
HOLIDAY HIJINKS
The Civic is transforming its Firth J. Chew Studio Theatre into a cozy café setting for this lighthearted but adult-oriented ensemble performance that they're billing as an "alternative" to the usual holiday fare. In the collaborative (and festive) spirit of the season, multiple VIPs from the local theater scene — among them David Baker, Lenny Bart, Rebecca Craven, Chris Hansen, Matt Harget, Josephine Keefe and Tia Wooley — will direct a shared cast in roughly a dozen original, niche and rarely performed short pieces. As they subject the highlights and pitfalls of the holiday season to some risqué, R-rated ribbing, along the way they'll parody Mariah Carey's "All I Want for Christmas," Christmas office parties, traditional carols and pub crawls. Audience members will be able to buy snacks and alcoholic libations during the show. Spokane Civic Theatre, $15, Fri-Sat at 7:30 pm. spokanecivictheatre.com
---
Dec. 8-23
TRADITIONS OF CHRISTMAS
One of the most large-scale, high-kicking holiday performances in the Inland Northwest, Traditions of Christmas returns to Coeur d'Alene for its sixth year to bring the classic razzle-dazzle of Radio City Music Hall to the regional stage. The 70-person cast reenacts Christmas traditions across space and time with over 400 costumes and striking set pieces like Dickens carolers, Santa's workshop and a Nativity scene. The popular USO tribute and meticulously choreographed kick-line tap numbers are perennial audience favorites. Salvation Army Kroc Center, $20-$33, show times vary. traditionsofchristmasnw.com
---
Dec. 22 & 23
MIRACLE ON 34TH STREET: A RADIO PLAY
Yet another show in the Civic's packed holiday lineup this year, this family-oriented "radio play" adaptation of Miracle on 34th Street is replacing a similar adaptation of It's a Wonderful Life that the theater staged over several holiday seasons (and which, incidentally, you can still see at the Jacklin Arts Center in Post Falls between Dec. 14 and 17, performed by the Coeur d'Alene Summer Theatre). It's a fun, retro-inspired retelling of this classic tale about Christmas spirit. Spokane Civic Theatre, $15-$20, Fri-Sat at 7:30 pm. spokanecivictheatre.com
---
Dec. 22 & 29
SEASON'S GREETINGS
Don't bother giving your Christmas list to Santa. Instead bring your gift ideas (the odder, the better) to this holiday-themed, all-ages show at the Blue Door Theatre, where the improv players take those suggestions and wrap them up in spur-of-the-moment comedy. They'll have cookies and hot chocolate waiting. Blue Door Theatre, $7, Fri at 8 pm. bluedoortheatre.com ♦