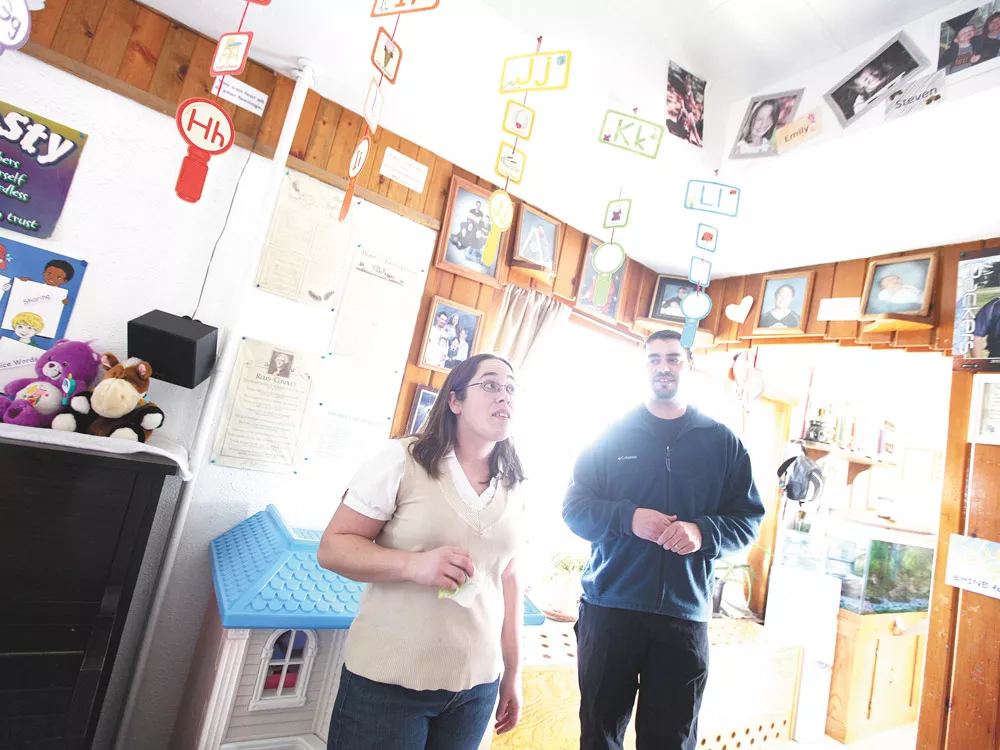 Tim Benn always figured his wife was wrong. She'd complain about how strictly state regulators dealt with her home day care business, Little Precious Ones. But Benn just didn't bite.
"I was like, 'I just don't think you're right, the state doesn't interact with small business that way, that's not the way it works,'" Benn would say to her. "I ran my own business, it's not supposed to be that way."
But after he began to look more closely, he came to believe what day care providers around the region have been saying: State regulation is making life hard for day care providers. In some cases, too hard to stay in business.
Benn and others are fuming at new state regulations that address everything from building codes to playground equipment. They will force providers to build escape decks or ramps outside windows. Inspectors will be able to cite a day care if there is dust on the electrical motors of appliances. One regulation states that in case of a disaster, providers must keep enough food, water, medicine and clothing available for each child for three days.
"Essentially what they did was create regulations that's going to cripple the whole industry," Benn says.
One new regulation specifying how backyard playgrounds are structured could cost the Little Precious Ones $13,000, according to Benn.
But according to state officials and other organizations, the regulations are necessary to keep Washington's children safe, and the new rules aren't significantly different from those of other states. Regardless, the number of Spokane County home day cares has decreased by about 35 percent during the past six years, according to the Eastern Washington Family Child Care Association. There are currently 192 such day cares in the county, down from 301 in 2006.
Numbers in other Eastern Washington counties have also dropped during that time. Stevens County recorded a 33 percent drop, to 21 day cares from 30. Whitman County recorded a 35 percent drop to 13, from 20.


Debbie Thurber, president of the child care association, says in-home day cares are less expensive than commercial day cares, which must maintain a building and paid staff. But money isn't the only motivator for parents who enter their kids into in-home day cares. The family-style experience teaches kids how to function in personal spaces like another home and gives them practice interacting with children of different ages, she says.
There is no research that draws a link between the day care closures and the state' regulations, according to the association. But Thurber says at least four day care providers have told her they intend to close due to the regulatory atmosphere.
Kara Klotz, a spokeswoman for the state Department of Early Learning — which oversees family day cares — says the department chose the new regulations through a child-centered and research-driven process. The new rules, Klotz says, are designed to make day cares safer for children. Washington state's day care regulations are "more robust than some other states, which helps ensure Washington children's safety," she says.
Klotz denies that the department is trying to put family day care providers out of business. Klotz, however, doesn't believe day care operations are going under because of the state's regulatory atmosphere. She says state cuts to subsidies, along with a dip in demand, has decreased the need for in-home child care during the recession.
Thurber says that while more children may be staying home with family or an out-of-work parent, she hasn't heard of any day care in her region closing for that reason.
Barbara Sawyer of the National Association for Family Child Care says that both sides are right: Both recessions and new regulations tend to reduce the number of in-home daycare providers, according to Sawyer. And the frustration isn't unique.
"For providers who have not had regulations updated for several years, sometimes there's resistance for the first year or so," Sawyer says.


Still, several day care providers tell The Inlander that the state has laid too heavy a hand upon their practices.

Sandy Willis, owner of Sandra's Day Care in northeast Spokane, is one. "They come in here and they nitpick over any and everything," Willis says, adding that she is closing her day care rather than submit to a new round of regulations.

There's also Yolanda Call, who is considering closing her day care. Call, who owns Yolanda's Day Care in northwest Spokane, has been a licensed day care provider for 23 years. But she says the increasing regulations over the past half-dozen years are getting worse.

She thinks the disaster plan, which requires day care providers to stock enough supplies for three days for each child, is an example of over-regulation.

"What parent is going to leave that child with you for three days? We'd have to be dead, that's the kind of disaster that's going to be," Call says.

If she does continue her day care under the new regulations, Call says, she'll essentially lose a room to build a fire escape ramp up to a window to satisfy new building codes.

"They're acting as the building department, the fire department, they have no business doing this," she says. "I've been doing this 23 years. I've been to some of my kids' graduations, weddings. And now licensing comes along and acts like we're villains."

Thurber, of the child care association, also runs her own day care, All Children Of The World, in Spokane Valley. She tells of a 4-year-old boy in her care who wears a soldier's hat like his dad, who has been deployed to Iraq.

"He just likes that hat and everybody knows it's his hat to play," says Thurber. "He says, 'I want to look like my dad.'"
The new rules, though, say hats must be disposable or able to be washed immediately after wearing.

When a large commercial day care provider comes to mind, parent Sara Lynch conjures up images of dozens of kids in a big room with few supervisors. So after weighing her options, Lynch, 35, chose Yolanda's Daycare for her 8-month-old daughter, Mae.

"She's a very happy baby, and she gets excited when she goes," Lynch says.

Lynch says she isn't sure what she'll do if Yolanda's closes, but there's one thing she's pretty sure of: She'll find another home day care provider.