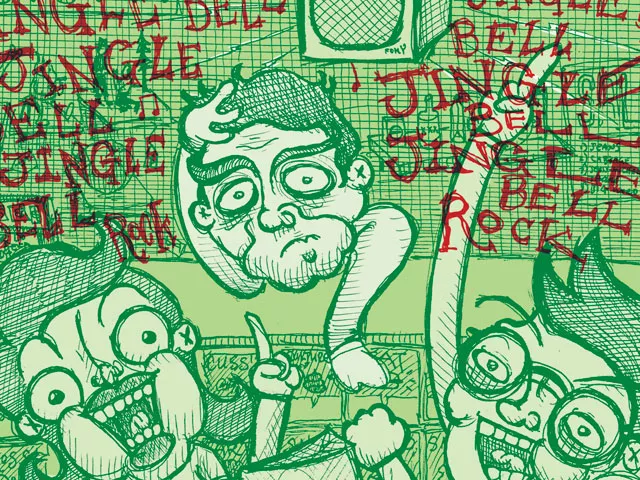 A few Christmas songs never hurt anybody. In fact, they may rekindle fond holiday memories as we stroll down store aisles, perusing the latest generation iPod and Tickle Me Elmos. They put us in the giving mood — and savvy retailers know it.
But what would an endless soundtrack of Christmas music do to us? What if you were forced to hear "Jingle Bells" and "Feliz Navidad" for hours and hours each day as you tried to do your job? What if you couldn't escape?
Some can't. "Christmas songs start pretty much right after Halloween, and at that point the majority of songs played in the store are Christmas songs," says "John," an employee at Wal-Mart who spoke on the condition that we not use his real name. "For me personally, I didn't really mind it, except for a few songs that are really grating. But most of the people I have worked with and hung out with thought it was really annoying."
A visit to NorthTown Mall makes it abundantly clear that the sounds of the season are hard at work. Nearly every shop that plays music is playing Christmas music, with some exceptions. Macy's, Kohl's and JC Penney are getting in the spirit, while Zumiez and Pac Sun are not — maybe because All Time Low hasn't yet released a Christmas album.
Shoppers are in and out — free to leave humming "Silent Night" as they drive home. There's a good reason why stores play holiday music non-stop: studies have shown cheery Christmas songs put consumers in the buying mood. Since most retailers depend heavily on the earnings from holiday shopping, it's a crucial element.
In his study titled "It's Beginning to Smell (and Sound) a Lot Like Christmas: The Interactive Effects of Ambient Scent and Music in a Retail Setting," Eric Spangenberg talks about the connections shoppers make between sounds and smells during their holiday shopping.
"For retailers, it seems crucial to select combinations of scents and music that are congruent in the minds of their customers — like the combination of Christmas music with a Christmas scent," says Spangenberg, who is dean of the College of Business at Washington State University.
Wal-Mart is no stranger to this strategy. "We sell these big bunches of cinnamon-scented pinecones," John says. "You can smell them from the minute you walk into the store."

The research says the music works on shoppers, but no one is asking the people who are most immersed in it — retail employees — whether it drives them crazy or not.
"I have no data to speak to the effects on employees," Spangenberg says, but the data suggests that many workers will at least get bored with it.
Bored employees could make for less motivated employees, and during such an important shopping season it would seem to behoove retailers to keep the staff happy. "There is some support in the literature on environmental music to suggest becoming bored with the 'same old same old' can have a negative effect," Spangenberg says.
"Honestly it's just a part of the background here," says "Stacy," an employee at Macy's who also prefers to remain anonymous. "I think when you work around it all day it just becomes like white noise."
Amy Bechtold disagrees.
She's not working in retail this holiday season, but says when she has in the past, she's gotten sick of holiday music fast. "When you're forced to listen to Christmas music," she says, "it changes your whole mood about it."
It's not the music itself that bugged her; she says it's the repetition that annoyed her so much.
"You can kind of pick what you want to listen to at your house. When you're working in it, you hear the same shit all the time," she says. "It could be a Tom Waits Christmas special, I would still get sick of it."