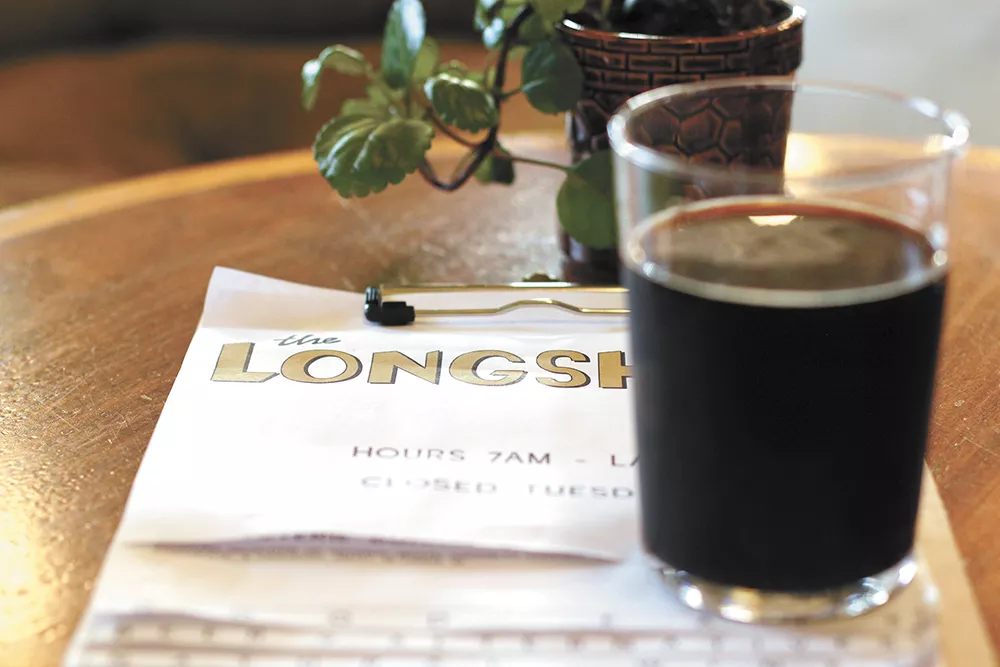 Brandon Brock is betting on the Longshot, Sandpoint's newest all-day café and gathering place he created in a former firearms training and retail facility at the busy intersection of Boyer Avenue, Pine Street and Highway 2.
The Longshot offers a full range of eats and drinks, including tea and coffee from local Understory Coffee, and thoughtfully sourced beer, wine, cider and other beverages. Food includes avocado toast ($8.50), paninis ($7-$9) and charcuterie plates ($18-$25).
In a monthslong renovation he chronicled online, Brock drew from a range of inspirations to transform the space, including travel to Australia and Norway. The aesthetic, Brock says, is a mix of midcentury modern, Scandinavian and the kind of eclectic spaces you'd find in more urban settings, like Portland, Seattle and his former home in San Francisco.
"The goal was really to create a bunch of little areas that encouraged real conversation versus head down with a phone or laptop," says Brock, who graduated from California's Sonoma State University in 2005, and worked in public relations.
Although Brock spent his early career in technology — Facebook when it was only a few years old and a few more years developing apps — travel made him realize he needed to change careers.
"I ultimately realized that technology wasn't the truest of fits for me and the things that I found passion in were real experiences and community." (CARRIE SCOZZARO)
CHEF IAN WINGATE TO OPEN RESTAURANT
After several years in various local kitchens — currently the Wandering Table in Kendall Yards — chef Ian Wingate is gearing up to open his new locally and sustainably focused restaurant, Outsider. The eatery will be located in a newly revitalized historic building at 908 N. Howard, just north of the Spokane River and Riverfront Park. Wingate estimates opening in the first half of the year.
"Inviting, fresh and innovative food. That's what you can expect from Outsider," Wingate tells the Inlander. "With an open kitchen and live fire cooking, we are looking forward to serving breakfast, brunch, lunch and dinner."
Wingate's goals for the eatery are to source in-season, locally produced ingredients, reduce food waste and the business's environmental footprint, and to use organic food whenever possible.
While a health scare back in 2012 forced him to close his lauded, former downtown Spokane fine dining spot Moxie, Wingate is also credited for launching the Palm Court Grill, Table 13 and several now-defunct local restaurants in the early 2000s. (CHEY SCOTT)
SURF SHACK RETURNS TO COEUR D'ALENE
It's been relocated and has changed names and owners a handful of times over the past 15 years, but the gist of Surf Shack's approach has stayed the same.
"You're never eating yesterday's food," says Jake Latuseck, who bought the burger joint from founder Gary Kender four years ago. "Everything we do cook here is fresh that day."
Kender called the Southern California-style eatery Longboard Burger in 2004 when he first installed it inside a gas station at the corner of Coeur d'Alene's Best Avenue and Fourth Street. Five years later, Kender relocated to Rathdrum, calling it Surf City Burgers. He eventually moved it back near its original spot, changing the name to Surf Shack.
This past summer Latuseck acquired a former Dairy Queen across the street from Surf Shack's original location, painted the exterior bright yellow and brought the burger spot back home to Coeur d'Alene.
Have a single ($4), double ($5) or triple ($6), a drink ($1-$2) and a side of fresh-cut fries ($2), tater tots ($3) or onion rings ($4). Gussied up single-patty burgers, like the mushroom Swiss or Hawaiian (with pineapple) are just $5. Also try Philly cheesesteaks ($7) or soft-serve ice cream ($2). Service is fast and friendly, and Latuseck is often on hand to greet the growing group of repeat customers by name.
"We always try to give them more than one reason to come back." (CARRIE SCOZZARO)