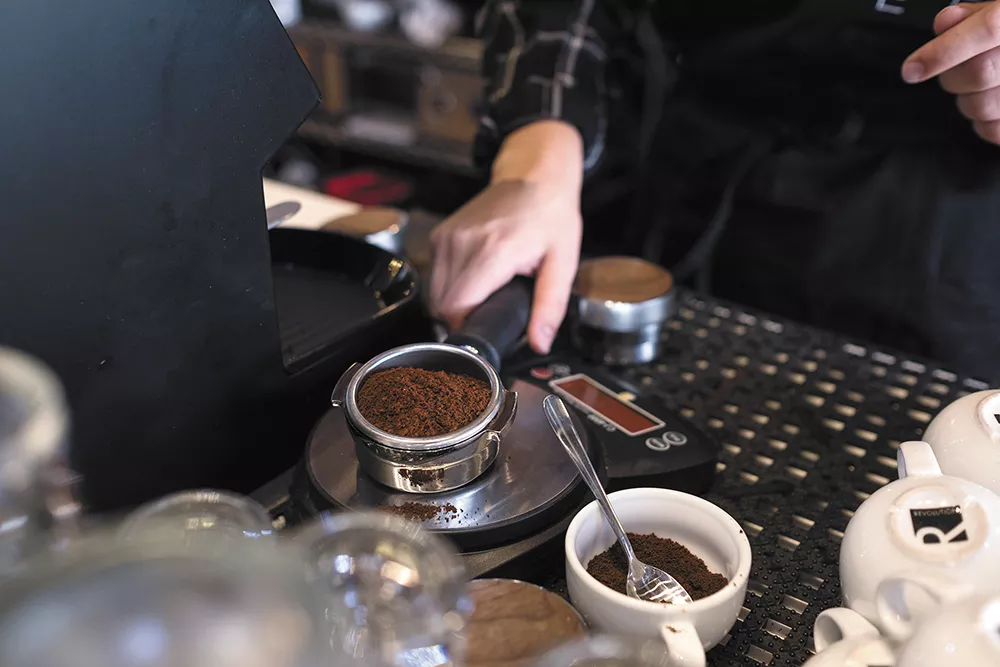 Hiding amid the clamor of energetic bars on downtown Spokane's "bro row," there's a small oasis waiting for those who want a nice drink in a calmer environment. Sandwiched between Boombox Pizza and Fast Eddie's in the old Revolver spot, a white neon sign invites visitors into the new hangout: the Night Owl.
Open for a few months now, the Night Owl is a chicly decorated hipster haven. Aside from the glass cases filled with small plants there's a black-and-white tile wall with a Southwestern feel that I'm willing to bet is gonna be featured in plenty of Instagram posts.
When my friend and I visited just after work on a recent Friday, we were the only ones in the bar aside from area bartenders relaxing before or after their shifts. Seems like a good sign when you've found the spot where the pros like to drink. Our friendly bartender offered to mix up a summer shandy for us, combining a raspberry sour beer that was on tap with rum, lime, lemon, sour mix, Cointreau, honey and soda. For just under $9, it was fruity, refreshing, and hit the right spot at the end of a long work week. If you want to check 'em out, they're open from 4 pm to 2 am every day at 223 N. Division. More info at facebook.com/NightOwlSpokane. (SAMANTHA WOHLFEIL)
EXCELLENT BREWS
Spokane coffee connoisseurs can now sample an incredibly high-end and rare small-batch coffee at Roast House Coffee and its downtown cafe, First Avenue Coffee. The roaster recently received a 140-pound shipment of Brazilian shade-grown coffee selected for inclusion in the 2019 Cup of Excellence, a prestigious international competition for high-quality specialty coffees. Coffees selected for each year's competition are rigorously tasted and judged, and then made available in an international auction, explains Roast House's head roaster and buyer Aaron Jordan. Roast House is the only North American roaster serving this particular coffee, he adds.
This is Roast House's second time purchasing a Cup of Excellence coffee; the Daterra Masterpiece Catira will be available by the cup as a pour-over ($10), espresso ($7-$8) and in 1-pound bags ($74) and 100-gram pouches ($16) at both Roast House and First Avenue (bags are also being sold online) until the supply runs out. He'll be roasting small batches at First Ave each Friday.
"When we first bought coffee like this, people said, 'It'll never sell,' and then we ended up selling out," Jordan notes of last year's Cup of Excellence batch.
What makes this particular coffee special, he says, is how the beans were blended and processed using a fermentation technique inspired by winemaking.
The resulting flavor profile is "syrupy fruit flavors that remind us of blueberry compote... sweet liqueur flavors reminiscent of amaretto and red wine. The finish is all about peach jam and soft florals."
"It's a fun coffee, and as a limited run it's something we like to do once or twice a year to add something that no one else is doing," Jordan adds. "We pay a lot of money for it, too, so we get the price barrier. It's more experiential; it's a pretty mind-blowing coffee." (CHEY SCOTT)
AWARD-WINNING BEERS
Many local brewers travelled west last weekend for the Washington Brewers Festival in Redmond. The annual celebration of craft beer produced in the Evergreen state is headlined by the Washington Beer Awards. This year, five regional breweries received medals by panels of trained beer judges. Iron Goat Brewing, Perry Street Brewing, Big Barn Brewing Co. (Mead), Paradise Creek Brewery (Pullman) and Ten Pin Brewing (Moses Lake) were among the winners out of 1,467 beers submitted by 193 Washington breweries. The Inland Northwest's winning beers are as follows: (DEREK HARRISON)
GOLD
Iron Goat Brewing - Bob's Your Uncle Brown Porter (Brown Porters)
Paradise Creek Brewery - After Dark (German-Style Schwarzbiers)
Ten Pin Brewing - Guava Gose (Contemporary-Style Goses)
Ten Pin Brewing - Groove (Fruit Wheat Beers)
SILVER
Big Barn Brewing Co. - Deitz Bock (Other Strong Lagers)
Perry Street Brewing - Session IPL (Session Beers)
Ten Pin Brewing - Tropical Groove (Fruit Wheat Beers)
Ten Pin Brewing - Smokin' Hot Blonde (Chili Pepper Beers)
Ten Pin Brewing - Strata Brut (Experimental Beers)
BRONZE
Iron Goat Brewing - Gin Barrel Aged Buzzsaw McThunder IPA (Wood & Barrel Aged Beers)
Perry Street Brewing - Session IPmaybeA (Session Beers)
Ten Pin Brewing - Snake Eye Stout (Sweet/Cream Stouts)
Ten Pin Brewing - Horchata Stout (Herb & Spice Beers) ♦