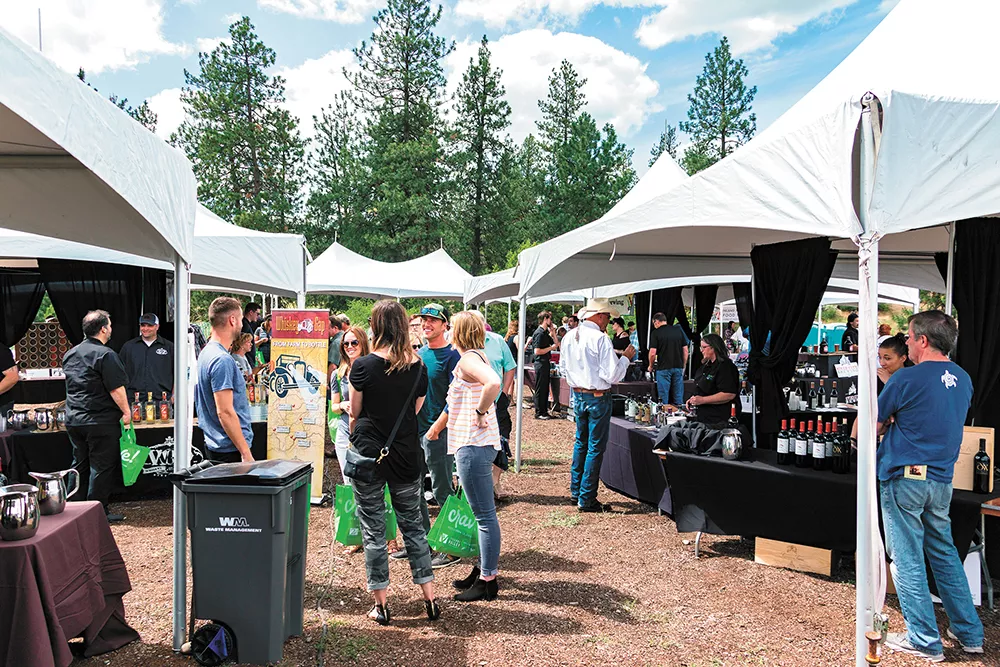 The biggest summer food festival in the Inland Northwest is taking over Spokane Valley this weekend, packing three days full of gourmet food and drink samples, chef demos and more.
The third annual Crave! Festival at CenterPlace Regional Event Center July 11-13 includes three themed evening tastings: Thursday's Seafood Bash ($85), Friday's Fire & Smoke barbecue showcase ($75), and Saturday's Foods from Around the World ($80). Each offers all-inclusive food and drink, including small bites prepared by local and regional chefs. There's also the Grand Tasting on Saturday afternoon, boasting more than 70 restaurants, artisan food producers, breweries, distilleries and wineries. Tickets to the Grand Tasting are $40.
Among the more than 40 chefs showing off their culinary prowess are a few special guests from outside the Inland Northwest, including acclaimed chef Anita Lo, who formerly operated the Michelin-starred Annisa in Manhattan until its 2017 closing, and was named a "Best New Chef in America" by Food & Wine. Her latest project is the 2018 cookbook Solo: A Modern Cookbook for a Party of One. At Crave!, Lo presents during a program focused on women in the culinary industry.
Other highlights include a gluten-free living class ($40) on Saturday, and a presentation on the main stage from "The Fit Foodie" chef Mareya Ibrahim.
Ticket packages are still available at cravenw.com. (Note: All Crave! events are ages 21+.) (CHEY SCOTT)
Stella's Cafe is Coming Back!
It's safe to say that perhaps no one was as disappointed as those of us at the Inlander when a favorite lunch spot, Stella's Cafe, closed in early 2017 to merge with chef-owner Tony Brown's sister restaurant, Ruins. Inlander staff ordered lunch there often, and even though most of Stella's sandwiches have remained available at Ruins during lunch, we still missed the old Stella's vibe: the rough wood floor, funky alien artwork, exposed ceilings and bright, open dining area.
Not for much longer. An announcement on Ruins' Facebook page let fans know that Stella's is coming back to a recently vacated spot, formerly home of Biscuit Wizard, inside the Saranac Commons (19 W. Main) in downtown Spokane.
At its new home, Stella's is bringing back its full sandwich menu, with vegan and vegetarian options. When it does, Ruins plans to also roll out its own revamped lunch menu with more salads and entree items.

More here. (CHEY SCOTT)
Knight's Diner is Closing! But It's Coming Back Soon
There was an internet buzz with word that the legendary Knight's Diner in Hillyard was closing its doors after 70 years of serving up breakfast and more in a railcar that goes back even further, to 1906. And while the local favorite did close its doors on Wednesday, July 10, we're happy to report that in a few months it will be back slinging spuds, coffee and pie.
Vicki Green owned Knight's Diner for 37 years, and when we contacted her to ask her what was happening, she explained she'd sold the business to someone who will do a little refurbishing, with the goal of reopening by Labor Day. She doesn't expect a lot of changes to the menu.
"I'll be 70 on Friday," Green said by way of explaining why she sold the diner. "I decided to give myself a birthday present." Next up for Green is a vacation, and maybe "selling coconuts on some beach." (DAN NAILEN) ♦