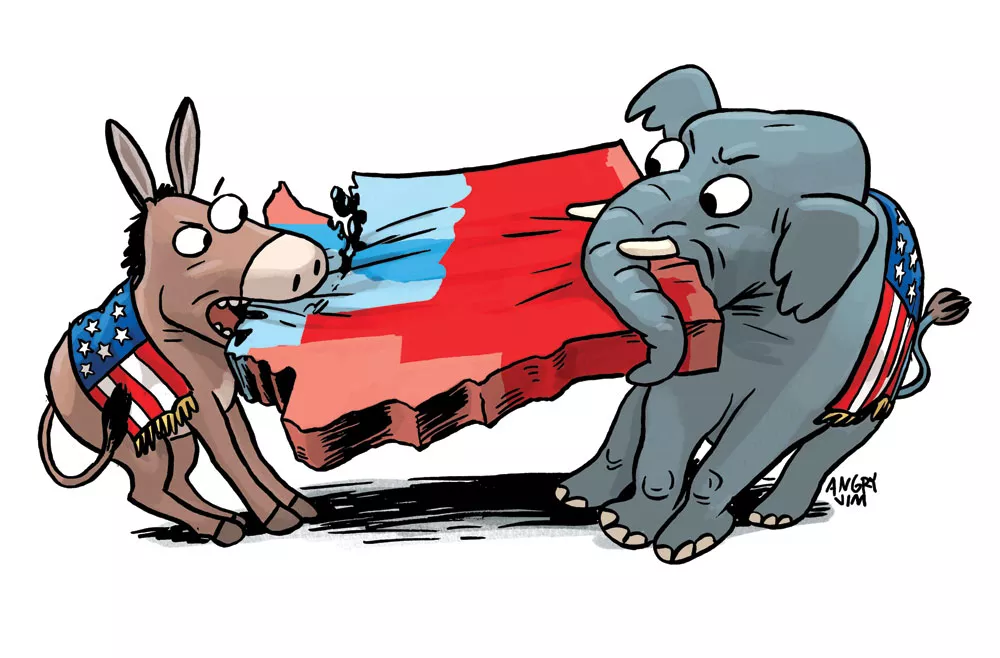 Slade Gorton is splitting up Washington state. The former U.S. Senator is part of a commission made up of two Republicans, two Democrats and a nonpartisan, non-voting member that will decide the size and shape of our 49 state legislative districts and nine U.S. congressional districts. From these political borders, we elect our representatives to Olympia and D.C., and there's a lot riding on how the lines are drawn.
And the stakes are growing. When Gorton first helped to redraw the state's districts 40 years ago, Washington's population was 2.9 million. Now, there are 6.7 million Washingtonians. Because our population grew so much in the 10 years since the last census — by one million people — the commission is also tasked with adding another congressional district somewhere in the state.
Could the commission water down the reliably Democratic district in Spokane's core with some voters from a more conservative district next door? Will the contorted 6th District be reformed into a more natural shape? Will Puget Sound always rule Washington politics?
We got Gorton on the phone ahead of the commission's public forum in Spokane next week and talked about why our population is booming, how the Evergreen State is turning blue and the cannibalization of politics.
INLANDER: Where did these extra one million people come from? Where'd they move to in the state?

GORTON: Well, of course, a lot of them were born [laughs]. Washington, as has been the case for 50 years or more, grew somewhat faster than the country did. There are a lot more minorities in the state now, particularly Hispanics and Asians. The places with the biggest percentage increases were the Tri-Cities area; the Clark County area, [which is] the Washington side of the river in greater Portland; and the southern suburbs of Tacoma and Seattle. I suspect this is the first census since statehood in which Eastern Washington grew slightly faster than Western Washington.
Big enough to change the size of our congressional district?

Not for that reason. It's a modest difference. The only place you'll probably see it is along the Columbia River in one of the legislative districts there. The fact that we've gotten a tenth congressional district means that the customary method of there just being two full districts in Eastern Washington will change. There'll be 150,000 people somewhere in Eastern Washington who will end up in a primarily Western Washington congressional district. That could either be along the Columbia River. Or it could be on I-90 over the Snoqualmie Pass.
Do you see Spokane's legislative districts changing at all?
Sure. The 3rd Legislative District in downtown Spokane is the most under-populated of all of the 49 legislative districts in the state, by 16,635 people. It will have to grow by that number. The two districts that are around it — the 4th and the 6th — are both too large.
The 6th is c-shaped and wraps around Spokane. Does this odd shape contribute to it swinging back and forth between the parties?
I wasn't on this commission 10 years ago, so I can't answer that. But historically, it was a heavily Republican district because it was centered on the South Hill. It's been closer to a swing district for most of the last 10 years. But it is too large and the 3rd District is too small, so it would be quite logical to say that the 3rd District will take some territory from the 6th.
What about U.S. Rep. Cathy McMorris Rodgers' district?

It will shrink. It has 51,155 too many people. Almost certainly, it will lose those 51,000 people to the 4th [in central Washington]. But that district is overpopulated by 102,000 people. When it gets more than 50,000 from McMorris Rodgers' district, it will have 150,000 too many, and that's why one of Western Washington's districts has to come over the mountains. McMorris Rodgers can't give those 50,000 people to British Columbia or Idaho.
Other than Washington, in your view what state has the fairest redistricting scheme?

Iowa has always had a very fair one, which doesn't pay any attention to incumbent legislators and members of Congress. It's done at a great distance from them. They just get a blank map with population figures on them. The dramatic one this year is California. It has 53 representatives in Congress. It is so gerrymandered from 10 years ago that there's only been one party change in 265 elections. The people of California passed a commission system with 14 commissioners. It doesn't pay any attention to incumbents. I think there may be as many as 20 new members of Congress from California after the next election. Our districts will look pretty familiar to what they do now — California's will bear no resemblance.
How is our commission fair and nonpartisan if the only nonpartisan member doesn't get to vote?

It's not nonpartisan. It's bipartisan. There's a difference. I think we have the best system in the country. I can say that, having been the Republican captain 40 years ago in the 1960s, when the Legislature did the redistricting. It was a brutal, time-consuming, bitter exercise. It was the difficulties we had in the 1960s, '70s, and '80s that persuaded both the Legislature and the people to go to a commission system. It's much better than the old system, and I've done it both ways.
It's improved, but should we emulate Iowa or California?

Ours has worked for the last two censuses and it will work this time. As I say, I think other states should be copying us rather than us them.
Regarding your political past, the senate seats you once held are now in Democratic hands, as is the governor's seat and both chambers of the Legislature. Considering the influx of new Washingtonians, do you believe the state is getting bluer?
If you look at the last 15 or 20 years, it certainly has gotten more Democratic. It's gotten somewhat more polarized. The Seattle metropolitan area has become overwhelmingly Democrat. But most of the areas outside of metropolitan Seattle have probably become a bit more Republican. The metro area there is larger and tends to dominate the state, but there was a slight Republican recovery last year. So it is not a trend that will inevitably continue.
What do you expect to hear in Spokane?

We'll probably hear more about legislative redistricting than congressional redistricting, because it's pretty cut and dry what's going to happen with Cathy's district. The lines of those various legislative districts in and around Spokane will probably be a fairly hot topic.
When will the commission's work be done?
If we fail [to come to an agreement] by the end of the year, the state Supreme Court takes it over and has more time. If we haven't done it, we're out of the ball game. [If we do agree,] we give it to the Legislature, and it will have 30 days. But the Legislature can only make very modest changes, not more than 2 percent of any district, and they have to do it by a two-thirds vote of both houses. So the chances of significant changes by the Legislature are at zero. The Legislature corrects clerical errors is what it amounts to.
Moving forward, what are the biggest challenges facing the commission?
Well, of course, the fundamental biggest challenge is the Republicans and Democrats coming to a meeting of the minds. There are not too many places you can put the new congressional district. The Democrats may have more challenges than we Republicans do because they've had more of these outside groups come in and ask for certain things. But there is a whole string of Democratic districts along I-5 that are too small. As a matter of fact, all of them for about 100 miles. They will be cannibalizing from each other.
That'll be fun.

Well, it'll be interesting, let's put it that way.

The commission will host a public forum Tuesday, July 12, to hear public comments regarding redistricting. They will be at Spokane Falls Community College, 3410 W. Fort George Wright Drive in lounges A and B. Open house begins at 6 pm. Public comment starts at 7 pm.