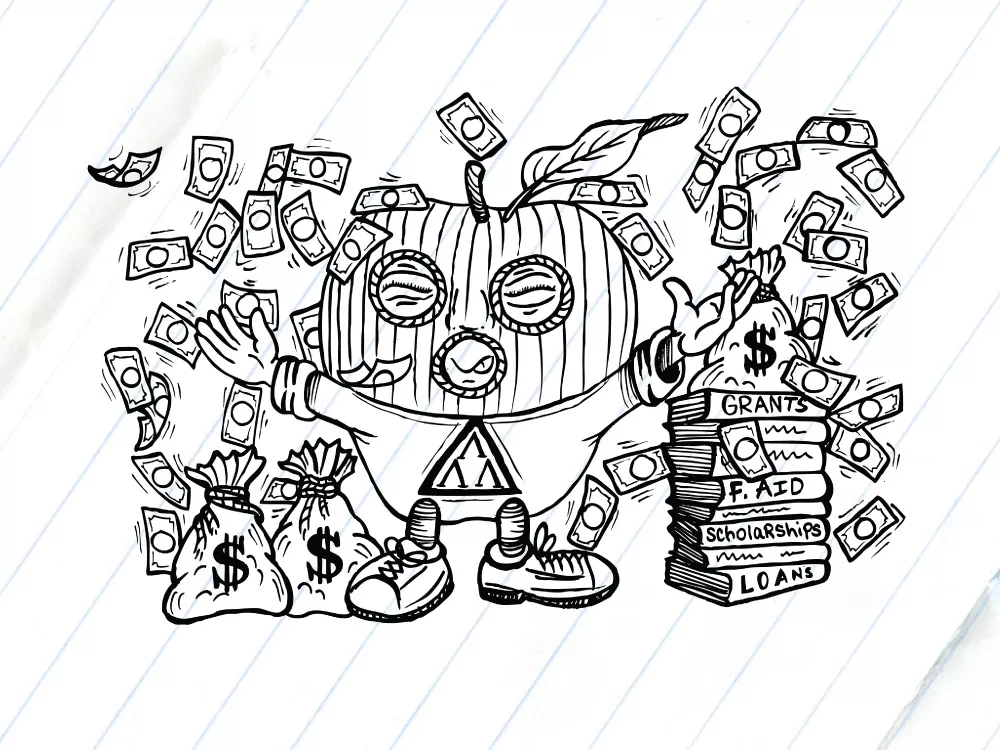 Why a prank pulled at Whitworth looks different at WSU
Why the traditional four-year experience can be even richer for older students.
College can be a psychological pressure cooker. But there's help.
College Profiles: • Whitworth • Gonzaga • Eastern • WSU • University of Idaho • NIC • Spokane Community Colleges
Moving away from home does more for new students than just freeing them from their parents. It also lets them in — often for the first time — on the whole fun world of "financial responsibility."
Suddenly, you're paying for phone bills and clothing and soap and food. What once magically appeared now comes at a cost. There's a price tag and everything.
But eventually, the veteran student learns how to survive: where to save money, how to harness the system, when to borrow, when to leech, and when to grit your teeth and buy something.
Here are a few quick tips for saving money — beyond just stealing toilet paper.
• See a sign that reads "Job Fair?" You better get your ass into that room. Not only will they usually have free beverages and cookies, but you'll be able to stock up on school supplies, like pens and pencils, or even water bottles and Frisbees. 
• Make friends with someone whose parents live in town — the kind of parents that like to cook for guests. If your parents live in the same city, meanwhile, head over on a regular basis to do laundry. Your parents will appreciate your company, and your peers will appreciate you not smelling like a dirty clothes hamper.
• Hungry? In the mood for a gourmet meal? Head to any budget hamburger joint and buy a dollar hamburger. While you're there, grab ketchup packets and a few salts and peppers. Back at home, empty all these packets into a pot along with some milk (or water, if your wallet is really hurting) and heat it like you would any other kind of soup. BONUS: If you're a smooth talker, you might be able to convince the employee working at the counter to give you some free crackers.
• If you decide, as many college students do, to have sex, go to the health services center on campus and pick up a few free condoms beforehand. Deals don't get much cheaper than free, and a good thing, too, because buying those things from the 7-11 can get expensive.
• Fashion is fleeting. But thrift-store clothing is forever. Head to Plato's Closet or Drop Yer Drawers in Spokane or the Storm Cellar in Moscow to update your wardrobe. Take your used clothes in for cash or trades.
• On certain days, the movie theaters have student discount prices. The AMC in downtown Spokane has a student day every Thursday, while Regal Cinemas (NorthTown, Spokane Valley, Riverstone) offers student discounts Sunday-Thursday. Community College students, meanwhile, get free admission to the Garland's International Film Festival.
• A true full-ride scholarship includes books for a reason. Books — supposedly required for all classes — can be extremely expensive. Sometimes as much as $300 a semester. Avoid the bookstore — seek out cheaper options. Local used bookstores, like the Tree of Knowledge in Cheney, are preferred. Otherwise, hit up Amazon.com and barnesandnoble.com and buy used. Or use Project Gutenberg's e-books to get many public-domain texts — 36,000 books — for free.
• Your .edu email address gets you a year of Amazon Prime for free. The advantages? Free two-day shipping with no minimum. Over 5,000 free streaming movies or TV shows. You can stream movies and television without a fee. You'll have over 5,000 videos at your disposal. The little fees that usually add up —movie rentals, book shipping — are gone.
That's how your wallet survives college — a penny saved here, another earned there. Spend wisely and save wisely, and you may graduate a mere $20,000 in debt.