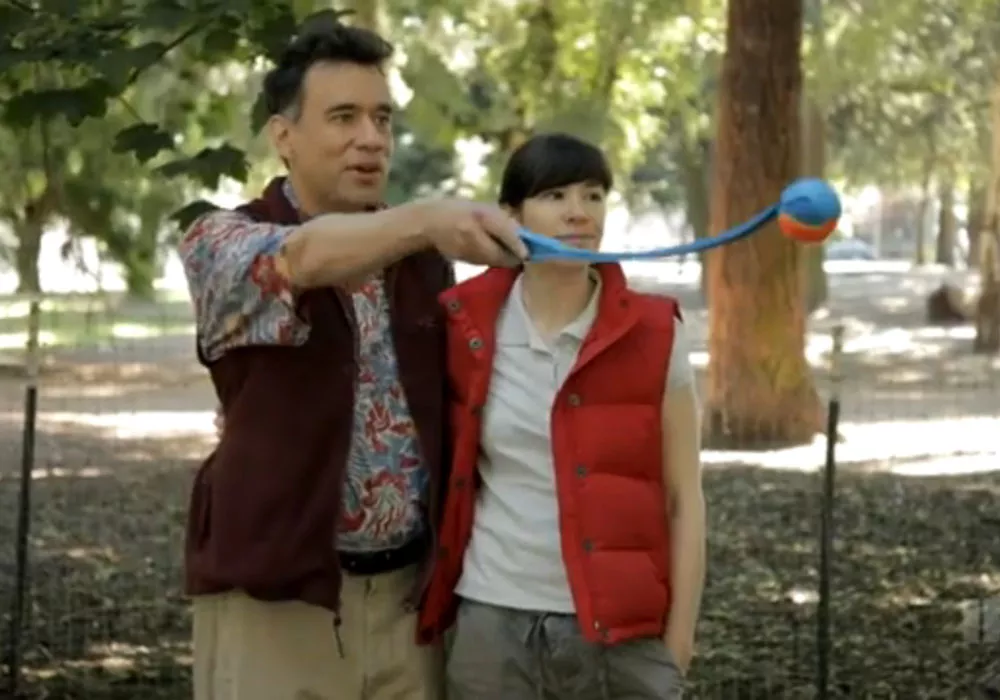 Characters are such a dominant aspect of a sketch comedy that they can obscure an equally important attribute: setting. The best sketches take place in an alternate universe of absurdity, a quirky land that operates under different rules, filled with a population characterized by odd outfits, silly obsessions, and engrained tics.
It must be an alternate universe, where the strangest dialogue and weirdest personalities seem hilariously foreign to visitors (viewers), but appropriate — even expected — to its natives. It must be an alternate universe. In other words, it must be like Portland, Oregon.
Portlandia, now in its second season, should have happened long before now. Television spends so much time cooing over the character of New York, LA, and Chicago that it's mostly missed Portland, a city that's almost more identity than physical location. It pulses with tattoos and feminists, with environmental petitions, organic certifications, with don't-call-me-hipster hipsters, where fixed-gear bicycles roam in packs.
But unlike a show like a 2 Broke Girls — which is set in Brooklyn, and writes hipster punchlines with a bitterness and a curious lack of knowledge of the people they mock — Portlandia is as much a celebration of its place as a parody of it.
Its jokes rely on a love and a deep knowledge of the target. The specificity here is impressive. They don't just joke about hippies liking tofu and bikes. They target specific shops and restaurants, and how competitive even the bookish can be, and how anything can be labeled art, so long as it has a bird on it. Most interestingly, when Fred Armisen (previously best known for his painfully un-Obama impression on Saturday Night Live) interacts with Carrie Brownstein, they capture the tone, rhythm, and content of a self-obsessed generation. They say things like "Who moves out of Portland?!" "My blood sugar's sooo low" and, invariably, "I know, right?"

Most interesting is how much better, despite sharing many of the same minds, Portlandia is than Saturday Night Live. Attribute that to setting and editing. A lame sketch that only deserves to be 30 seconds can be edited down to 30 seconds. And even when a sketch flounders, the frantic rhythm of the editing compensates, almost like a spoken-word version of an Andy Samberg digital short.
SNL is live from New York. Portlandia fixes both those problems.
Portlandia (IFC, Fridays, 10 pm)
TIVO-WORTHY
Chuck
The survival of Chuck highlighted how anticlimactic a miracle can be. The enjoyable action-comedy about a nerd-turned-spy rose to exhilarating heights in its second season and even spurred fans to purchase sundry sandwiches from major sponsor Subway to save the low-rated show. In return, it got three more not-nearly-as-good seasons. On Jan. 27, it goes out with a wimper. Buy just one more Sweet Onion Chicken Teriyaki? For Chuck? (NBC, Friday, 9 pm)
Tosh.0
Professional bully Daniel Tosh returns for a new, season of mocking other people's embarrassing moments, riffing on already funny clips, and getting killer ratings off of other people's creativity. (Comedy Central, Tuesdays, 10 pm)
Luck
The horserace setting stirs up the possibility of drama and corruption, twists and tragedy. So do the behindthe- scenes figures of this drama, which includes actor Dustin Hoffman, Deadwood creator David Milch, and Heat director Michael Mann. All are known for having hyper-specific visions, strongly mercurial attitudes, and egos befitting their brilliance. (HBO, Sundays, 9 pm)