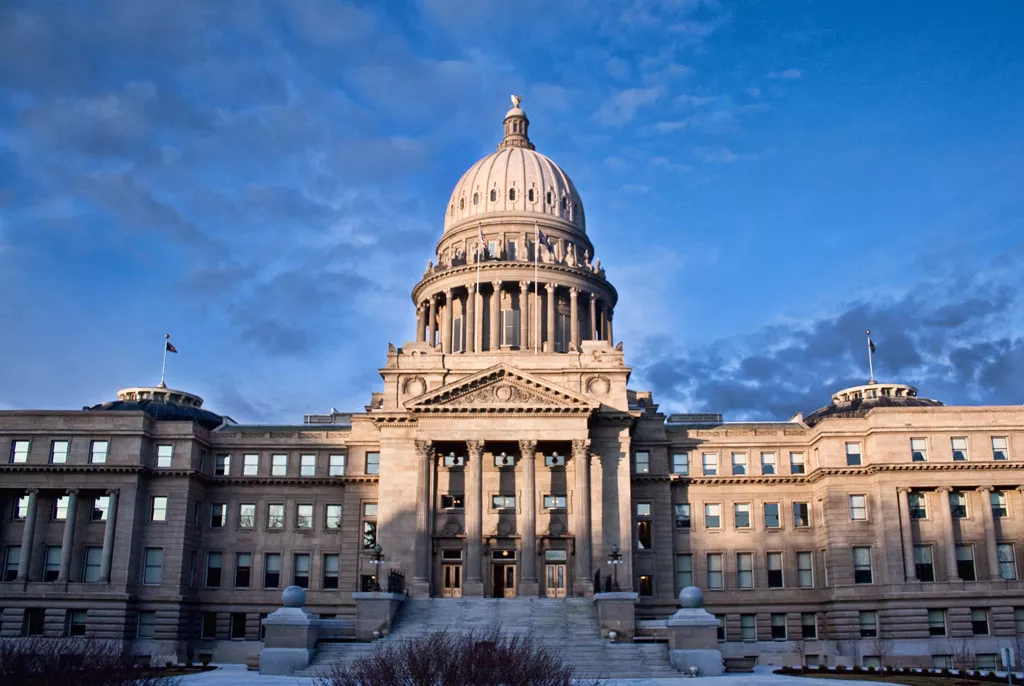 Sometime in the late 1980s, I snidely characterized a recently concluded Idaho legislative session as a Dare-To-Be-So-So event. By that standard, the Idaho 2010 session didn't even come close to that Dare-To-Be-So-So rating.
So what's my complaint? First and foremost, the Idaho Legislature consists of 35 senators and 70 representatives for a total of 105 legislators. Democrats hold 25 of those 105 seats — seven in the Senate and 18 in the House of Representatives. Everybody else is a Republican.
Members of the GOP chair every committee in both houses and set every agenda. Republicans run the show. The playing field is ridiculously unbalanced. It's a bloody inclined plane.
In addition to the imbalance between political parties, the game is played in an atmosphere of extreme partisanship. The Republicans lean every year further and further to the conservative right. Democrats can debate, disagree, plead, wrangle and bargain. Only the wiliest and most persistent ever get their way, and even then it is a rare occurrence.
From the get-go, 2010 was going to be a difficult session for all parties. The unemployment rate in the state is high, and the outlook for an economic recovery difficult to gauge. Republican leadership, with Democrats dissenting, chose to base the 2010-11 budget on an extremely conservative estimate of collectible revenue.
Once that conservative figure was set, the ax was poised over a familiar target: the public school appropriation. And down the ax came. Next year, Idaho's public schools will receive $158.5 million fewer dollars than were allocated in the current year's budget. The results are not too hard to predict — larger class sizes, cutbacks in maintenance of buildings, zero field trips for the kids and larger requests for supplemental levies for local school districts.
This is all part of a string of mistakes and bad leadership. In 2006, during the one-day special legislative session in August, Governor Jim Risch pushed through a plan to take public school maintenance and operation costs off local property taxes, and replace them with state revenues, at the same time adding an additional penny onto the sales tax. Wise legislators, such as Coeur d'Alene Representative George Sayler, opposed this action, anticipating the possibility of a downturn in the economy such as we have been enduring over the last two and a half years. Some things can be counted on. When times get tough, the sales tax tanks. Property taxes, dreaded by all, are a far more stable source of revenue.
Probably because this is an election year, Republican legislators made it clear from the start that they would not consider any tax increases to make up the missing revenue. Nor did they choose to take a serious look at the millions in sales tax exemptions on the state's books. Nor did they choose to look at any increase in sin taxes — such as a long overdue increase in taxes on wine and beer, as are being enacted in Washington state. I looked longingly at consideration of taxes on soda pop, considered a major factor in our national obesity epidemic.
Our neighbors to the west of us debated for months on ways to augment the state revenues, finding ways to bridge the gap. Our neighbors to the south of us in Oregon asked to be allowed to pay more taxes in order to help their schools.
Not Idaho. We'll just slash away even if it hurts. Even if it hurts kids.
If you read the Idaho Constitution, Article 9, you'll see what a failure this truly is. Our constitution states: "The stability of a republican form of government depending mainly upon the intelligence of the people, it shall be the duty of the legislature of Idaho to establish and maintain a general, uniform and thorough system of public, free common schools."
The principal job of the Legislature is to make sure that state government is running smoothly. Within that charge, the biggest and most important task is making sure that kids get a good, solid education.
I don't think this should be an ideological or a partisan issue. That's a clear statement of the Legislature's responsibility. Debating the merits of the school-funding bill, the Senate Democratic leader, Kate Kelly, was quoted in the Spokesman-Review stating: "I think that this bill before us comes perilously close to abdicating our constitutional obligation to the school children of Idaho."
I agree.
In the 78-day, blessedly short 2010 session, the major focus was on the budget. In their remaining time, the Republicans railed against the federal government.
A total of 15 bills were introduced in the session lauding Idaho's independent sovereignty over the federal government. Such Fed bashing has been labeled as pure political theater by both Representative Sayler and Congressman Walt Minnick.
And it is particularly hypocritical theater since approximately 37 percent of the dollars in Idaho's budget come from the federal government. The total estimate of federal dollars spent in Idaho now amounts to $12 billion per year. We in Idaho receive more in benefits from the federal government than we pay in taxes. Would we pull out that $12 billion from our Idaho economy, just to show how independent we are? I think not.
But I'm an optimist, and better days for Idaho surely lie ahead. After all, it's an election year.
Mary Lou Reed is a former Idaho State Senator from Coeur d'Alene. Her column will appear here once a month. Send comments