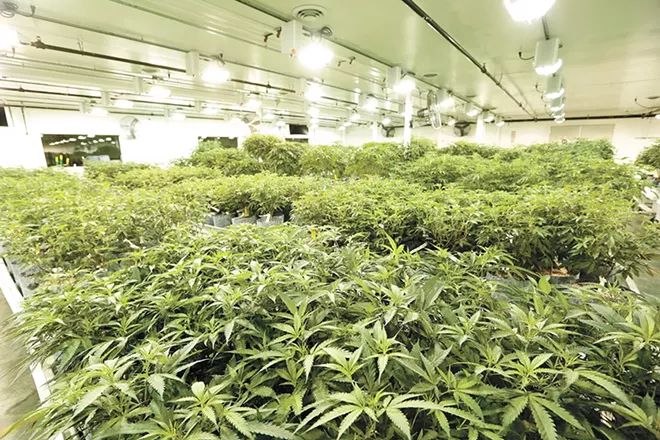 T
he state Legislature is in full
swing in 2019 as of Jan. 14, and marijuana advocates are eager for change.
Compliance reform is at the top of the legislative agenda for the state's leading marijuana advocacy organization, the Washington CannaBusiness Association (or WACA), and that means protecting license holders from severe penalties from the Liquor and Cannabis Board, says WACA Director Vicki Christophersen.
At the top of its legislative agenda, the organization says it wants to institute a compliance program for businesses to "proactively request assistance and inspections to help support full conformity with the law, without threat of citation." Today, there are license holders who are at risk of losing their entire investments for having "five untagged plants," Christophersen told the House Commerce & Gaming Committee members on the session's opening day, Jan. 14.
"I think overall, what I would say is we need to continue to debunk the myth that we are cops and robbers, criminals and law enforcement — we're operating a legal marketplace," she said to the committee. "Overall, we would like to see a change in the way the LCB controls the industry."
Additionally, WACA wants to see the LCB align the marijuana compliance process with the alcohol industry "and issue written warnings prior to any enforcement action" so that businesses can come back into compliance without fear of penalty.
But that's not all. The organization has at least four other topics it plans to tackle this legislative session.
Medicinal clarity:
WACA also plans to propose legislation intended to clarify what is and is not a "medical health claim" for certain marijuana products aimed at medical users.
For instance, Christophersen says, consumers need to know whether a CBD product is intended to improve sleep or digestion without misleading them. To do this, WACA intends to mirror some of the Food and Drug Administration's guidelines for supplements, she says.
Investments:
Washington is the only state with legalized cannabis that does not allow out-of-state investment. Christophersen says she hopes to see new legislation change that and help the state become more competitive nationally.
Merchandising:
Current law prohibits retailers from selling anything other than marijuana-related paraphernalia (ie. pipes, papers, etc) and products containing at least .3 percent THC in their stores, .
"Our retailers are strangled under the fact that they can't even sell a T-shirt or even a coffee mug," Christophersen says. "We really have to look at having retailers being able to sell more product to their folks."
LCB Standards:
Along with compliance reform, WACA also says it wants marijuana to be treated the same as alcohol under the LCB by aligning the standards for misconduct. In addition, the standards would lower the penalty for selling product to a minor a misdemeanor instead of a felony.
(Watch the House Commerce & Gaming Committee's meeting here.)