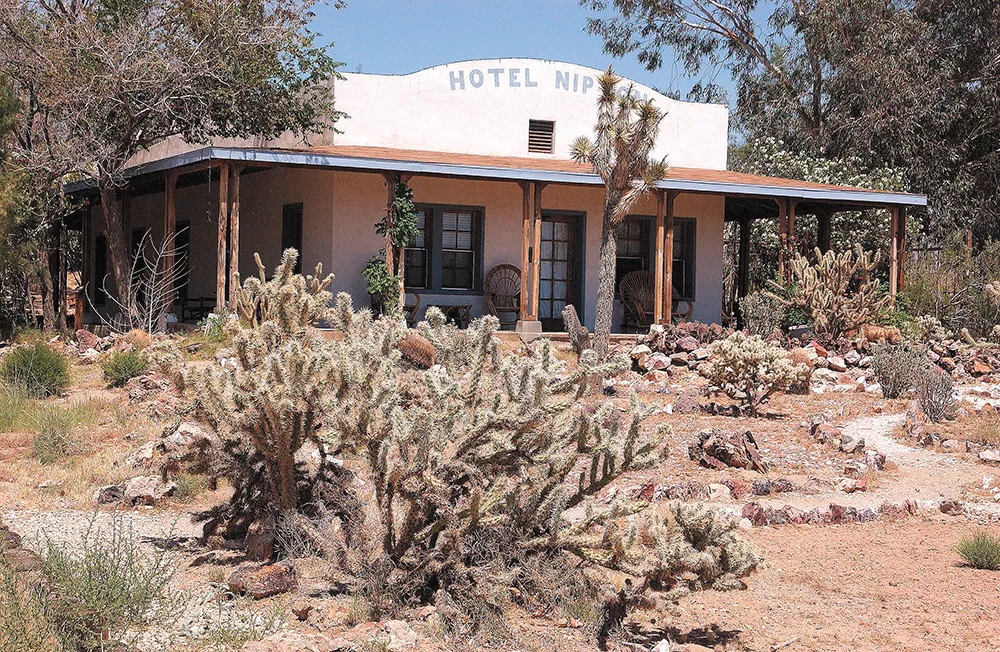 A few weeks ago in this column, we introduced you to the concept of cannabis tourism and how it's already taken off in places like Seattle. In the Emerald City, there's everything from vaporizer rentals for out-of-towners to guided tours of producers, processors and retail shops. Here in Spokane, there are some B&Bs that allow on-premises consumption of cannabis.
But what if there was a whole town dedicated to everything marijuana? Think of it as a Disneyland for weed lovers — or something like that.
It could become a reality if things continue as planned for a cannabis technology company called American Green. The publicly traded firm just bought the entire town of Nipton, California, for $5 million, which seems like a pretty good deal, though we're a little unsure about the market price of ghost towns these days.
Nipton, located near the Mojave Desert, was once a gold-rush town at the turn of the 20th century, but was home to just six residents as of last year. American Green's purchase got it 120 acres of land, which the company plans to convert into a multifaceted cannabis tourism operation that includes marijuana growing projects, as well as an effort to create CBD-infused water to be distributed in California.
"We are excited to lead the charge for a true 'Green Rush,'" says David Gwyther, chairman and president of American Green, in a press release. "This acquisition allows us to channel the myriad interests in cannabis production and consumption for an immediate positive impact to this community's members and to cannabis consumers across the country. As industry leaders since 2009, we are thrilled to begin work on this first-of-its-kind eco-tourism experience for conscious cannabis consumers."
The eco-tourism Gwyther mentions refers to the plan to see Nipton run on a completely self-sufficient and off-the-grid energy system through the use of solar power. American Green also plans to improve the town's aquifer system. The more conventional tourism plans include a bed and breakfast, cannabis retailers, mineral baths and culinary events.
The company acknowledges that the Nipton Project, as they refer to the purchase of the city, is an ambitious and unique undertaking.
"The Nipton Project has the potential to be one of the biggest initiatives any of us at American Green have undertaken. The project holds great possibilities for our company and for the cannabis industry as a whole," says Pat Carrigan, American Green's chief operating officer. "It took the company over four months of negotiation with the town's owners to get us here. Even so, the real work begins now. We are ready, willing, and able to accept the challenge at hand."♦