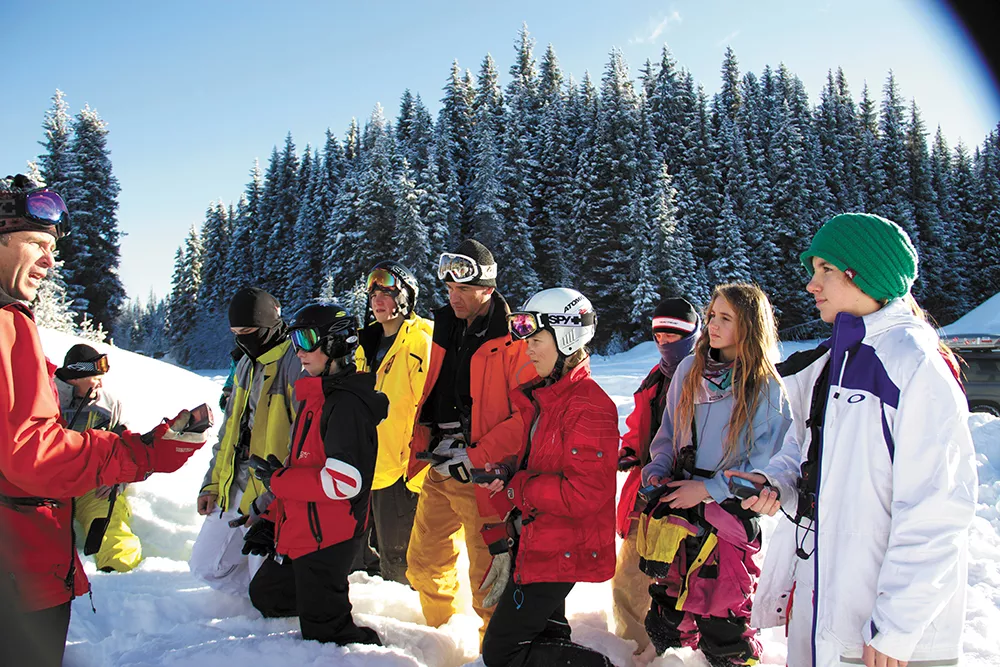 Back in the late '70s, the movie Animal House hit the big screen. Plenty of classic lines came from that movie. One scene that stands out is when Dean Wormer shut down Delta House and the Delta boys had one way to get over their problem: "Road Trip!"
Now imagine getting together a group of kids 12 to 17 years old, and taking them not only on their first skiing road trip, but capping it off with a day of deep powder cat-skiing with Big Red Cats.
I travel the legendary Powder Highway in Canada with my good friend Tommy Frey every year on a 10-day powder-skiing road trip. We always come home with fun stories, and our kids have grown up watching the videos of all the fun that takes place on these adventures. Every year they ask "When can we go on the road trip?"
It finally happened last December. We were having a discussion with Paula Gaul from Big Red Cats in Rossland, B.C.; she had mentioned their cat-skiing operation now includes kids 12 and older. The wheels started turning and the plan was laid out: "Kids' Road Trip!" A few phone calls later, we were on track with six friends, ranging from 12 to 17, who have known each other for years.
Sandpoint's Jeff Cates said his 14-year-old stepson Michael Plaster was consumed with going: "Michael kept telling all of his friends at school what he was getting to do. He had it scheduled into his phone; that's all he could talk about. He was very, very excited to go."
We decided we would start the kids off with a day at Whitewater Ski Resort outside the funky ski town of Nelson, B.C. In 2012, Nelson was voted by the readers of Powder magazine as the No. 1 ski town in North America in their "Ski Town Throwdown" competition. What better place then Nelson to start immersing kids into the ski culture.
On Friday, Feb. 8, our day started with a spectacular drive up the canyon to Whitewater. The kids were in awe. "Humongous" is not a word you hear every day, but apparently Michael likes to use it. We were all taken in by the beauty of these spectacular mountains, cast against the bluebird skies. It doesn't get much better than this when you're going riding.
It was a crisp, clear morning and with temps in the low teens, we were looking to start our day somewhere in the sun. Behind the Summit Chair the sun was cresting, making our decision to start there a no-brainer. We hot-lapped high-speed groomed runs on Bonanza and Motherlode in the sun and ventured around a little. Directly under the Summit Chair, we found a run with big, soft bumps that was calling our name. Having the kids ski the "Hollywood" Line directly under the chairlift was a fun way to put a little pressure on them; the kids had to be on their "A game" and ski under the watchful eye of a very vocal audience.
Next we were off to the Terrain Park, which siblings JoJo and JJ Jaeger had their eyes on from the minute we arrived. Whitewater does a fabulous job with their Terrain Park; there are plenty of features and a good flow. It was a great place for the kids to have some fun, doing what kids love to do: jump! The kids sessioned the park for the remainder of the morning. Then it was time to refuel.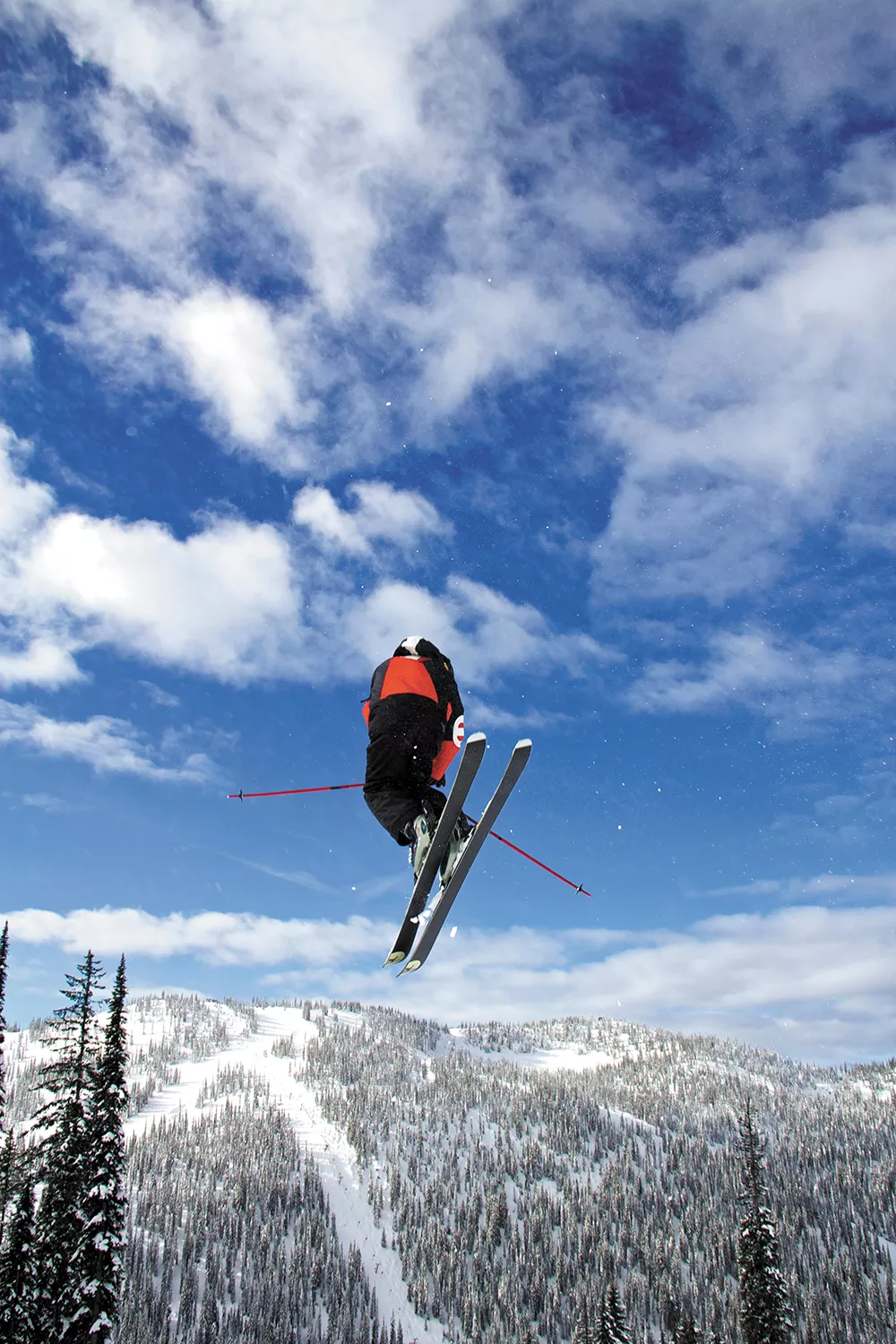 Whitewater is famous for more than their skiing. Fresh Tracks Cafe in the lodge doesn't serve your normal lodge food. With choices like the Wildhorse Curry Bowl and Chai BBQ Pulled Pork Panini, you know you're in for a culinary treat. The hands-down favorite with this young crew was the good old Canadian standby of Poutine and fries. My mouth is watering just thinking about it.
After lunch, we took the kids over to Whitewater's newly expanded Glory Ridge Chair, where they finished off the remainder of their day. Even with the five-year age difference in the group, it was nice seeing them all skiing together, having a great time.
Downtown Nelson has lots of incredible food choices, but all these kids wanted was pizza and some time at the indoor hotel pool. Who can argue with that? After all, tomorrow was going to be a big day for this crew.
The Big Day
Five am wakeup call, gear loaded in the rigs and on the road by 6 for the hour drive to Rossland, B.C., home to Big Red Cats. The drive was an interesting one: These kids aren't morning people, and there was a little nervousness and anxiety about their first cat-skiing adventure.
Owners Kieren and Paula Gaul purchased Big Red Cats back in 2004. They have expanded their operation by offering up to four different snowcats in their 19,800-acre terrain. Each cat carries riders of similar abilities, making your cat-skiing experience an enjoyable one.
"We can take up to 12 people out in each cat and we offer different levels; we do intermediate, advanced, expert, and uber expert, which is jumping off cliffs all day," says Kieren, a lead guide with the operation.
One of BRC's additions was introducing younger riders to cat skiing.
"Kids can come out cat skiing with us at 12 years and older; they need to come out with a parent or a guardian," says Kieren, whose 12-year-old daughter Sammie was along on this adventure. "It's a ton of fun when the teenagers come out. They'll start off in the intermediate or advanced, and sometimes expert group."
"This is a huge experience for the kids. They get to see what the big mountains and the Monashees are all about," says Tommy, there with his 15-year-old Sydney. "I've been listening to Sydney for months since we started planning this thing. She's just a little excited."
After a short transceiver training clinic put on by Big Red Cats' certified mountain guides, it was time to head up to the high country. Kieren informed us that after a foot of new snow a few days ago and with consistent cold temps, skiing was ranking a 10 on the fun meter. These type of conditions, with boot-top snow, are perfect for the first timer, making it an ideal learning situation — just deep enough to get the powder sensation and build up your skill and confidence.
After the 411 on safety and protocol, we loaded up the cat and headed up to the zone where we'd spend our day skiing. As we crested the top of the ridge, Kieren pointed out the run we'd be skiing. The "stoked" level was at an all-time high for these kids; they could hardly contain themselves. As we unloaded the cat and stepped into our gear, Kieren's tail guide Natasha Lockey dug a snow pit to assess snow-pack stability. As suspected, conditions were perfect. It was going to be an epic first day for these kids.
The group followed Kieren as we slid out in single-file formation to a group of trees, a safe zone just before the opening in the basin. We'd post up here, waiting our turns. Kieren gave us a few words of encouragement, then skied down to check snow quality and get in position at the bottom of the first pitch. He made it look so effortless. He radioed back up to Natasha: "It's perfect. Send 'em, one at a time."
After months of anxiousness, it was now go time. Justin Meredith, 17, from Coeur d'Alene, was the first to go. He slid his snowboard into position, then dropped into his line, carving all the way down to Kieren a few hundred yards below. You could hear Justin hooting and hollering the whole way. Natasha stood at the top, saying, "That's the way it's done!"
Each kid made their first cat-skiing powder run, and as they reached the bottom you could sense a huge burden lifted off their shoulders; each had overcome something they were nervous about.
Justin says, "I was a little scared and intimated at first, but the excitement kicked in when I got here. It turned out to be easy and really fun. It was really cool."
It's just as rewarding for Kieren:
"It's just wonderful to see, when their face starts to light up, when they start to get it. You can see that transition, that spark hits their eyes, almost like fire. The excitement, that's what I like to see."
With a few runs under their belts and an ever-increasing confidence level, it was time to have some fun in the powder. Cooper, 14, and Justine were all about boosting airs off everything into the powder. My daughter Hannah Legasa was like a kid in a candy store, getting as much fresh pow as she could.
"It was fun to hit the jumps because when you landed, the snow was so soft and it shot up in your face. It was awesome," says Cooper Herby.
The beauty of cat skiing: You get short 15-to-20-minute rests between runs as you make your way back up in the cat, just enough time to recharge and refuel for the next run. With conditions at their best, the kids charged hard all day long. "These kids got to experience a huge day of skiing in fresh powder and sunshine," says Tommy, "but the best thing about it for us parents? When they got home, they were all exhausted and in bed, sound asleep before their heads even hit the pillow."
I'd say these kids are hooked now. I'm sure they'll be back, bringing back their ski buddies. Kieren has a pretty good business model. As a parent, this was a dream come true; my daughter was able to experience something we are both so passionate about. I feel like I've passed the torch. ♦