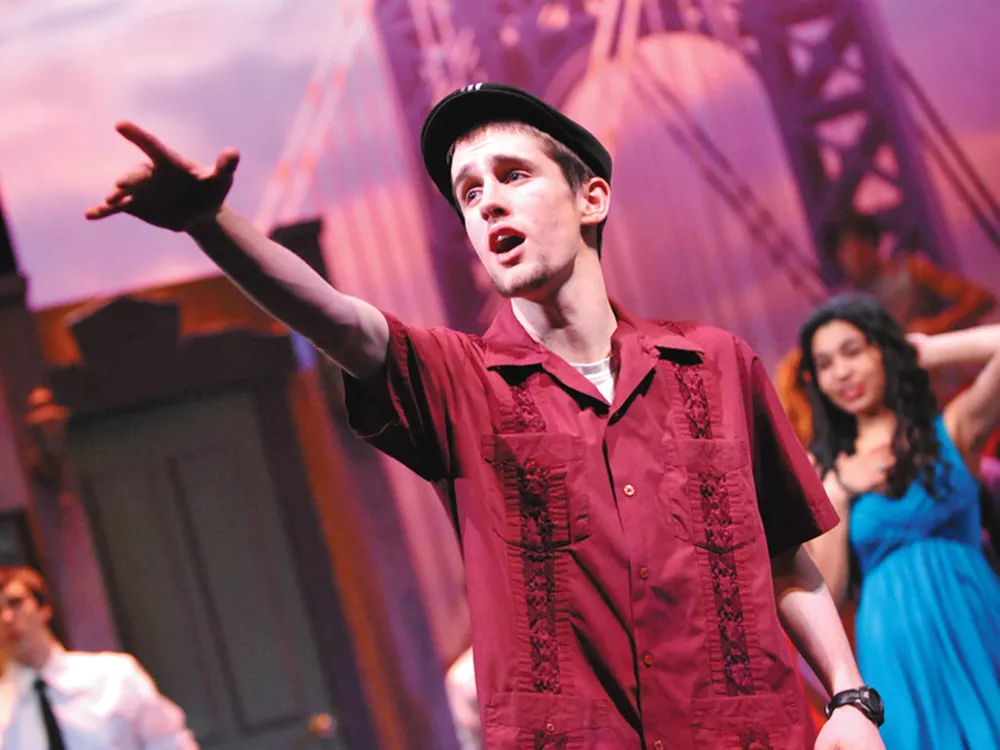 Lewis and Clark High School's Tiger Drama program stages two musicals per academic year. Over time it's earned a wider reputation for putting on polished productions of popular Broadway shows. Even if you haven't been to a Tiger Drama performance, there's a good chance you've seen many of the program's leading actors and actresses treading the boards on other local stages. To say they hold their own against veteran thespians is an understatement.
When these young stars appear on a single stage — as they were for In the Heights, which ran from February 28 through March 9 — you have all the evidence you need for just how good Tiger Drama productions can be. Making critical concessions for the cast's age risks patronizing its individual and collective talent.
Daniel Palomba played Usnavi, a bodega owner who is, in the blunt words of his friend Benny (Kiley Barz), "stuck to this corner like a streetlight." Like others in his barrio, good-natured Usnavi longs for more but feels a sense of loyalty (and to some degree, resentment) toward the tight-knit community around him. He has a special filial relationship with aging Abuela Claudia (Phoibe Purcell) and a lovesick eye on Vanessa (Keyonna Knight).
Benny, meanwhile, is infatuated with Nina (Brittany Mendoza-Pena), the neighborhood wunderkind who found Stanford University too much of a culture shock. She has to break her failure to her parents (Kale Dotson, Vanessa Butler) as well as busybodies like hairdresser Daniela (Maddie Rasmussen) and her gossipy clique. When Nina stays out all night with Benny, she has even more explaining to do.
Palomba — thin, a wispy goatee under his chin — was a remarkably natural lead. His raps flowed effortlessly; not once did this Spokane teenager seem like anything but a charming New York City bodega owner. Although the remaining male cast had highs and lows, the female cast was consistently impressive. Rasmussen affected a convincing accent, and her singing was spirited and note-perfect (making the festive "Carnaval del Barrio" a highlight). Indicative of their roles, Mendoza-Pena's voice was angelic, Knight's soulful. The set, backdropped by the towering George Washington Bridge, deserves a special mention for its mix of stylization and authenticity.