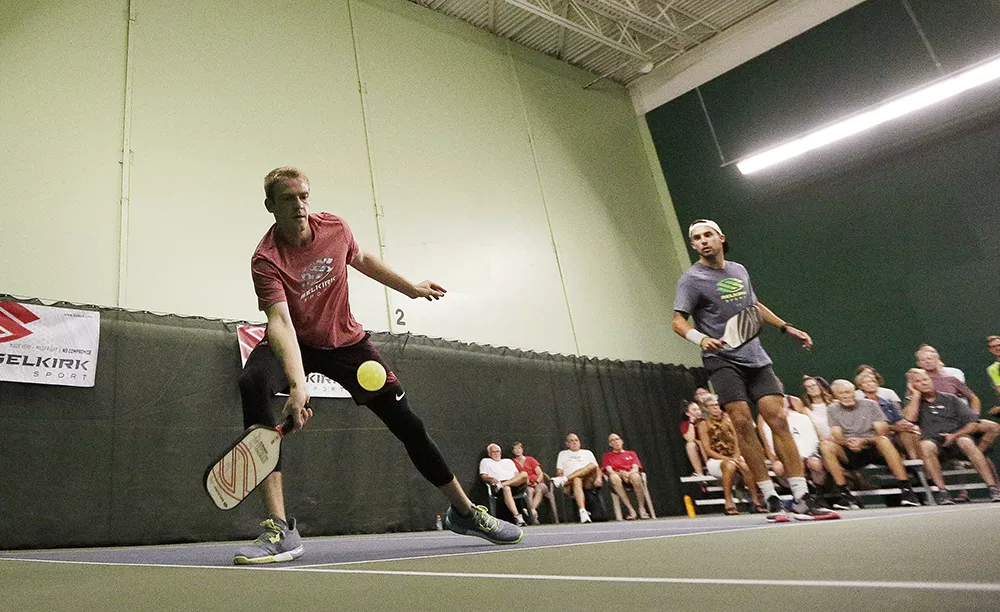 Talk to anyone involved in the Inland Northwest's pickleball scene and within minutes they will tell you how pickleball is the fastest growing sport in America. They aren't wrong. The sport has seen a 650 percent increase in numbers over the last six years, according to the USA Pickleball Association (USAPA) and its database now boasts over 7,000 known courts, with more than 90 being added each month.
Stop by Comstock or Memorial Field parks and you'll see evidence of pickleball's growing popularity for yourself. "It's so easy to learn and pickup the game," explains Kathy Skifton, USAPA's North Idaho ambassador. The other beauty of this mashup of tennis, pingpong and badminton — you don't have to commit to a league or schedule matches and find partners or opponents to play. "You can just show up. You put your paddle down next to the court or hang it on the fence nearby," explains Skifton. "It's such a fun sport and a great opportunity to meet people."
During the warmer months, Skifton says the most popular times to play at outdoor courts is Monday-Friday from 8 am to noon, with some of the most robust, competitive pickup play happening in North Idaho at Memorial Field's new courts and Cherry Hill Park. "All of the most serious players are driving to Idaho to play," says Skifton. In Spokane, look to Comstock Park and the new courts at Prairie View Park on Spokane's South Hill. In the evenings, you'll see more families on the pickleball courts.
There are more places to play in the winter months, than ever before as well. Peak Health & Wellness Center in Hayden converted one indoor tennis court into four dedicated pickleball courts and has a robust schedule of organized drop-in sessions. Hub Sports Center has dramatically expanded its offerings. Back in 2010, they offered two drop-in sessions a week, now they are running eight sessions a week, and during peak times more than 50 players will be on their courts at one time.
"While it's easy to pick up, there are a lot of nuances to master, so it's a game that can grow with you," says Phil Champlin, the executive director of the Hub Sports Center. "One of the great dynamics I see here is you have men and women playing with each other — old and young playing with each other. It just doesn't seem to matter. It's more about your skill than your age or gender."
WHERE TO PLAY INDOORS
Coeur d'Alene Boys & Girls Club
From October through April, the Boys & Girls Club opens up its gym for drop-in play. Three courts are available Monday-Friday at 7-10 am and Sundays from 2-5 pm. Drop-in play is $3, $40/month or $100/quarter. Best of all, proceeds benefit the Boys & Girls Club. 925 N. 15th St., Coeur d'Alene, 208-699-5471
Hub Sports Center
At its busiest time of the year, 14 courts are pressed into service at Hub Sports Center's indoor facility. The Hub organizes eight different sessions of drop-in play a week — so you'll find a variety of morning, afternoon, evening and weekend sessions. The first Wednesday of every month is reserved for ladies only and a beginner's clinic is held the second Wednesday of the month. Locally made Selkirk paddles are free to demo. Each drop-in session is $5 or $3 for folks ages 50+. 19619 E. Cataldo Ave., Liberty Lake, 927-0602
North Park Athletic Club
Four dedicated indoor pickleball courts are available for scheduled social play sessions, along with shootouts (play organized by skill level). Paddles are provided, if needed, and nonmembers are welcome but are required to pay a $15 fee. Check their website for weekly play and tournaments. 8121 N. Division St., Spokane, 467-5124
Peak Health & Wellness Center at Hayden
Four indoor courts allow for year-round play at Peak's Hayden Center. This private club allows nonmembers to play pickleball ($10 a session) or attend clinics. Leagues and open play sessions are organized by skill level. Check their website for session dates and times, including introduction to pickleball clinics ($15 for nonmembers). 95 W. Centra Dr., Hayden, Idaho, 208-762-9014
Numerous private clubs, such as the YMCA, Kroc Center, Hayden Lake Country Club and the Spokane Club also offer pickleball courts and organized play for their members. These listings, however, focus on clubs and locations that do not require club membership.
OUTDOORS
Cherry Hill Park
Twelve lined outdoor courts, complete with restrooms. 1718 N. 15th St., Coeur d'Alene, 208-769-2300
Comstock Park
Four lined pickleball courts on the existing tennis courts at this popular South Hill park. Nets are stored nearby in a locked bin. Email the city at jpapich@spokanecity.org to receive the four digit code to access the nets. 600 W. 29th Ave., Spokane, 625-6200
Hill's Resort
One very popular outdoor court is available for guests at this lakeside resort. Open April through November with weather permitting. $1 per hour. 4777 W. Lakeshore Rd., Priest Lake, 208-443-2551
McEuen Park
Two pickleball courts for public play with lights, parking and restrooms nearby. 420 E. Front Ave., Coeur d'Alene, 208-769-2300
Memorial Field
Arguably some of Coeur d'Alene's busiest courts, Memorial Field has four outdoor courts with lights to extend play into the evening. 501 Fort Ground Dr., Coeur d'Alene, 208-769-2300
Northshire Park
Six dedicated outdoor pickleball courts, and another four available for drop-in play with restrooms on site. 3889 Nez Perce Rd., Coeur d'Alene, 208-769-2300
Prairie View Park
Two outdoor pickleball courts available for drop-in play at this recently expanded South Hill park. 3724 E. 61st Ave., Spokane, 477-4730
Redband Park
One outdoor multisport court with pickleball lines at this Peacefeul Valley park. Nets are stored in a locked bin. Check out a key for the season by emailing the city at jpapich@spokanecity.org. 1002 W. Main Ave., Spokane, 625-6200
Sky Prairie Park
One multisport court complete with pickleball lines. Nets are stored near the court, but require a four digit code to unlock. Email jpapich@spokanecity.org to get the code. 8501 N. Nettleton Ct., Spokane, 625-6200
Spokane Street Sportsman Park
This Post Falls park has two outdoor public courts, as well as public restrooms. Between 19th and 21st avenues on Spokane St., Post Falls, 208-773-0539
The Inland Northwest is rapidly adding pickleball courts at public parks, high schools and private clubs. To stay up to date on places to play, regional classes, clinics, leagues and tournaments, check out the Inland Northwest Pickleball Club website, at inwpc.com, or join their group on Facebook.