From September to the following spring, Richard Hodge is elbows-deep in ground meat and hog casings, sharing his time-honed knowledge with students of all ages and backgrounds.
"People are getting into doing their own foods these days," says Hodge, who has taught beginning sausage-making for 15 of his 26 years at Michlitch Spice Co. in Spokane's East Central neighborhood.
A fair amount of commercially prepared sausage, he says, has a whole lot of words people can't pronounce, and "people want to know what's in their food."
Hodge first taught the class through Spokane Community College, then moved it to Michlitch, which sells equipment, spices, and other goods to not only make sausage, but also rubs, brines and seasonings, such as those used in making ham, bacon or jerky.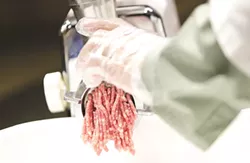 Humans, says Hodge, "were making dried meat, probably since the beginning of time."
The ability to preserve meat was a significant achievement in the development of civilizations, according to the North American Meat Institute. It allowed humans to safeguard against loss and be more mobile for longer periods. Preserved meat also became a commodity in trade and has, over the years, become a culinary tradition all its own.
For many Spokane residents, when thinking of preserved meats, Santé Restaurant & Charcuterie first comes to mind. Since 2008, award-winning Chef Jeremy Hansen's charcuterie has distinguished itself for its nose-to-tail approach and elevation of local farmers and ranchers, like the Spokane Hutterian Brethren, Ramstead Ranch and Lostine Cattle Company.
At any given time, Santé is stocked with from-scratch sausage and other cured meats overseen by Chef Tyler Shales for the past two-and-a-half years, and also recently by Chef Peter Adams.
Charcuterie is a lot of work, says Adams: "Definitely, there's a lost art to it, but a lot of it comes from experience."
Preservation techniques represented at Santé are just a small sampling of the processes that can be employed to alter the flavor, texture and shelf life of meat.
There are three main classifications of preservation: sausage, cured, and restructured meat, such as pressed ham or chicken loaf. Another way of discussing meat preservation is the type of meat — pork features prominently, as well as beef and even wild game — or the cut. Pancetta and bacon, for example, come from pork belly, while guanciale is the jowl.
Santé's chefs use every part, says Adams.
"Doing whole animal butchery [at Santé], it just makes the most sense to," he adds.
Preserved meats may also be classified according to preservation technique, such as smoked, dried or canned. Curing imparts flavor and can even eliminate the need for refrigeration.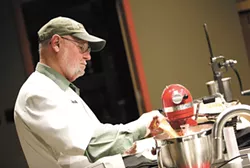 Santé makes traditional ham, Italian coppa (or capocolla) through wet-curing, and as salumi — including salami, lardo, fennel salumi, soppressata and Louisiana-style tasso ham — through dry-curing. They also make kielbasa and chorizo sausage; pastrami (usually beef that is seasoned, brined, smoked and then steamed); and pâté, primarily featuring liver, also including the more rustic, chunkier pâté de campagne.
"We have a bunch of different styles and recipes we can use, and it just depends on the season," says Adams.
Summer, for example, means summer sausage, duck terrine, and more fresh herbs. It isn't as much about preservation as it is flavor, says Adams.
Recreating the flavors of his youth was a key motivating factor for Coeur d'Alene resident and avid home cook Ben Drake, also Pita Pit's vice president of branded product and growth.
"Whenever I think of a culture, I think of [their] food," says Drake, who lived in Germany as a high school student and never quite got over the travel bug... or his memories of German sausage. After earning his B.S. in marketing at the University of Idaho, Drake moved to Seattle, donned a suit and tie for two years, then chucked the corporate life to travel the world, with trips to Asia, Africa, South America, Europe and India.
Drake's first sausage-making attempt was kielbasa from Charcuterie: The Craft of Salting, Smoking, and Curing by Michael Ruhlman. His wife, Jennifer, gave him the book,
As he gained confidence and better understood important components like meat-to-fat ratio and texture, Drake experimented with new combinations: bratwurst, cheddarwurst with Beecher's Flagship cheddar cheese, pesto chicken, a Guinness beer-and-short-rib sausage. This fall, the Drakes put on an event called Blocktoberfest, dressing up in German garb and cooking up 55 pounds of sausage for friends and family.
With 2-, 4- and 7-year-olds, as well as a busy work schedule, Drake's major traveling is on hiatus, as are his plans to go commercial. Although he's had offers to do so, he's in no rush. The self-taught sausage expert is also working on vegetarian/vegan sausages and a few other recipes of his own.
And for his kids, he says, "I want to figure out and perfect a delicious hot dog." ♦