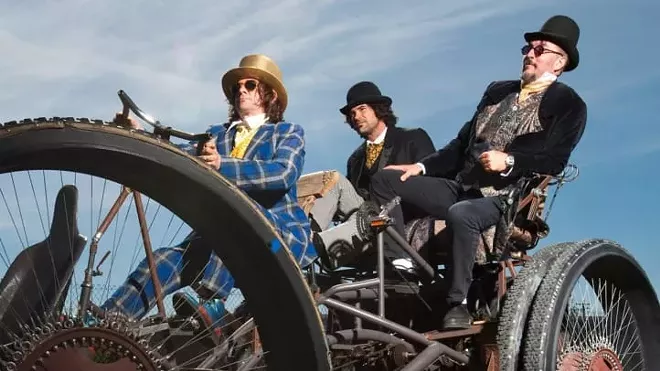 I
t's an idea so preposterous that it's hard to imagine
another band even trying it, letting along pulling it off. This summer, Bay Area psychedelic rockers
Primus
are hitting the road, including a stop in Spokane, and for part of the show they're going to cover Rush's 1977 prog-rock classic
A Farewell to Kings
in its entirety.
"Primus — A Tribute To Kings" will hit the new Pavilion at Riverfront venue on July 28, and Primus will be joined by Wolfmother and Battles.
Tickets go on sale Friday at 10 am
, and start at $40. The band will play a bunch of its own music like "Too Many Puppies" and "Jerry Was a Racecar Driver" as well.
Primus first came to fame in the early '90s as part of the so-called "alternative" movement, led by the quirky lyrics and stunning bass-playing of frontman Les Claypool. At various points, they've found favor with everyone from punks to jam-band fans to prog-rock disciples, so it makes sense the band would take on the hallowed turf of Rush. That Canadian trio's heartbeat, drummer Neal Peart, died a couple months back, so the opportunity to hear Rush's music live won't come from the band itself anymore.
In announcing this summer's tour and the tribute to Rush, Claypool said he'd texted with Rush's Geddy Lee to make sure what Primus had planned was cool.
"He just got excited, he thought it was a great idea," Claypool said in the concert announcement Tuesday morning. "You know, we go way back with those guys, so I think it made him feel good that it was going to be us that was going to do this thing."
Primus was last in Spokane in November
, opening for Slayer at Spokane Arena.