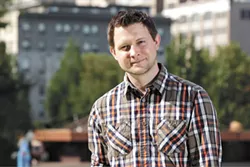 P
riority Spokane
, a collaborative nonprofit aiming to tackle the community's most pressing issues, has identified its next priority: family trauma and violence.
For the last few years, Priority Spokane's goal has been to house homeless youth in Spokane County. It launched a pilot program of having community workers in schools dedicated to stabilizing homeless families. Ryan Oelrich, executive director of Priority Spokane, says that after three years those workers in select schools have been able to stabilize
nearly 80 percent of formerly homeless students in those schools
. The plan is now to expand that program, he says.
But now, Priority Spokane's next focus is on reducing the impact of family trauma and violence in the community. Priority Spokane selects a new priority every three to five years following a community assessment, which identified family trauma as a major issue. Members of the Priority Spokane steering community, which includes 19 people representing various agencies and community leaders, voted that reducing family trauma and violence should indeed be the next priority.
"We have a growing mountain of evidence that adverse childhood experiences (ACES) cause a number of physical, mental, emotional and other problems later in life," Oelrich says in a statement, adding that Spokane has higher-than-state-average rates of child abuse,
domestic violence
and
youth suicide
. "This is not what we want for our children or what we want our community to be known for."
The first step is a community mapping process that will be conducted in partnership with the Spokane Regional Health District to identify where additional resources are necessary.
There were two other issues high on the list of priorities that were considered for the next focus for Priority Spokane. Those were increasing access and services for people with substance abuse and mental health issues, and improving the availability of affordable housing. Ultimately, however, Priority Spokane decided that reducing family trauma could make an impact on those other two issues as well. Oelrich says two different affordable housing providers serving as members of Priority Spokane voted for reducing family trauma as the priority because they see so many women and children fleeing domestic violence situations and looking for housing.
Oelrich says family trauma is at the root of many community issues.
"If we can get in there sooner," Oelrich says, "we can do a world of good."