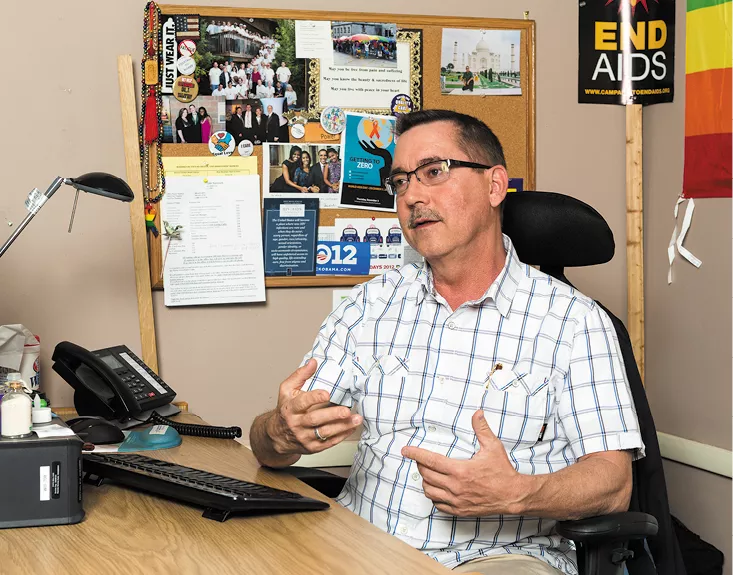 The exam room was cold, clinical, defined by sterile white walls. When the nurse came in with his diagnosis, she was crying. She didn't even have to say anything. Mark Burnett knew.
This was in 1988 in Santa Rosa, Calif. Then and there, AIDS was a death sentence. His reaction to finding out he had it, he says, was typical. "There's denial, there's anger. There's desire to make it go away," Burnett says.
But there was a part of him that knew it was coming. He was gay, dating another gay man he suspected had the disease.
"He knew he was probably HIV positive, but refused to get tested," Burnett says. Burnett had used condoms to try to protect himself, but apparently it hadn't been enough.
Back then, there was a pill you could take to treat AIDS. But Burnett says he knew it wouldn't necessarily extend his life, or make it any better, and it came with a price tag and side effects. And so he went without. He tried unconventional therapies instead — burning his skin with acetic acid and chugging hydrogen peroxide. Whether they worked or not, it gave him just enough hope.
He put his head down, pouring himself into his work. The disease stripped away his immune system until his T-cells had dwindled to nearly nothing. "It was scarier than hell when you're running on empty," Burnett says. "You feel like the bubble child."
He was saved by an opportune medical breakthrough. A new drug regimen — a cocktail of different medications that attack HIV/AIDS simultaneously at a variety of different stages. He started taking the new medications, and moved to Spokane.
A quarter-century after being marked for death, Burnett lives on.
Today, Burnett's a client advocate with the Spokane AIDS Network — working to help people like him. He's seen the way education and treatment has advanced over the past 25 years, nationally and in the Inland Northwest.
In Spokane, the rate of infection is significantly lower than in Washington state as a whole. From 2002 to 2010, the infection rate in Spokane remained stable — about 24 new cases a year. But that stability also means the infection rate has not decreased.
"That indicates that people are still becoming exposed to and infected with HIV," says Lisa St. John, the HIV/STD program manager for the Spokane Regional Health District.
And while the rate of those dying from AIDS has fallen statewide thanks to medical advances, it's remained stable in Spokane.
"We see a disproportionate impact on communities of color and ethnic communities," Burnett says. The infection rate for black individuals in Spokane County is five times higher than that for white individuals.
The vast majority of those infected are men — and more than 60 percent of those who contract HIV in Spokane County are men who have sex with other men. "Having multiple relationships at the same time can spread the disease a lot faster," Burnett says. "It's amazing when you put that into a [mathematical] formula, what happens."
Spokane, however, has been a leader in trying to address the next most common way to spread the disease: intravenous drug use. The Health District's needle exchange program, one of the first in the state, exchanged 800,000 needles last year for more than 1,700 people.
But lately, budget cuts have capped at 200 the number of needles that a person can exchange in a single visit. St. John worries the cap will hurt drug users who exchange needles for a wide variety of people, many of whom are reluctant to come to the Health District in person.
Burnett sits in a conference room at the Spokane AIDS Network headquarters on the lower South Hill. Other than a small decal on the window, it doesn't look like a building focused on AIDS, or even an office. If anything, it appears to be a suburban house, with a front porch and Victorian-style architecture.
In a way, the anonymity provided here is recognition that AIDS patients, even with decades of national education, still fear the ignorance of others. By now everyone should know that, for all but the most bizarre outliers, HIV is only passed on through sexual contact, shared needles, or pregnancy. Sadly, some people still cling to old fears.
"Even though we're over 20 years into this epidemic, we still have people living with HIV who have family members who are afraid to eat dinner with them," St. John says. "And folks who are afraid to ride in the car with them."
Those obsolete notions aren't just unkind, they can be dangerous.
"That lack of understanding strongly contributes to people who do have HIV being unnecessarily isolated," St. John says. "And watching other people be that isolated, and seeing the stigma, really does deter people from getting tested."
Getting tested is easier than ever. A blood draw and lengthy wait have been replaced by a simple oral swab, with results available in 20 minutes. Last year, the Health District processed 350 of these tests.
While improved treatments have transformed the lives of people infected with HIV, they've also had the effect of removing the disease from the front page. But patients like Burnett still have AIDS. He remains on disability. His immune system remains compromised. And so for now, he still has a mission.
"We can end AIDS in our lifetime," Burnett says. "We're not going to quit until we find a cure."