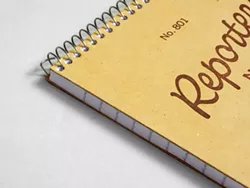 MEDIA VS. LEGISLATORS
For more than two decades, members of the Washington State Legislature have thought that records related to their legislative business were closed off to the public.
News organizations in Washington, however, think otherwise.
Now, they're suing the legislature for WITHHOLDING PUBLIC RECORDS. A lawsuit filed in Thurston County Superior Court on Tuesday claims that lawmakers are mistaken in their assertion that daily schedules, emails, texts and other materials are not subject to Washington state's public records act.
A total of 10 news organizations are part of the lawsuit, including the Spokesman-Review, Seattle Times and Associated Press.
It cites the state's public records law, Initiative 276, which was approved in 1972 by Washington voters and promoted transparency in government. That law stated that "full access to information concerning the conduct of government on every level must be assured as a fundamental and necessary precondition to the sound governance of a free society."
In 1995, however, the legislature added language into the state's Public Records Act. The language in that amendment has been interpreted by lawmakers to mean that certain legislative records are not to be released to the public.
It's the interpretation of that revision that the news organizations argue is wrong. Earlier this year, the news organizations filed requests for copies of all 147 lawmakers' calendars that document their official schedules. Lawyers for the House and Senate, however, said the state's definition of legislative records means that most of those records are not public records. The lawsuit asks that the court order the legislature to provide the records requested, and to prohibit lawmakers from blocking the public from seeing similar records in the future. (WILSON CRISCIONE)
EQUAL RATES FOR EQUAL WATER?
Spokane attorney Bob Dunn is making good on his promise. Earlier this year, Dunn sued the city of Spokane on behalf of the Fairways Golf Course in Cheney. The city had shut off the course's water due to an unpaid bill to the tune of $40,740.
Back then, Dunn said another lawsuit was coming — this time on behalf of about 6,000 Spokane County residents who, Dunn says, have illegally been charged higher WATER RATES than city residents. In some cases, county residents — who live across the street from city residents — are charged up to 100 percent more, he says, in a scheme that amounts to "taxation without representation."
Dunn filed that lawsuit last week as a class action, which allows a large group to sign onto a single lawsuit. A judge will determine whether all 6,000 people are in similar enough situations.
"They figure the county residents don't have a voice, so we're going to take the money from them," Dunn says.
The Spokane attorney, who frequently sues the city of Spokane, is asking for $30 million to reimburse county residents who, for at least a decade, have been "arbitrarily" charged more than city residents for water, the lawsuit says.
In response to the lawsuit, city spokesman Brian Coddington refers to the statement released in June, which says that state law allows cities to charge higher water rates for residents outside of the city. City residents also pay property taxes, which help support the water utility.
Dunn acknowledges that the law allows a higher rate, but says the city has provided no data to support charging county residents more. "They have no analytics to support the 100-percent increase, or even the 50-percent," Dunn says. "You know where they pulled that number from? Their butt." (MITCH RYALS)